Skip Navigation
Hunter and Scout's Poison Patrol
Hunter & Scout's Poison Patrol
Did you know that children under the age of 6 are the most frequent victims of poisoning? Approximately 50% of the calls to poison centers involve children of this age and nearly 90% of the exposure occurs at a home. The good news is that most poisonings can be prevented, but we need your help!
The Poison Control Center at The University of Kansas Health System offers the educational Hunter & Scout's Poison Patrol Program. The program makes it easy and fun for teachers and parents/caregivers to teach poison prevention to children. The program includes videos and classroom activities as well as educational materials for parents/caregivers. We do this to help parents and other caregivers be involved, which is critical to poison prevention.
Thank you for joining and helping protect children and families from the threat of unintentional poisonings. Together, we can make a difference.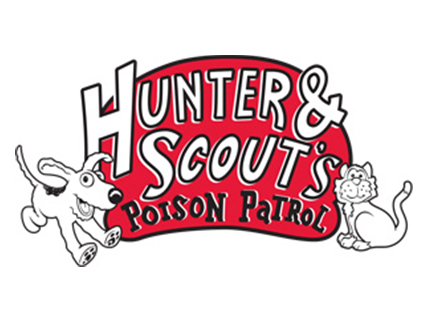 Goals
Teach young children to always ask an adult before touching, tasting or smelling a potentially poisonous substance.
Increase awareness of the Poison Helpline, 1-800-222-1222.
Implement poison prevention strategies at home.
Key messages for kids
Stay away from areas/items at home that could contain poisonous items: medicine cabinet; kitchen; bathroom and laundry room cabinets; cleaning cabinet; purses, diaper bags, backpacks and luggage; dressers, nightstands, kitchen or bathroom counters; garage; and yard.
Never touch, taste or smell something that could be poisonous, especially if you don't know what it is.
If you don't know what it is – stay away and ask an adult.
Never take medicine, even your vitamins, without permission from an adult.
If someone you know touches, tastes or smells something that could be poisonous, tell an adult right away.
Help your parents and other adults put Poison Helpline magnets in easy-to-find places, like on the refrigerator, and program the number into their phones.
Have an adult call the Poison Helpline immediately at 1-800-222-1222, if you or someone else touches, tastes or smells a poisonous item.
Your program at-a-glance
Fun and educational poison prevention video and song (14 minutes)
Lead poisoning video – fun and educational lead poisoning prevention video (read more about the lead poisoning prevention program)
Educator's guide – includes poison prevention information and classroom activities
Printouts for activities
"Ask Me What I Learned Today About Poison" stickers – to be given to all students who participate in the Hunter & Scout's Poison Patrol Program
Poison Helpline Magnets (1 for each student) – an important reminder featuring the Poison Helpline number, 1-800-222-1222
Family booklet – current need-to-know safety information for avoiding poisonings at home.
Please submit the following information to request Hunter & Scout's Poison Patrol Program
Related links