Skip Navigation
Kidney Transplant Evaluation and First Visit
Kidney Transplant Evaluation and First Visit
From day 1, you will receive comprehensive and compassionate care from our multidisciplinary kidney transplant team. Our staff will answer all your questions and thoroughly assess your condition to determine your best treatment option. If a kidney transplant isn't right for you, we'll discuss alternative treatments with you.
Before your visit
Your physician and dialysis team should supply all relevant medical information to us before your initial evaluation.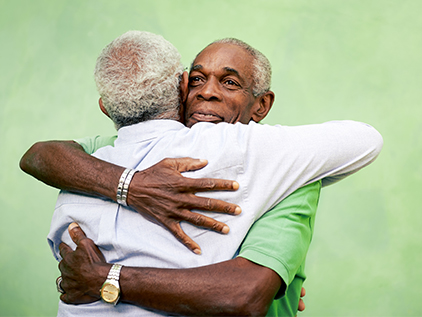 Living kidney donation is a gift of life
Almost 40% of kidney donors are living donors. Locating a living donor match can significantly shorten the wait time for a kidney transplant. Kidneys from living donors also typically function much longer with lower rejection rates than kidneys from deceased donors. Learn more about our
living kidney donor team
and the
process to donate
.
Schedule an Evaluation
Transplant evaluation
During your first visit, you will meet with our transplant coordinator, transplant financial coordinator and transplant social worker. Together, you'll review the transplant process, your financial needs and your psychosocial needs.
After your first visit, our doctors will conduct physical examinations to ensure your body is strong enough to undergo transplant surgery and determine your compatibility with living donors. Transplant evaluation tests can take 2-6 months to complete.
The tests we perform depend on your specific condition and may include:
When you're approved for transplant
Once your transplant is approved, your case is officially activated. The transplant coordinator will put you on the waiting list of United Network of Organ Sharing. We'll also inform your doctor of your transplant status.
While you wait 
While you're on the waiting list, it's critical that we have all your current telephone and pager numbers to reach you. You'll also need periodic lab work and yearly tests to be sure you are still a transplant candidate.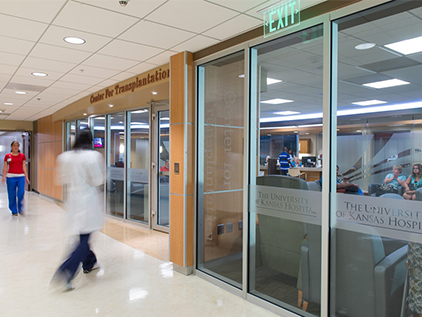 Expanding organ transplant program to reflect patient needs
In early 2015, a clinic opened in Wichita offering something unique to the area: an easier connection to The University of Kansas Hospital's kidney transplant experts.
Learn more about our Wichita Clinic
Related links