Skip Navigation
Our Bariatric Coordinator
Bariatric and Weight Loss Surgery
Our Bariatric Coordinator
As our bariatric coordinator, Erin Hosler, RN, organizes all bariatric-related activities, oversees the daily program operations and manages patient interaction. She also provides and facilitates all patient education, along with many other duties. She has more than 15 years of experience as a registered nurse, and her career has extended over a variety of practices and disciplines.
Erin is the first person you will meet at your initial consultation. During this appointment, she will help you navigate insurance requirements and provide you with education, guidance and support during your weight loss journey.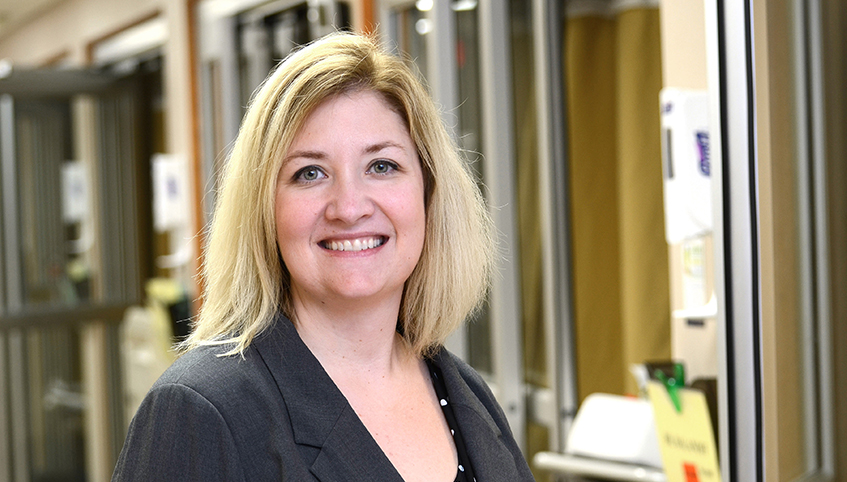 Someone who understands
As a former bariatric patient who is very open about her weight loss journey, Erin can relate to your needs and concerns and is happy to share her experience. She struggled with being overweight since her teens, and at her highest weight, her BMI classified her as morbidly obese – with a lifetime of potential obesity-related complications on the horizon. Erin was motivated to turn her life around for both herself and her family.
In July 2010, Erin had Roux-en-Y gastric bypass surgery. She lost more than 130 pounds after her procedure and gained a more fulfilling life. Her success was also an inspiration to her husband. He decided to have the surgery and has since resolved his type 2 diabetes and hypertension. Erin and her family now enjoy activities, such as traveling and bike riding, which she avoided prior to surgery.
Helping you succeed
Erin's journey made her want to give back and assist those who are starting their own journey to a healthier life. She believes that her job as bariatric coordinator is one of the most rewarding positions she has ever held as a nurse. Her role is to calm fears, answer questions and lead patients on a journey to success. She is happy to assist you in any way to help make you successful.
If you are ready to start your journey, watch our online weight loss seminar. Our bariatric surgery team serves patients from Kansas City, Overland Park and surrounding areas.
Related links