Skip Navigation
Bariatric and Weight Loss Surgery
Our Bariatric Nurse Practitioner
Our nurse practitioner, Heide Chaney, DNP, APRN, FNP-C, has more than 18 years of experience as a nurse. She spent more than 8 years working in the surgical clinic and in the operating room assisting in general surgery cases. She earned her Doctor of Nursing Practice degree from the University of Kansas School of Nursing.
"I chose to work at The University of Kansas Health System for the same reason that I chose the University of Kansas for my graduate education," Heide says. "It's one of the best in the country, and everyone who works here is committed to putting the patient first."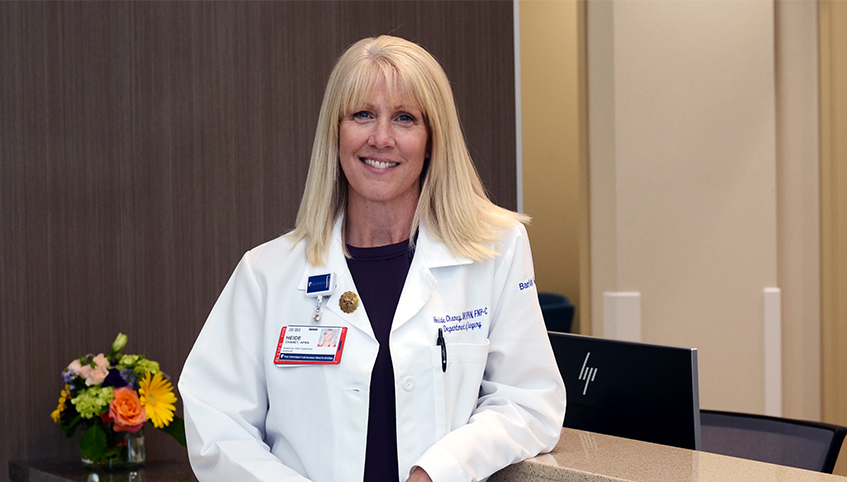 Providing the support to succeed
Heide has always been committed to promoting health and preventing disease in her patients. She provides education and support for each patient and family, which increases their understanding of metabolic health and bariatric surgery. This enhances the quality of care each person receives and improves their quality of life.
An active academic
Heide is active in several professional organizations, including the American Nurses Association, Sigma Theta Tau International, the American Association of Nurse Practitioners and the Gerontological Advance Practice Nurses Association.
Her hobbies include outdoor activities, such as walking, hiking and kayaking. She also loves to cook. She's a loyal fan of the University of Kansas Jayhawks and is a lifelong member of the university's alumni association.
Heide is married with 2 grown children who live in the Kansas City area.
If you are ready to start your journey and work with caring professionals like Heide, watch our weight loss seminar. Our bariatric surgery team serves patients from Kansas City, Overland Park and the surrounding area.
Related links