Skip Navigation
If you're considering breast augmentation, one of the most important decisions you'll need to make involves the selection of the implant itself. That's why we're always bringing you the newest and safest implants.
After 10 years of development and refinement, we are pleased to introduce the new FDA and Health Canada approved IDEAL IMPLANT®.
This new revolutionary implant combines a natural feel with the safety of only saline inside, eliminating concerns about silent rupture that can occur with silicone gel implants. The simple but unique internal structure features 2 separate chambers that hold the saline. This innovative design controls the movement of the saline to give the implant a natural feel and reduce folding and wrinkling. Unlike silicone implants that require an MRI to detect ruptures, the IDEAL IMPLANT allows a woman to look in the mirror and have confidence knowing her implants are intact. Finally, beauty without compromise.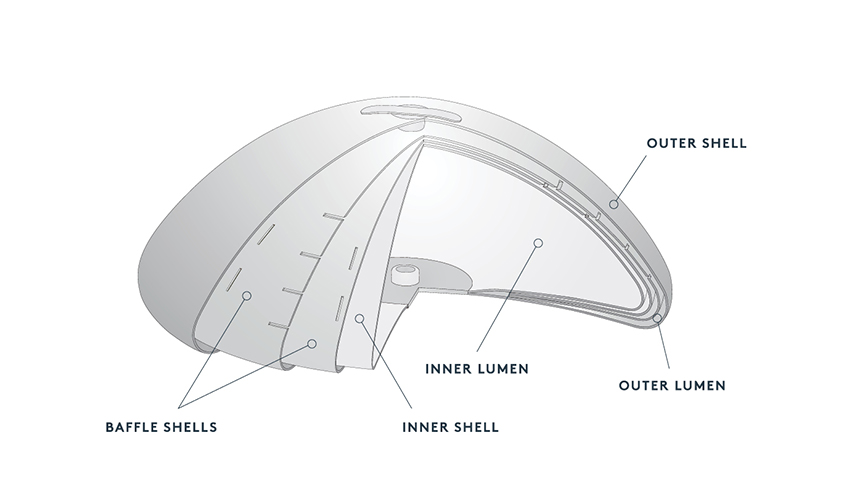 The facts
According to the American Society of Plastic Surgeons, breast augmentation is the most popular plastic surgery procedure with almost 300,000 procedures performed last year. Many women want breast augmentation but, while they prefer not to have silicone gel in their body, they do not like the look or feel of the original saline implant.
Women are concerned about undetected silent rupture of silicone implants inside their body, and the inconvenience of FDA-recommended MRI scans every 2 years to detect ruptures.
Original saline implants do not feel natural and are prone to "wrinkling" and "bouncing." In a recent survey, 91% of women would prefer a new saline-filled implant designed to feel and perform like a silicone gel implant.
The IDEAL IMPLANT is round, so rotation does not affect its appearance, whereas teardrop-shaped implants appear abnormal if they rotate.
The IDEAL IMPLANT has a youthful shape and projection, designed to conform to the natural curve of the chest wall, with the edges closer to the ribs. The result is a breast augmentation that looks and feels natural, without the risk of undetected silicone gel rupture.
The IDEAL IMPLANT requires the same recovery time as traditional saline and silicone implants.
The IDEAL IMPLANT has been in clinical use since 2009. The implants are only available through a limited network of board-certified or eligible plastic surgeons, and we've got it here.
IDEAL IMPLANTS: Natural feel without the silicone
The IDEAL IMPLANT has been featured in The New York Times, the San Francisco Chronicle, Yahoo, Refinery 29, Elle, Allure and many others.
See the coverage