Skip Navigation
At The University of Kansas Health System, we provide a comprehensive approach to psychiatric care. Our team of specialists collaborates to develop the best treatment approach for you, which may include ketamine intravenous therapy. Ketamine IV therapy is a treatment for adults who have been diagnosed with depression and have not experienced relief from depressive symptoms with traditional medications and therapies. About 20% of adults will experience depression at least once in their lifetime, and about 40% of people suffer from treatment-resistant depression.
What is ketamine IV therapy?
Ketamine is a prescription medication that is frequently used in hospitals and other medical settings as an anesthetic. More recently, however, ketamine IV therapy has been used as a treatment for severe depression when other antidepressants don't work. Ketamine infusions deliver precise doses of ketamine to the body intravenously, such as through an IV in the arm. For some people, this helps relieve symptoms of depression much more quickly and effectively than other depression treatment strategies.
Who can have ketamine IV therapy?
One of the main requirements for undergoing ketamine IV therapy is a diagnosis of major depressive disorder (MDD). However, just because you do not have MDD does not mean you may not benefit from ketamine IV therapy. Your care team will recommend what treatment or combination of therapies is right for you. In certain cases, some people who suffer from bipolar depression or other disorders may also respond well to ketamine IV therapy.
To determine if you can benefit from ketamine IV therapy, you will first be screened by a psychiatrist at The University of Kansas Health System Comprehensive Depression Assessment and Treatment Clinic (CDATC). You will be asked to provide information about your current or past psychiatric and medical history. The requirements for treatment are determined by the ketamine treatment team. The team includes physicians, such as anesthesiologists and psychiatrists, as well as psychologists, pharmacists and others. A physician referral is not needed to receive ketamine IV therapy treatment.
Ketamine IV therapy is not for everyone. Those who should not have ketamine IV therapy include people with a history of active psychosis, mania, unstable cardiovascular disease or other certain medical conditions. If your care team decides that ketamine IV therapy is not right for you, other treatment strategies will be recommended.
How does ketamine IV therapy work?
Ketamine provides an antidepressant effect, but how it does this is not completely understood. It is believed to target certain receptors in the brain called NMDA receptors. This leads to the release of other molecules that cause new connections to form between brain cells that are involved in mood, thought patterns and cognition. These new connections and pathways help you feel better.
Benefits and risks of ketamine IV therapy
Ketamine IV therapy shows promising benefits for people with treatment-resistant depression. In fact, approximately 50%-70% of people who undergo ketamine IV therapy respond significantly to treatment. The benefits of ketamine IV therapy, may include:
Fast-acting relief from depressive symptoms
Rapid reduction in suicidality
Symptom improvement in as little as 2 treatments
As with any depression treatment, side effects are possible from ketamine IV therapy. The risks might include bladder inflammation, cognitive changes (changes in thinking) and changes in liver function tests.

Additional risks and side effects of ketamine IV therapy that may occur ​during the treatments are:
Dizziness
Dissociation, such as an out-of-body experience during or after the treatment period
Increased blood pressure
Nausea
Sedation
Weight gain is not an associated side effect, as with some antidepressant medications.
What happens during ketamine IV therapy?
Ketamine IV therapy is an outpatient treatment administered by a psychiatrist, anesthesiologist and infusion therapy nursing team at our Indian Creek Campus. Before your first treatment, you will undergo a thorough psychiatric evaluation, which takes about 60-90 minutes, as well as any additional screenings required by your care team. This appointment will occur before ketamine IV therapy to determine if you are a candidate for treatment.
The day before your ketamine treatment, you will be told to take a low dose of clonidine (0.1 mg) by mouth in the morning and evening. On the day of your treatment, you will be given clonidine (0.1 mg) in the morning and instructed to take it again in the evening. Depending on your medical history and your required medications, clonidine might not be given.
You will be asked not to drink or eat before receiving your ketamine treatments. Specific information regarding restrictions on fluids and food will be given in advance of your treatment. Your treating psychiatrist will give you instructions on what to do about any morning medications you normally take. You will not be able to drive yourself since you might experience some drowsiness and dizziness for a few hours after each treatment.
Once a staff member checks you in, you will meet with the psychiatrist who will discuss your current symptoms and administer certain tests. You will meet with the anesthesiologist prior to treatment. An IV will be started for administering ketamine. Ketamine will be given slowly over a 40-minute period by an infusion nurse under the supervision of the anesthesiologist who is trained and experienced in the administration of ketamine. The amount of ketamine you receive will depend on your weight and the treatment dosage recommended by your psychiatrist. Once your infusion is complete, you will be monitored by staff during a recovery period lasting a minimum of 30 minutes.
A series of ketamine IV therapy treatments is recommended for best results. Most people receive infusions once a week for 6 weeks. Your treating psychiatrist might also recommend maintenance treatments at various intervals (such as once every 2-4 weeks). The decision about maintenance treatments will be determined by your care team.
Treatment is not typically covered by health insurance. The cost of ketamine IV therapy is $1,050 per treatment for a total of 6 weeks. The total cost for the treatment is $6,300. Some individuals may require additional treatment sessions.
Why choose us for ketamine IV therapy treatment?
The University of Kansas Health System is the only hospital in the region with a dedicated ketamine IV therapy program. Our team of psychiatrists, psychologists and pharmacists assesses patients with evidence-based instrumental rating scales. In addition to ketamine IV therapy, we also offer vagal nerve stimulation, transcranial magnetic stimulation, electroconvulsive therapy and esketamine nasal spray therapy.
Our ketamine IV therapy doctors
Martin L De Ruyter

Critical Care Medicine

Locations:

The University of Kansas Hospital
4000 Cambridge Street
Kansas City, KS 66160

Clinical Focus:

Critical Care Medicine
Anesthesiology

Dennis P Owens

Psychiatry

Locations:

The University of Kansas Hospital
4000 Cambridge Street
Kansas City, KS 66160

Clinical Focus:

Psychiatry
Addiction Psychiatry
Our ketamine IV therapy location
1. The University of Kansas Hospital

10710 Nall Ave.
Overland Park, KS 66211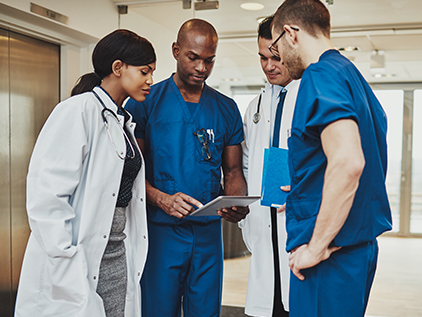 Leading research and clinical trials
As part of one of the nation's premier academic medical centers, our care providers are committed to research and scientific discovery through the University of Kansas Medical Center. We can often include our patients in potentially lifesaving clinical trials and treatment options not available anywhere else.
Our Research