Skip Navigation
We invite you to join us as we lead the way, setting new standards for advanced and compassionate patient care. Current employees can view and apply for positions by logging into the Career Opportunities portal here.
Here's how to apply
Enter your search criteria in the Search for Jobs field and click the blue Search button.

You can also apply a filter from the left hand side of the page to search for jobs at a particular location, job category, job type or full-/part-time availability.

Click on the title of the career opportunity you would like to review. This will take you to the job description of the position you chose.
At the top and bottom of the Job Description you can click the blue Apply button. By clicking Apply you will be asked to login to our job portal, Workday. If you don't have a login, select Create Account on the bottom of the screen.
If you are unable to find an opportunity you are interested in, at the top of the page you can click on Introduce Yourself in the navigation. This will take you to a new screen where you enter basic contact information and upload a resume. You may also set up Job Alerts to receive automatic emails for positions that may interest you.
If you want to start a new search, scroll to the top of the page and click Search for Jobs in the navigation.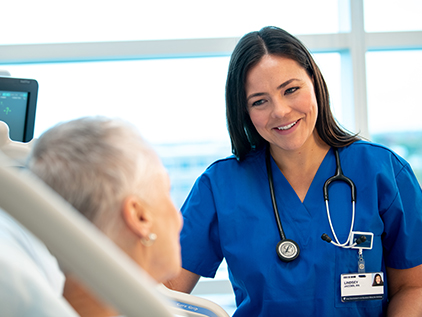 Ready to join us?
Take the first step toward your career at The University of Kansas Health System.
Search jobs now
We are an equal employment opportunity employer without regard to a person's race, color, religion, sex (including pregnancy, gender identity and sexual orientation), national origin, ancestry, age (40 or older), disability, veteran status or genetic information.
Related links