Skip Navigation
We are a top-25 employer offering a wide array of career opportunities within our organization. We have a leading reputation for patient care, medical education, research and community service. We value and respect the talented, committed and diverse people who make up our health system; they are our most important strength. In addition to being the best place to work, the health system offers competitive wages and an outstanding benefits package.
As an academic medical center, we strive to be on the leading edge of evidence-based practice. I love the collaboration within our department and within the broader interdisciplinary team to ensure our patients are provided the best nutrition therapy throughout their stay. – Kelly Skretta, clinical dietitian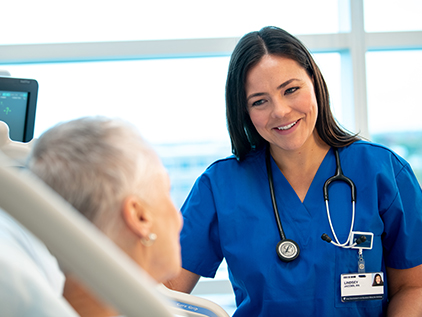 Ready to join us?
Take the first step toward your career at The University of Kansas Health System.
Search jobs now
We are an equal employment opportunity employer without regard to a person's race, color, religion, sex (including pregnancy, gender identity, and sexual orientation), national origin, ancestry, age (40 or older), disability, veteran status or genetic information.
Related links