Skip Navigation
Advanced, Patient-Centered Care  
At The University of Kansas Health System, nurses deliver world-class patient care in an environment where opinions are respected, professionalism is rewarded, and teamwork is valued. Nurses come here to perform at the leading edge of their profession – to be an integral part of medical breakthroughs and to handle complex cases that community hospitals rarely, if ever, see.
Advanced care
As a center for advanced medicine, The University of Kansas Health System plays an essential role in keeping people healthy in the Kansas City area and throughout Kansas and surrounding states. Patients count on The University of Kansas Health System to deliver specialized care and services unavailable anywhere else in the region.
The University of Kansas Health System is proud to partner with the University of Kansas Schools of Medicine, Nursing and Allied Health to help educate the next generation of health care professionals. We also collaborate on research projects and clinical trials that lead to the latest medical discoveries and treatments for our patients.
Patient-centered care
While The University of Kansas Health System needs nurses with highly advanced skills, we also understand the importance of the human side of healthcare. Our nurses treat each patient with dignity and compassion. They're dedicated to keeping patients comfortable and meeting both their physical and emotional needs.
As a member of our nursing staff, you'll have a chance to care for patients with all kinds of medical conditions. The University of Kansas Health System has the area's only nationally verified Level I Trauma Center and the region's only adult burn center with multiple accreditations.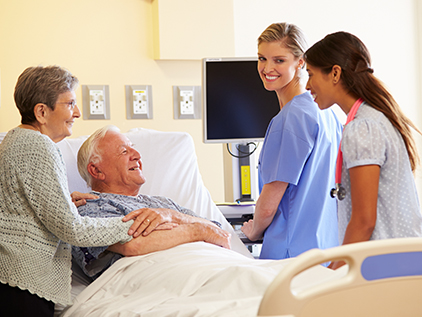 We're also home to highly respected programs for cancer diagnosis and treatment, cardiology, cardiothoracic and cardiovascular surgery, organ transplantation, polycystic kidney disease, Alzheimer's disease, Parkinson's disease and epilepsy treatment.
A multispecialty network of support
No matter which nursing specialty you choose, The University of Kansas Health System takes a multidisciplinary approach to patient care. You'll work alongside an experienced team of physicians, registered nurses, healthcare assistants, senior nursing associates and unit clerks.
Each unit also has a nurse manager, clinical nurse educator, nursing care coordinator, dietitian, pharmacist, social worker and physical, occupational and respiratory therapists. As an academic medical center, nurses here have around-the-clock access to physicians to help manage changes in patient status. Working as a team, our staff ensures the very best outcomes for our patients.
Orientation and training
Newly hired nursing staff members receive seven days of general hospital orientation, including safety and customer service training. Nursing units also provide several weeks of orientation and training designed to meet the specialized needs of their patients.
Clinical nurse educators, nurse clinicians and nurse managers participate in the orientation and training process, which is tailored to fit individual needs – from nursing novice to experienced professional. Each new employee is also assigned a preceptor or mentor to help further develop his or her nursing skills and knowledge.
Quality rounds result in exemplary outcomes
Nurses on Unit 66, a medical progressive care area specializing in pulmonary hypertension, recently strengthened their assessment process through additional daily quality rounds. Since October 2014, their daily rounds have focused on improving the outcomes of these nursing-sensitive indicators.
The goal of quality rounding is for unit nurses to ensure patient safety is always at the forefront. It's commonly known as "chasing zero," a healthcare phrase that is empowering hospitals to redesign their workflows so no hospital-acquired conditions occur.
Unit 66 nurses used evidence-based practices to elevate nursing care on their unit. They, in turn, developed a plan to improve the patient experience while continuing to embrace the patient and family as partners in care. Then, the nurses educated their patients on the importance of mobility, nutrition, safety and infection prevention to help them heal faster and better manage their disease.
The daily rounds have led to exemplary outcomes in key nursing-sensitive indicators – more than 90 days without patient falls, central blood stream infections and catheter associated urinary tract infections. The unit also achieved a 50 percent reduction in the use of central lines and urinary catheters.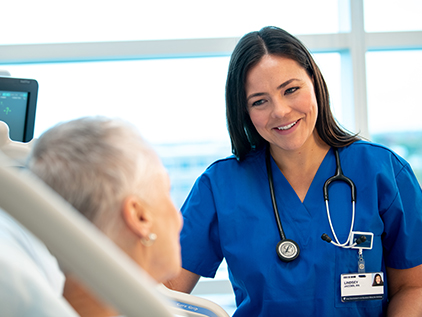 Ready to join us?
Take the first step toward your career at The University of Kansas Health System.
Search jobs now
We are an equal employment opportunity employer without regard to a person's race, color, religion, sex (including pregnancy, gender identity and sexual orientation), national origin, ancestry, age (40 or older), disability, veteran status or genetic information.
Related links