Skip Navigation
Ambulatory LPNs
Our ambulatory care LPNs are caring and compassionate individuals who work in our specialty and outpatient clinics throughout the Kansas City area. They also work in our Medical Pavilion on our main campus. LPNs at our hospital provide the highest quality of care and service.
LPNs work side-by-side with physicians to ensure the best patient care in our outpatient clinics. They provide a wide range of duties from data entry to performing injections, spirometry and EKGs. They room each patient and prepare patient rooms between exams. LPNs also promptly respond to triage calls and messages pertaining to patient care based on medical necessity. They address concerns for our walk-in patients as well.
LPNs make our clinics great. They support and advocate for our patients. – Katie Knisely, LPN

General medicine
Our LPNs work in the following specialties
Allergy and rheumatology
Cardiology
Child psychiatry
Dermatology
Endocrinology
Family medicine
Gastroenterology
General and geriatric medicine
Infectious disease
Nephrology
Neurosurgery
Obstetrics and gynecology
Orthopedics
Otolaryngology head and neck surgery
Pediatrics
Plastic surgery
Psychiatry
Psychology
Pulmonary medicine
Sports medicine
Surgery
Urologic surgery
Why work for us
We hire highly competent and committed staff who value compassion. We support our staff and encourage them to learn and grow, and together we are devoted to providing the best possible patient care. All nurses – RNs and LPNs – are valued and respected by the multidisciplinary team.
As an academic medical center, we are a destination for complex care and diagnosis. With expert team members and leaders in medical research and education, we offer more options for patients with serious conditions. We use evidence-based practices, and our nurses are active participants in each care plan.
Nurses at our health system are leaders and decision makers, respected for their knowledge and expertise. Our nurses are trusted partners who work closely with physicians and other team members to provide the best care and the most advanced treatments.
We support career advancement and offer tuition reimbursement for nurses who want to advance their nursing degree.
Find a career in nursing at The University of Kansas Health System.
Do you have questions about open positions in this area?
Reach out to our recruiters:

Colleen Peterson
Do you have questions about open positions in this area? Reach out to our recruiter, Colleen.

Nicole Kisling
If you have a question about our open nursing positions, senior recruiter Nicole Kisling is available to answer your questions by email.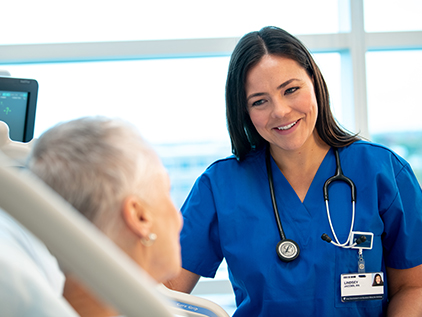 Ready to join us?
Take the first step toward your career at
The University of Kansas Health System.
Search for Jobs
Related links
We are an equal employment opportunity employer without regard to a person's race, color, religion, sex (including pregnancy, gender identity and sexual orientation), national origin, ancestry, age (40 or older), disability, veteran status or genetic information.