Skip Navigation
Cardiac Care
Our cardiac care nurses work with cardiologists, thoracic and cardiovascular surgeons, and other heart team specialists to provide outstanding patient care in our Center for Advanced Heart Care.
The heart center has nurses who specialize in:
Cardiac catheterization and electrophysiology
These nurses are part of a team dedicated to fast diagnosis and leading-edge treatment for an array of heart conditions. Our experts in the catheterization lab use the latest technology to diagnose and treat blockages and perform the most advanced procedures.
Cardiac intensive care
Our cardiac intensive care nurses provide round-the-clock monitoring of hospitalized patients with heart conditions. Nurses also care for patients before and after they receive angioplasty, pacemakers and implantable defibrillators.
Cardiac treatment and recovery
In this area, nurses prepare patients for procedures in the cardiac catheterization and electrophysiology labs and help patients as they recover following procedures. They also care for patients who need treatment for congestive heart failure or chest pain.
Cardiothoracic surgery intensive care
Here, patients recover from major cardiothoracic surgeries under the watchful eye of experienced, caring nurses and expert physicians.
Cardiothoracic surgery progressive care
Nurses in this area provide advanced care for patients with serious heart conditions, including those who have undergone open-heart surgery and surgical interventions.
Cardiovascular operating room and cardiovascular pre- and post-op
Here, nurses are part of a team that's on the forefront of the latest surgical techniques and procedures. Our cardiac surgeons are highly skilled and perform complex surgeries with patient outcomes that exceed national standards. Nurses with extensive training in cardiac care prepare patients for surgery and provide care in the recovery room.
Cardiovascular progressive care
Patients who've had a heart attack or are suffering from congestive heart failure receive continuous monitoring and specialized interventions from our specialty-trained cardiac nurses.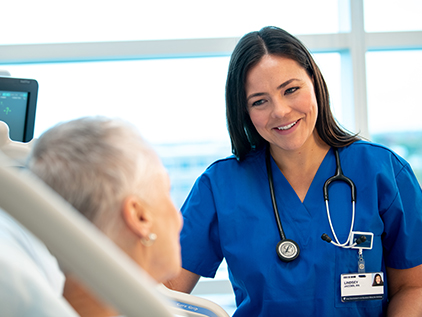 Ready to join us?
Take the first step toward your career at The University of Kansas Health System.
Search jobs now

Gina Salazar
If you have a question about our open nursing positions, senior recruiter Gina Salazar is available to answer your questions by email.
We are an equal employment opportunity employer without regard to a person's race, color, religion, sex (including pregnancy, gender identity and sexual orientation), national origin, ancestry, age (40 or older), disability, veteran status or genetic information.
Related links