Skip Navigation
Critical Care
The level of care our nurses provide to patients with life-threatening injuries and conditions sets The University of Kansas Health System apart from community hospitals. In fact, other hospitals often transfer their most critically ill or injured patients to one of our specialized intensive care units.
Critical care nurses provide emergency and intensive care services in these areas:
Burn and wound care
Nurses who are part of this multidisciplinary team use the latest techniques to help patients heal from burns and slow-to-heal wounds.
Burnett Burn Center
These nurses provide both inpatient and outpatient care to those who need specialized treatment and rehabilitation services.
Emergency care
Nurses in our state-of-the-art Emergency Department provide critical interventions to patients with serious injuries and illnesses.
Medical intensive care
Critically ill patients with challenging health conditions receive the highest level of expert care from nurses in our medical intensive care unit.
Neurosurgical intensive care
Patients with complex neurological disorders, such as spinal cord damage, brain injuries, strokes and brain tumors, receive expert care from our neurosciences intensive care team.
Stroke care
Our nurses are trained to recognize stroke symptoms and provide immediate help, improving outcomes.
Surgical intensive care
Nurses in surgical intensive care work with physicians to treat complex trauma cases. They also care for patients recovering from surgery.
Transplant intensive care
Here, nurses provide intensive care for patients before or after they receive kidney, liver, pancreas or bone marrow transplants. They also care for patients who are critically ill due to organ failure.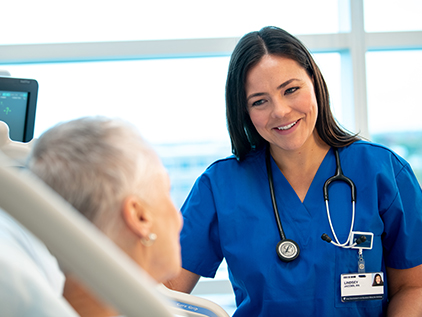 Ready to join us?
Take the first step toward your career at The University of Kansas Health System.
Search jobs now
We are an equal employment opportunity employer without regard to a person's race, color, religion, sex (including pregnancy, gender identity and sexual orientation), national origin, ancestry, age (40 or older), disability, veteran status or genetic information.
Related links