Skip Navigation
General Acute Care
Our excellent staff of general acute care nurses provides services throughout the hospital and in our specialty clinics.
Child and adult psychiatry
Our psychiatric nurses are part of an experienced team that includes:
Child life specialists
Occupational and recreational therapists
Psychiatric social workers
Psychiatrists
Psychologists
This specialized team provides assessment, evaluation and treatment to children and adults with psychiatric conditions.
Ear, nose and throat
Our highly trained nurses work closely with physicians to diagnose and manage ear, nose and throat conditions.
Family medicine
Members of the family medicine team treat patients with a variety of diseases and medical conditions. Nurses partner with family physicians to develop new and innovative ways to care for these patients.
General surgery and trauma
The general surgery team performs a range of routine and highly complex surgeries. These nurses and physicians are known for their expertise and commitment to excellent patient care. Nurses are part of our Level I Trauma Center team that provides comprehensive surgical care for patients healing from complex injuries.
Medical telemetry
Our specialty trained medical telemetry nurses are part of a team that cares for patients with medical conditions requiring continuous cardiac monitoring. These conditions include respiratory diseases, diabetes, gastrointestinal problems, cystic fibrosis and rare disorders.
Neurology and neurosurgery
Nurses in neurology and neurosurgery provide care for patients who have neurological disorders, such as multiple sclerosis and Parkinson's disease, as well as those who have had strokes or who require around-the-clock seizure monitoring.
Orthopedics
Nurses who are part of our orthopedics team work with patients being treated for a variety of back disorders, joint replacements, and hand, leg and foot injuries.
Plastic surgery
The plastic surgery team includes board-certified surgeons who provide a full range of adult and pediatric reconstructive and cosmetic services. Our nurses assist with surgeries and care for patients before and after their procedures.
Rehabilitation services
Patients of all ages rely on our rehabilitation nurses to help them recover from debilitating injuries and illnesses.
Renal care
Members of this nursing team care for patients with complex conditions and needs resulting from kidney disease and renal failure. Patients requiring and recovering from kidney transplants are also cared for by our renal care nurses.
Short-stay care
These nurses provide high-quality, short-term care and observation to help patients regain their strength and health before they leave the hospital.
Transplant care
As members of the transplant care team, our nurses provide complex care to patients awaiting organ transplants, as well as those recovering after they receive transplants.
Urology
Nurses who are part of our urology team help patients with cancer and other disorders of the bladder, prostate and kidney.
Vascular care
Vascular nurses provide medical and surgical care for patients with conditions that affect their circulation by helping them maintain or regain optimal blood flow.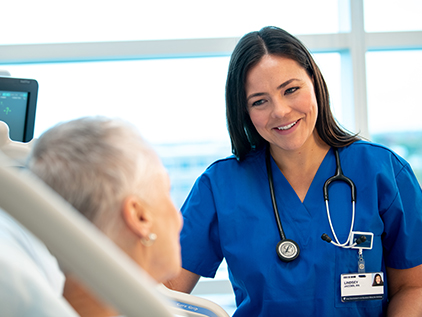 Ready to join us?
Take the first step toward your career at The University of Kansas Health System.
Search jobs now

Gina Salazar
If you have a question about our open nursing positions, senior recruiter Gina Salazar is available to answer your questions by email.
We are an equal employment opportunity employer without regard to a person's race, color, religion, sex (including pregnancy, gender identity and sexual orientation), national origin, ancestry, age (40 or older), disability, veteran status or genetic information.
Related links