Skip Navigation
Nurses from The University of Kansas Health System share their experiences.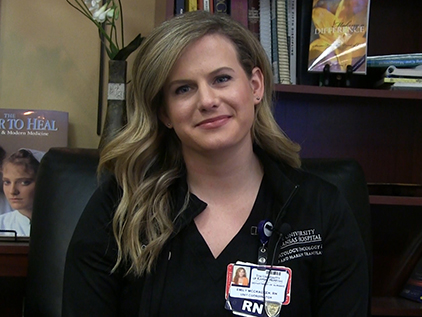 Emily McCracken, RN
Emily McCracken, RN, is a unit coordinator for inpatient cancer units at The University of Kansas Health System. Listen as Emily discusses various aspects of her job as an inpatient cancer nurse, why she chose The University of Kansas Health System and what inspires her.
Learn more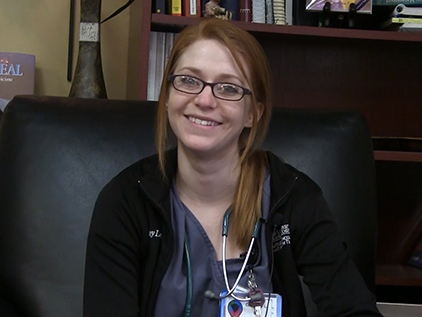 Courtney Leonard, RN
Courtney Leonard, RN, works in the inpatient cancer units at The University of Kansas Health System. Listen as Courtney talks about becoming a nurse and why she chooses to work with patients at The University of Kansas Health System.
Learn more
Nursing advancement opportunities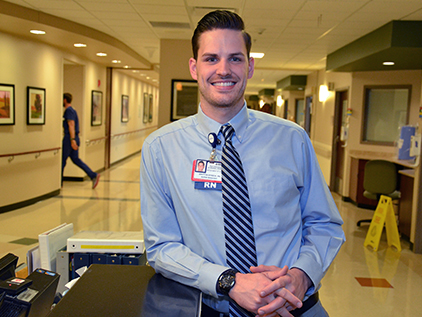 Britton Streck, BSN, RN
You might say that Britton Streck is on the fast track. Less than five years after joining the health system as a floor nurse just out of nursing school, he progressed through two promotions before landing his current position as a nurse manager with a staff of more than 80 in Cardiovascular Progressive Care.
He attributes his rapid advancement to his ability to be positive in every encounter with every person, every single day.
As nurses, we have to remember that the patient we're taking care of may well be having the worst day of their entire life. – Britton Streck, BSN, RN
"So bring them a little joy, lift their spirits and make sure they know how much you care. That's all part of providing the best possible care for our patients. Bringing that kind of positivity to everything you do makes others eager to be part of your team and to work with you. I always tell my employees to leave their egos and worries at the door. Focus on your patients. That's your No. 1 priority."
Seek out mentors with qualities you aspire to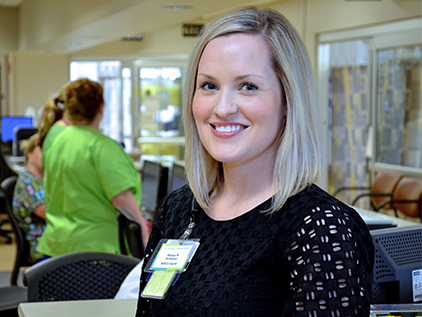 Whitney Watson, MSN, APRN, AGCNS-BC, CCRN
Whitney Watson became a nurse associate at our health system when she was still a junior in nursing school. As a new graduate a year later, she was hired as a staff nurse in Medical-Transplant Intensive Care.
After 2 years on the floor, she became unit educator. Four years after that, she transitioned to nurse manager, and is now also an interim nurse manager for Medical-Surgical Intensive Care.
She credits strong mentors for her success in moving into nursing leadership. "I will be forever grateful for the nursing colleagues who mentored, taught and encouraged me," she said.
Two mentors in particular saw how much she wanted to learn and grow professionally and gave her more responsibilities. "They taught me invaluable skills, such as how to evoke positive change and how to gain buy-in."
They also helped her develop the ability to stay positive in the face of challenges.
Ultimately, we have to learn to trust ourselves and our teams – and remember we're bigger than any obstacles we may face. – Whitney Watson, MSN, APRN, AGCNS-BC, CCRN
Specialized RNs help set standards for care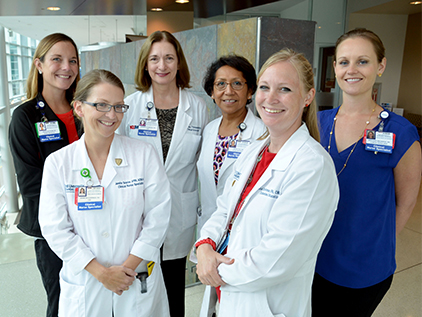 Clinical Nurse Specialists (CNSs)
Among the approximately 2,400 nurses at
The University of Kansas Health System is
an expert group known as clinical nurse specialists, or CNSs.
Though they don't diagnose and care for patients at the bedside, each of the 18 CNSs specializes in a different area of care, such as pediatrics, diabetes or psychiatry, palliative care or oncology.
Their job: Become well-recognized authorities in their fields and drive innovation throughout the hospital, working with nurses at the bedside – as well as physicians and other caregivers – to provide the most advanced treatments for patients. They coach, support, collaborate and consult.
We pride ourselves on being the experts. This way we can really impact patient care on a system-wide basis. – Jennifer Surprise, CNS
A key part of their responsibility is researching the latest nursing and healthcare literature. Over the past year the CNSs led 27 research and quality improvement projects at the health system.
One of the projects, for instance, focused on implementing a new evidence-based approach to managing sedation among adult patients on mechanical ventilators.
Nurses in the health system's seven ICUs now follow detailed new protocols to gradually decrease patient sedation levels. As a result, ventilation use in this patient population has decreased by more than 50 percent while their average length of hospital stay decreased more than three days.
Other projects ranged from family communication in the ICUs to recognizing and treating delirium among patients.
As advanced practice nurses, the CNSs hold masters or doctorate degrees in nursing. Nationwide there are about 72,000 CNSs, accounting for just 2 percent of the nation's nurses.
"Our CNS team represents some of the profession's most highly skilled nurses," said Rachel Pepper, DNP, director of the health system's Nursing Practice and Clinical Excellence. "Because they focus on our overall healthcare environment, they are uniquely prepared and positioned to have an impact on patient outcomes throughout the hospital."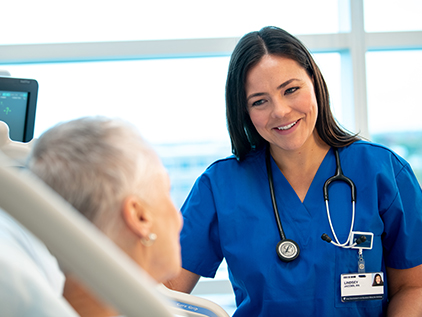 Ready to join us?
Take the first step toward your career at The University of Kansas Health System.
Search jobs now
We are an equal employment opportunity employer without regard to a person's race, color, religion, sex (including pregnancy, gender identity and sexual orientation), national origin, ancestry, age (40 or older), disability, veteran status or genetic information.
Related links