Skip Navigation
Emily McCracken, RN
Emily shares information about her job as an inpatient cancer nurse, why she chose The University of Kansas Health System and what inspires her.
There are three inpatient cancer units that care for approximately 69 patients at every stage of cancer diagnosis. Our goal is to make sure every patient receives excellent care.

During my clinical rotation in nursing school, I had the opportunity to learn about the care provided at many hospitals in Kansas City and chose The University of Kansas Health System.

Nurses are empowered at the hospital and expected to be active participants in the care of their patients. Nurses are advocates for our patients and work as a part of a multidisciplinary team to provide the very best care.

Our patients have very complex and acute conditions, which provide nurses an opportunity to learn firsthand about cancer treatments and be supported by co-workers and the organization to continually learn and ask questions. This cultivates the learning environment at the hospital.

The interaction with patients, even the small moments, is the reason our nurses enjoy their jobs. Engaging and educating patients is the best part of the job.

Our patients have excellent outcomes, partly because the nursing staff works as an excellent team. They rely on one another and support each other.

Nurses at The University of Kansas Health System are respected and valued by the care team and organization. They are asked to share advice and opinions on patient care. Teamwork is a commitment and a part of the culture, which leads to a great working environment.

Holidays are bittersweet. When people go into healthcare, they understand it's a 24-hour job. It helps that nurses at The University of Kansas Health System understand and are willing to work the weekends and holidays in order to provide the very best care for our patients.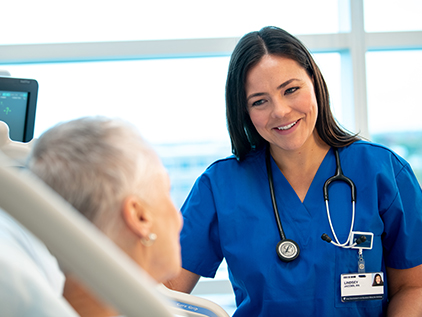 Ready to join us?
Take the first step toward your career at The University of Kansas Health System.
Search jobs now
We are an equal employment opportunity employer without regard to a person's race, color, religion, sex (including pregnancy, gender identity and sexual orientation), national origin, ancestry, age (40 or older), disability, veteran status or genetic information.
Related links