Skip Navigation
Amanda Ortiz-Cadena, LPN
Amanda shares information about her job as an LPN in Internal Medicine, why she chose The University of Kansas Health System and what inspires her.
You work with your assigned physician and their residents to room patients and manage the physician's calls, refills, procedures and injections. You take care of anything related to the care of your patients.

I didn't want to work in a nursing home, which is where they say most LPNs will end up. I wanted a fast-paced clinic job, and The University of Kansas Health System is one of the few hospitals that hire LPNs.

All physicians here are really approachable and like to teach. They are very helpful with the nursing staff and provide great patient care.

The benefit of working in an outpatient setting is you get to see your patients over and over. You get to build a relationship with them. When they have the same nurse, it helps to build trust between the patient and the whole care team.

We are a very friendly, helpful and intelligent group.

We introduce new nurses to the entire team, and we are a very approachable group. We want it to be a helpful environment. We want your help. We need you just as much as you need us.

We have great hours and are not open on the weekends. We have great insurance and it's a friendly, fun environment.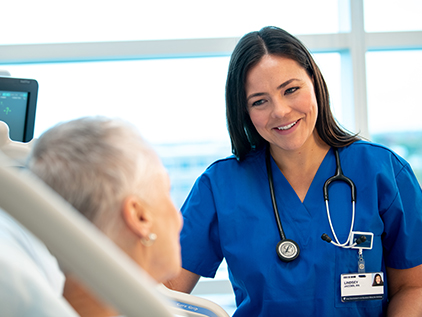 Ready to join us?
Take the first step toward your career at
The University of Kansas Health System.
Search Jobs Now
Related links
We are an equal employment opportunity employer without regard to a person's race, color, religion, sex (including pregnancy, gender identity, and sexual orientation), national origin, ancestry, age (40 or older), disability, veteran status or genetic information.