Skip Navigation
Maternal and Child Services
Maternal and child services nurses help expectant mothers through labor and delivery. They also provide advanced clinical care to infants, children and adolescents.
You'll find nurses specializing in maternal and child services in these hospital areas:
Labor and delivery
Our expert, patient-focused labor and delivery nurses help mothers-to-be through every step of the birth process.
Mother and baby care
New mothers and their babies receive care from a compassionate and highly skilled nursing team. Nurses provide education, breast-feeding support and follow-up based on the specific needs of families with new babies.
Neonatal intensive care
Members of this nursing team care for infants in our Level III Neonatal Intensive Care Unit. Each infant's emotional and developmental needs are assessed and addressed. Nurses also help parents learn to care for their infants.
Pediatric care
Pediatric nurses provide a high level of care and comfort to infants, children and adolescents with a variety of medical and surgical conditions.
Pediatric intensive care
Our Pediatric Intensive Care Unit nurses work with children who have critical illness and who have undergone complex surgeries.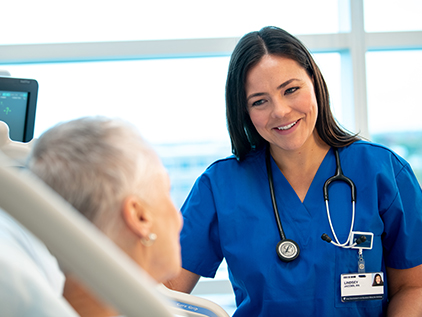 Ready to join us?
Take the first step toward your career at The University of Kansas Health System.
Search jobs now

Gina Salazar
If you have a question about our open nursing positions, senior recruiter Gina Salazar is available to answer your questions by email.
We are an equal employment opportunity employer without regard to a person's race, color, religion, sex (including pregnancy, gender identity and sexual orientation), national origin, ancestry, age (40 or older), disability, veteran status or genetic information.
Related links