Skip Navigation
Operating Room and Procedural Care
Operating room and procedural care nurses help patients through a variety of surgeries, as well as diagnostic and treatment procedures. Nurses provide services in these hospital areas:
Gastroenterology/endoscopy
These nurses assist with the diagnosis of patients with gastrointestinal and pulmonary conditions and their surgical procedures.
Infusion/IV therapy
Nurses on the hospital's infusion and intravenous (IV) therapy teams specialize in the insertion and care of patient IVs and catheters. Our nurses also provide IV and catheter training for hospital staff, as well as students from the University of Kansas Schools of Medicine, Nursing and Allied Health.
Inpatient/outpatient dialysis
Our friendly and caring nurses work one-on-one with hospitalized and homebound patients who require dialysis treatments.
Interventional radiology
During radiology procedures, this nursing staff provides care and routine monitoring of cardiac, neurosurgical, trauma and vascular surgery patients.
Preanesthesia testing/infusion clinic
These nurses help patients prepare for procedures and surgeries. They provide information, take medical histories, obtain lists of current medications, identify possible allergic and adverse reactions, and arrange for laboratory work, EKGs and other appointments as needed. Members of the Infusion Clinic team also perform patient assessments, take vital signs, do lab draws, start and administer IV medications, and then closely monitor patients for any adverse reactions.
Operating room/same-day surgery/postanesthesia care
Nurses play a critical role in many advanced and highly complex surgical procedures. These often use robotics, computer-enhanced imaging, video, fiber optics and other advanced technologies. This level of care for surgical patients demands teamwork, critical thinking and attention to detail.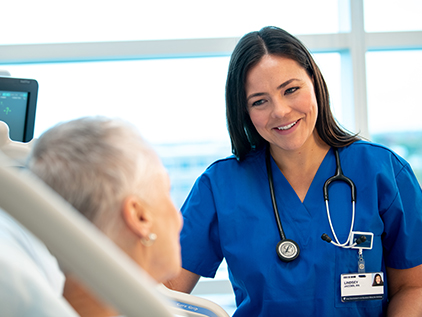 Ready to join us?
Take the first step toward your career at The University of Kansas Health System.
Search jobs now

Tracy Dickens
Do you have questions about open positions in this area? Reach out to our recruiter, Tracy.
We are an equal employment opportunity employer without regard to a person's race, color, religion, sex (including pregnancy, gender identity and sexual orientation), national origin, ancestry, age (40 or older), disability, veteran status or genetic information.
Related links