Skip Navigation
Honoring Excellence
At The University of Kansas Health System, we recognize our nurses for dedicating their careers to saving lives. We present a number of nursing awards to honor excellence.
Donor-supported awards include:
Award for Excellence in Cardiovascular and Cardiothoracic Surgical Nursing
Award for Excellence in Hematology/Oncology Nursing
Elizabeth Page Award for Excellence in Rehabilitative Care
Elizabeth Wisdom Award for Excellence in Medical ICU
Jodie C. Hatzenbihler Clinical Excellence Education Award
Pulmonary and Critical Care Award for Nursing Excellence
Riss Family Award for Excellence in Neuroscience Nursing
Sutherland Family Nursing Award for Excellence in the Surgical Intensive Care Unit
Thomas McCool/KCP&L Award for Excellence in Burn Nursing
Registered nurses in these respective areas are nominated by unit nurses, managers and physicians. For many of the awards, recipients receive $1,000. For other awards, recipients have expenses paid to a continuing education conference.
Nursing Excellence Awards
These prestigious awards are given annually in eight categories: Patient/Family Advocate, Patient/Family Educator, Nurse Mentor, Nurse Preceptor, Expert Clinical Nurse, Expert Nurse Leader, Outstanding New Graduate Nurse and Nurse Innovator. A special display of these award plaques for nursing excellence is on the second floor of the hospital.
Recipients of the Nursing Excellence Awards and donor-supported awards are honored at an annual banquet.
The DAISY Award is a nationwide program that celebrates nurses who consistently demonstrate excellence through their clinical expertise, extraordinary service, compassionate care and the trusting relationships they form with patients and families. The University of Kansas Health System is a proud DAISY Award hospital partner, recognizing three of our nurses with this special honor every quarter.

DAISY Award winners are honored at a public ceremony on their units. Each receives a certificate, a DAISY Award pin and a hand-carved stone sculpture called "A Healer's Touch."
To recommend a deserving nurse for this award, complete and return the nomination form. If you have any questions or comments about the nomination process at The University of Kansas Health System, contact daisy@kumc.edu. To learn more about the program, including the growing list of hospital partners, visit DAISYfoundation.org.
DAISY Team Award
Our nurses work together with multidisciplinary teams to deliver outstanding patient outcomes. In 2015, The University of Kansas Health System added the inaugural DAISY team award, in addition to the individual quarterly awards. The award goes to a nursing team that has made a difference for patients, families, colleagues, the hospital or the community.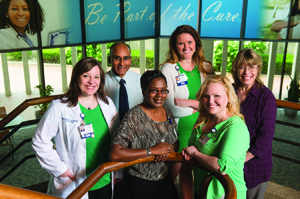 Inaugural DAISY Team Award recipients
Dennis Maggart's care team at the Richard and Annette Bloch Cancer Care Pavilion and inpatient units 41/42/45 received the hospital's inaugural DAISY Team Award. After receiving remarkable care during his cancer treatment, Maggart's wife, JoAnne, started a running list of all the extraordinary caregivers: nurses, oncologists, medical team assistants and technicians, etc. She soon ran out of paper due to the growing list. They appreciated everyone's sincerity, patience and compassion as he successfully battled non-Hodgkin's lymphoma.
About The DAISY Foundation
The DAISY Foundation was established in 2000 by the family of J. Patrick Barnes, who died at age 33 from complications of the autoimmune disease idiopathic thrombocytopenic purpura. DAISY is an acronym for Diseases Attacking the Immune System.
The foundation honors Pat's memory and his comforting, positive nature. It provides support for research and education about ITP and related illnesses.
Inspired by the care and compassion Pat's nurses provided during his illness, the foundation established The DAISY Award for Extraordinary Nurses.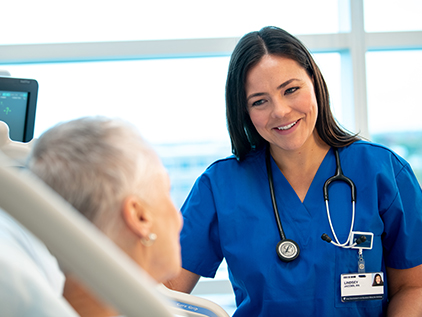 Ready to join us?
Take the first step toward your career at
The University of Kansas Health System.
Search for Jobs
Related links
We are an equal employment opportunity employer without regard to a person's race, color, religion, sex (including pregnancy, gender identity and sexual orientation), national origin, ancestry, age (40 or older), disability, veteran status or genetic information.