Skip Navigation
Work Among the Best
Advanced practice providers at The University of Kansas Health System play an important role in providing the highest quality healthcare to our patients. As an advanced practice provider, you'll be part of an experienced team that includes physicians, nurses and other professionals in primary or specialty care. Some of our specialties include:
Cardiology
Endocrinology
OBGYN
Oncology
Orthopedics
Surgery
Urgent care
Urology
Our advanced practice providers perform physical exams, make diagnoses, prescribe medication, treat conditions, counsel patients and work on research projects.
We are a top-25 employer in the Kansas City metro and have a national reputation for excellence in patient care, medical education, research and community service. The University of Kansas Health System offers competitive salaries and the region's most comprehensive benefits package.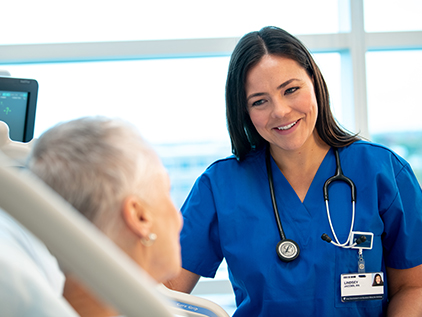 Ready to join us?
Take the first step toward your career at
The University of Kansas Health System.
Search Jobs Now
Related links
We are an equal employment opportunity employer without regard to a person's race, color, religion, sex (including pregnancy, gender identity and sexual orientation), national origin, ancestry, age (40 or older), disability, veteran status or genetic information.