Skip Navigation
Food service, custodial, information desk, patient transport and laundry support
At The University of Kansas Health System, caring for patients is what we do. As a facilities and customer support employee, your job is an important part of our commitment to providing the best care. From the moment patients and visitors walk in our doors, our support team members are there to greet them with a smile and do their part to provide nutritious meals and ensure a clean environment. Patients often tell us that the friendly people who clean their rooms or deliver their meals brightened their days and made a lasting positive impression!
Learn more about our positions
Our facilities and customer support roles include positions in these fields: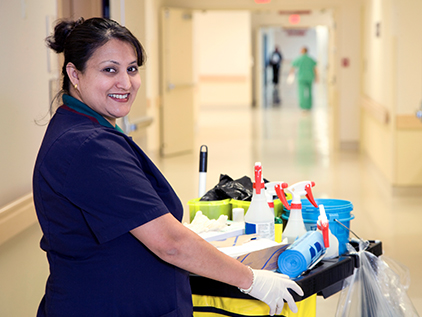 Custodial
Keeping our facilities and patient rooms clean and safe is very important. Custodial workers, housekeepers, supply techs and laundry workers are among the many staff who help maintain clean, well-supplied and orderly patient rooms, offices and public areas. Positions are available at the main campus and other locations, including the Westwood Campus, KU MedWest and the Inpatient Acute Rehabilitation Unit.
Learn more about our custodial jobs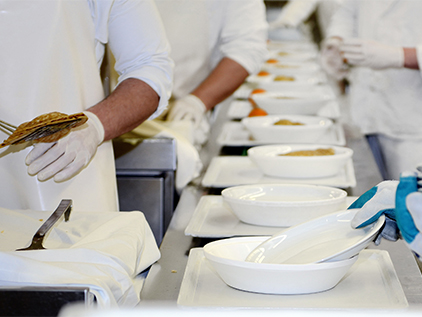 Food service
Our food service team includes cooks, cashiers, food service workers and nutrition assistants. They help us provide nutritious meals for more than 10,000 patients and visitors each day. If our main campus were a restaurant, it would be one of the largest in Kansas City. We are looking for passionate chefs and cooks to join our team.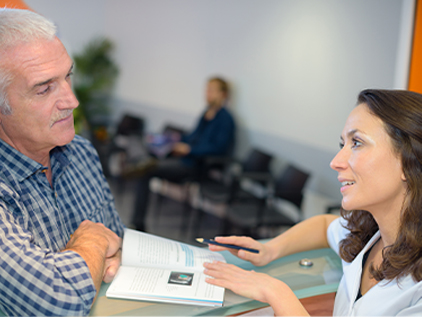 Information desk
Our information desk attendants greet guests and patients. They assist them with questions and help them find their way around the hospital. If you have a positive attitude and a passion for customer service, apply for a job at the information desk.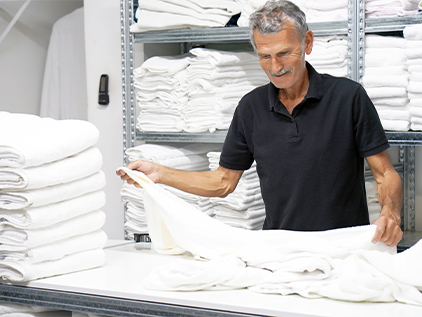 Laundry
Our laundry team is responsible for delivering clean linens and picking up soiled linens throughout the hospital. They also unload clean linens and load soiled linens onto trucks all while maintaining a friendly attitude.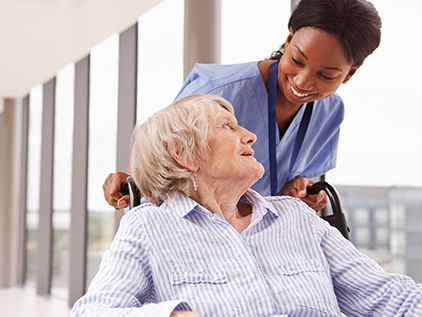 Patient transport
We rely on transporters and dispatchers to move patients from location to location while ensuring their comfort and safety. If you love to walk and have a friendly, outgoing personality, apply for a job in patient transport.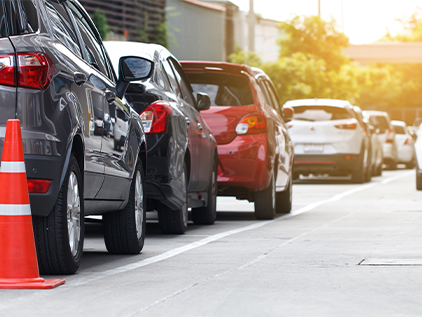 Valet parking
Valet parking employees ensure that all customers are approached and greeted in a friendly, helpful way. They park and retrieve all vehicles and follow all traffic laws, facility policies and pedestrian regulations.
Learn more about valet positions
GED program
Qualifying support services staff can earn a GED while on the job. GED classes are offered at The University of Kansas Health System's main campus. The health system pays all programs fees and up to 8 hours a week for classes. Graduates from the GED program may go on to obtain new roles within the health system upon completing their requirements.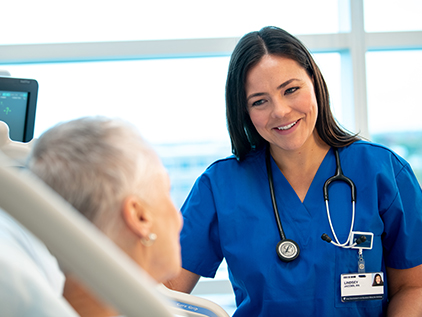 Ready to join us?
Take the first step toward your career at The University of Kansas Health System.
Search jobs now
The University of Kansas Health System is 1 of the top 25 employers in the Kansas City metro area. In addition to being the best place to work, the health system offers competitive wages and an outstanding benefits package.
We are an equal employment opportunity employer without regard to a person's race, color, religion, sex (including pregnancy, gender identity and sexual orientation), national origin, ancestry, age (40 or older), disability, veteran status or genetic information.
Related links