Skip Navigation
From Our Co-Workers
At The University of Kansas Health System, every employee makes a difference in the lives of our patients – regardless of their position. It's because of our people that we have been able to focus on quality and patient satisfaction, ensuring the patient experience is nothing less than exceptional. Here, a few employees share why they have chosen to work at The University of Kansas Health System.
Patrick Moorman, radiologic technologist
After working in technology for most of his career, Patrick decided to parlay that experience into a new field: radiology.
I wanted a job where I could actually see the people I was helping, and help them directly. I've had X-rays before, and I thought I could take my experience as a patient and help make those people's days a little better for the 5-10 minutes I see them. – Patrick Moorman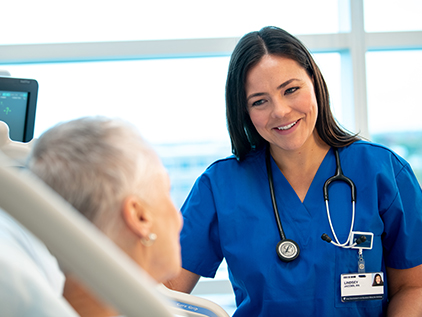 Ready to join us?
Take the first step toward your career at The University of Kansas Health System.
Search jobs now
We are an equal employment opportunity employer without regard to a person's race, color, religion, sex (including pregnancy, gender identity and sexual orientation), national origin, ancestry, age (40 or older), disability, veteran status or genetic information.
Related links