Skip Navigation
Our Approach
Helping very sick patients recover – even those who believed they were out of options – is what we do every day. We pair the skill of our caregivers with evidence-based medicine and the most advanced technology. We offer this care with compassion, kindness and respect. We are among the top academic hospitals in the country in saving lives and improving outcomes.
A message from our CEO
Our goal of becoming the best hospital in the country is guided by one basic belief: always put the needs of patients first. Today, we rank among the nation's top academic medical centers in both patient satisfaction and in the quality and safety of patient care.
As a not-for-profit, we reinvest our revenue into facilities, technology and resources that elevate the level of patient care we provide. Our patients have access to the latest medical technology and equipment that support the healing process. Our physician specialists are recognized leaders in treating the most challenging illnesses and injuries, while achieving outstanding patient outcomes. And our nurses and other caregivers are highly trained and known for delivering expert, attentive and compassionate care.
We are committed to continuing our legacy of excellence by providing outstanding service, leading-edge patient care and healthcare education to people in the Kansas City region, throughout Kansas and beyond.

Bob Page
President and Chief Executive Officer
The University of Kansas Health System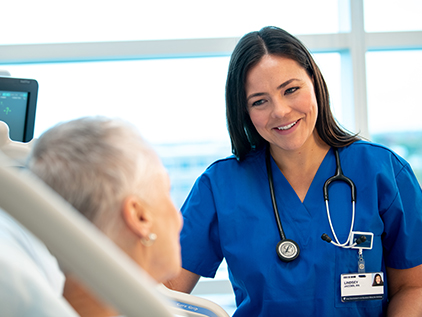 Ready to join us?
Take the first step toward your career at The University of Kansas Health System.
Search jobs now
We are an equal employment opportunity employer without regard to a person's race, color, religion, sex (including pregnancy, gender identity and sexual orientation), national origin, ancestry, age (40 or older), disability, veteran status or genetic information.
Related links