Skip Navigation
Our Culture
We realize our patients have many hospitals in Kansas City to choose from for their care.
At The University of Kansas Health System, we provide the most current and effective treatments in a welcoming, professional and caring environment. Our vision, mission and values represent our commitment to our patients' overall health and satisfaction with our hospital. Our goal is to ensure all of our patients have the best possible healthcare experience by receiving quality care and outstanding service.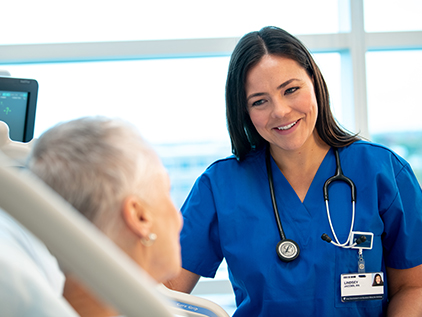 Ready to join us?
Take the first step toward your career at The University of Kansas Health System.
Search jobs now
Our mission
As an academic health system serving the people of Kansas, the region and the nation, The University of Kansas Health System will enhance the health and wellness of the individuals, families and communities we serve.
Vision statement
To lead the nation in caring, healing, teaching and discovering.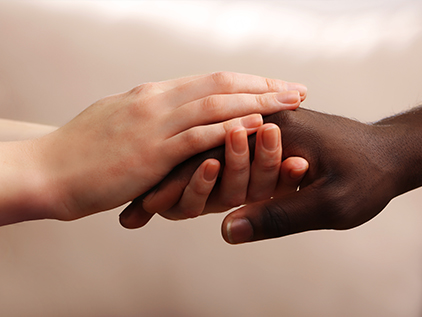 Our commitment to change
Our vision statement – to lead the nation in caring, healing, teaching and discovering – provides a road map for action to be taken following the recent tragedies in our nation.
Learn more
5-star performance goals
The University of Kansas Health System's 5-star performance goals serve as the foundation of our patient-centered culture of care. Executing these goals sets us on a path toward achieving our vision.
Quality
Our goal: We give each and every one of our patients the safest care, using evidence-based methods proven to deliver the best outcomes possible.
What success looks like: Our risk-adjusted mortality score is in the top 10% of all academic medical centers in the country.
Service
Our goal: We put our patients at the center of the care equation, showing them respect and treating them as individuals at each and every opportunity.
What success looks like: Our patient satisfaction scores are in the top 10% of all hospitals in the country as measured by Press Ganey, a national company focused on patient satisfaction, and HCAHPS, Hospital Consumer Assessment of Healthcare Providers and Systems, a public reporting process managed through the Centers for Medicare & Medicaid Services.
People
Our goal: We attract and retain the most competent and engaged workforce in the area, allowing us to provide high-quality, patient-centered care.
What success looks like: Our staff turnover is low and employee engagement and retention are high.
Growth
Our goal: We ensure the hospital has the capacity to provide our nation leading care to all who seek it.
What success looks like: We manage our patients' stay with us as safely and efficiently as possible to keep diversion hours and denials as low as possible.
Cost
Our goal: We provide the safest care possible in the most cost-effective manner by eliminating waste and reducing incidents of patient harm to zero.
What success looks like: Our operating margin allows us to reinvest in our people and facilities.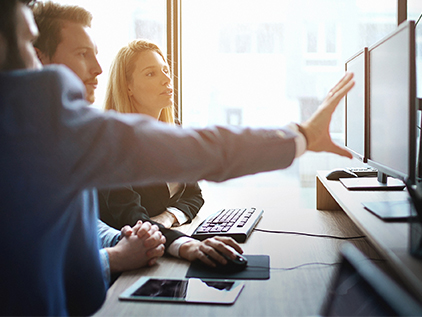 Our culture of ethics and professionalism
We are deeply committed to maintaining high ethical standards in every aspect of our business. Resources are available to employees with questions or concerns.
Learn more
Our culture of giving
At The University of Kansas Health System, we believe strongly in the power of community. As an academic medical center, we see ourselves as a resource to fellow caregivers, researchers, community leaders and others who work to make the lives of our patients, families, friends and neighbors better. The support we give to our community can be grouped into these areas:
Giving
Employees can choose to give at any time; however, the hospital-wide campaign to ensure employee awareness and encourage participation is held annually in the fall. Payroll deduction is offered as a convenient way for employees to give.
Employee campaign
The health system does not receive state or federal funding. Employees have the opportunity to improve the patient experience by providing financial support to the health system through the annual employee campaign. Contributions enhance patient programs, assist uninsured patients with care and medications, purchase advanced technology and fund patient resources and staff education.
United Way
By partnering with United Way, we help raise funds to support agencies that provide much-needed services to many of the same people we see in our hospitals and clinics.
Participating
The University of Kansas Health System has a leading heart program in the area, the region's only National Cancer Institute-designated cancer center and the region's first Advanced Comprehensive Stroke Center. So it will come as no surprise that our employees are strong supporters of events that give further hope to patients in with conditions in those areas. Each year our employees show up in force to support the following major community walks and runs, as well as many others.
American Heart Association Heart Walk
Susan G. Komen Race for the Cure
American Stroke Foundation Stroke Walk
Volunteering
HERO – Hospital Employees Reaching Out – gives employees additional opportunities to volunteer in community programs and events of their choice.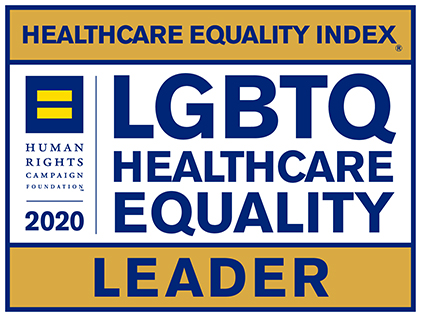 Our culture of equity in healthcare
For the last 3 years, we've been recognized for the equitable and inclusive care we provide for LGBTQ patients and their families by the
Healthcare Equality Index (HEI)
.
Learn more
We are an equal employment opportunity employer without regard to a person's race, color, religion, sex (including pregnancy, gender identity and sexual orientation), national origin, ancestry, age (40 or older), disability, veteran status or genetic information.
Related links