Skip Navigation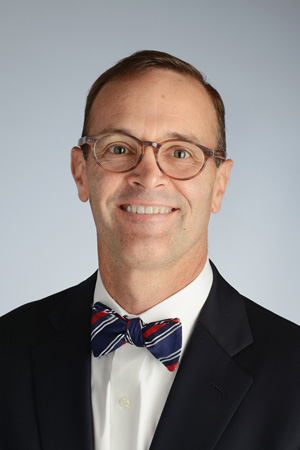 Holzbeierlein, Jeffrey MD
Urology
Holzbeierlein, Jeffrey MD
Urology
Languages: German , English
About Me

Jeffrey Maxwell Holzbeierlein, MD, FACS, is the John W. Weigel Endowed Professor of Urology, director of urologic oncology and chair of the Department of Urology at the University of Kansas Medical Center. He was raised in Edmond, Oklahoma, and received his undergraduate degree from Vanderbilt University and his medical degree from the University of Oklahoma. He joined the faculty at the University of Kansas Medical Center after completing his internship and residency at Vanderbilt University and a fellowship in urologic oncology at Memorial Sloan Kettering Cancer Center in New York.

Dr. Holzbeierlein is the immediate past president of the South Central Section of the American Urological Association (AUA). He is secretary of the Society of Urologic Oncology (SUO), where he is the past chair of the Fellowship Committee and serves on the Executive Board of the SUO. For this work, he received the SUO Distinguished Service Award in 2013. He has served on the American Board of Urology Examination Committee and is a past assistant editor for the Journal of Urology. He currently is a member of the Oral Boards Committee for the American Board of Urology and has served on numerous AUA committees, including the Practice Guidelines Committee and the Public Media Committee, and he has completed the AUA Leadership Program. He is chair of the Program Committee for the Genitourinary American Society of Clinical Oncology (GU ASCO) and vice chair of the Muscle Invasive Bladder Cancer Guidelines Committee. In addition, he is a fellow of the American College of Surgeons and serves on the Kansas section of the ACS selection committee. Dr. Holzbeierlein is also the past chair and founding member of the Young Urologic Oncologists section of the Society of Urologic Oncology. He is a reviewer for the Journal of Urology, Cancer, and Urologic Oncology. He has also been awarded the Resident Mentoring Award for faculty at The University of Kansas Hospital.

Dr. Holzbeierlein serves on numerous hospital committees at The University of Kansas Health System and is director of the Genitourinary Disease Working Group and the past co-director of the K-Inbre Translational Research Core. He is also director of the Burns and McDonnell High-Risk Prostate Cancer Prevention and Survivorship Clinic and chair of the Surgical Oncology Committee.

Dr. Holzbeierlein has published numerous peer-reviewed journal articles and has numerous presentations and abstracts in journals and textbooks dealing with urologic oncology. He has been an annual lecturer for an AUA course focusing on the management of high-risk superficial bladder cancer that was selected as one of the best courses at the AUA. He has intramural and extramural grant support, including as a co-investigator on an R01, as a SWOG and as principal investigator on several investigator-initiated trials.

Dr. Holzbeierlein specializes in the treatment of genitourinary malignancies, including prostate, bladder, kidney, testicular and penile cancers. His research interests include the androgen receptor as a target of Hsp90 inhibitors in prostate cancer and clinically decreasing the morbidity associated with cystectomy. He lives in Kansas City with his wife, Jill, and their four children and is civically active at the Hope Lodge of Kansas City and Maison de Naissance.

Insurance Accepted
If you are enrolled in a managed care plan (HMO, PPO or POS), your treatment at The University of Kansas Health System in Kansas City may be covered by insurance. To verify if you're eligible for treatment at our health system, reference the following information:
Credentials
Certifications
Board Certification

Urology
Education & Training
Fellowship

Memorial Sloan Kettering Cancer Center

Medical School

University of Oklahoma

Residency

Vanderbilt University Medical Center
Locations
1. Westwood Medical Pavilion and the Richard and Annette Bloch Cancer Care Pavilion

2650 Shawnee Mission Pkwy.
Westwood, KS 66205
MyChart
This physician uses MyChart – an online health management tool that connects you with your doctor's office. With MyChart, you get direct, online access to portions of your electronic medical record. You can also schedule an E-visit, ask your doctor a question, refill prescriptions, pay your bill and more. Sign up for MyChart now to get started.