Skip Navigation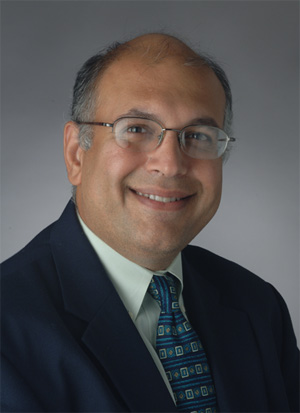 Languages: Hindi , English
About Me

Ajay K. Nangia, MD, MBBS, FACS, is professor and vice chair of urology at the University of Kansas Medical Center. He received his medical degree from St. Thomas' and Guy's Hospital Medical School in London, U.K. and completed two years of research at Yale University prior to residency. He completed his urology residency at the University of Pittsburgh Medical Center and a male infertility and microsurgery fellowship at the Cleveland Clinic Foundation in Cleveland, Ohio.

Dr. Nangia was at Dartmouth-Hitchcock Medical Center in New Hampshire prior to coming to Kansas and the Kansas City area. He is a fellowship-trained male infertility specialist in the metropolitan Kansas City area with 18 years of experience and national involvement in the field. He is one of the leading male infertility specialists nationally and in Kansas, Missouri and the Midwest region.

He has extensive experience in male infertility, urological microsurgical reconstruction, including vasectomy reversals in the Kansas, western Missouri, Oklahoma and Nebraska region. He also specializes in men's health issues as they relate to sexual and reproductive health, especially male contraception, testosterone deficiency, erectile dysfunction and ejaculatory problems. He and Joshua A. Broghammer, MD, FACS, have one of the largest practices in surgical correction for erectile dysfunction (penile prostheses) in the region. He also specializes in fertility and sexual dysfunction issues related to spinal cord injuries and pre- and post-cancer treatment. Dr. Nangia is a leading national specialist in the field of male infertility, vasectomy reversals, vasectomies and complications from vasectomies. He also has a secondary specialty in stone disease.

Dr. Nangia was in the 2010 leadership class for the American Urological Association (AUA), former president of the Society of Male Reproduction of the American Society of Reproductive Medicine. He is past chair of the Ethics Committee of the American Society of Andrology and past president of the Society for the Study of Male Reproduction (a branch of the AUA), among others. He is also a liaison with the Centers for Disease Control and Prevention (CDC) for male reproduction. He has been named Top Urologist by the Consumer Research Council for several years, among the Best Doctors in Kansas City by the KC Business Journal in 2011-2017, among the Best Doctors in America in 2010 and nominated to Who's Who in America in 2010-2014.

He has written several peer-reviewed journal articles in the field of urology, including articles on male infertility, vasectomy reversal microsurgery and vasectomy. He is a member of the Best Practice Statement for Male Infertility and Azoospermia by the AUA. He also serves on the AUA Health Policy Council and as chair of the Men's Health section of the Urology Care Foundation. He is subsection editor of the AUA News. He educates community providers, patients and high school students in the community on issues of male reproductive and sexual health. He reviews for a number of urology and fertility journals and has lectured internationally, nationally and regionally. He is the clinical director of andrology at the University of Kansas Medical Center and president of the Kansas Urological Society.

Dr. Nangia's special interests in the field of urology are microsurgical reconstruction, including vasectomy reversal, male infertility, vasectomy/male contraception and male sexual/reproductive dysfunction, and he is actively involved with research in male contraception, testicular cancer awareness, as well as the study of vitamin D in sperm/testicular physiology.

He is co-principal investigator on leading-edge research and development of a reversible male contraceptive through the Male Contraceptive Trials Network. He is also involved with ongoing research in the development of a nonhormonal, reversible male contraception that is very promising and may go into clinical trials in the next few years.


Insurance Accepted
If you are enrolled in a managed care plan (HMO, PPO or POS), your treatment at The University of Kansas Health System in Kansas City may be covered by insurance. To verify if you're eligible for treatment at our health system, reference the following information:
Credentials
Certifications
Board Certification

Urology
Education & Training
Fellowship

Cleveland Clinic Foundation

Medical School

United Medical and Dental Schools of Guys and St Thomas Hospitals

Internship

University of Pittsburgh Medical Center-Pittsburgh PA

Residency

University of Pittsburgh Medical Center-Pittsburgh PA
Locations
2000 Olathe Blvd.
Kansas City, KS 66160

2. Corporate Medical Plaza

10777 Nall Ave.
Suite 210
Overland Park, KS 66211

OFFICE HOURS

Mon

8:00 a.m. - 4:30 p.m.

Tues

8:00 a.m. - 4:30 p.m.

Wed

8:00 a.m. - 4:30 p.m.

Thur

8:00 a.m. - 4:30 p.m.

Fri

8:00 a.m. - 4:30 p.m.

Sat

Closed -

Sun

Closed -
MyChart
This physician uses MyChart – an online health management tool that connects you with your doctor's office. With MyChart, you get direct, online access to portions of your electronic medical record. You can also schedule an E-visit, ask your doctor a question, refill prescriptions, pay your bill and more. Sign up for MyChart now to get started.