Skip Navigation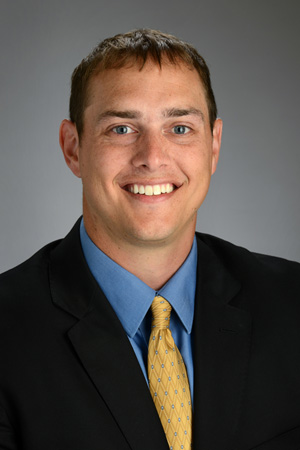 Thompson, Lucas MD
Family Medicine
Thompson, Lucas MD
Family Medicine
Languages: English
About Me
I grew up in Olathe, Kansas, playing football, basketball, and throwing discus and shot put on the track team for the Olathe North Eagles. I went on to play football at Baker University, where I continued my love of sports and decided to pursue a sports medicine career. After medical school and a residency at the University of Kansas Medical Center, I completed a sports medicine fellowship at the University of Missouri-Kansas City.

As a primary care physician at the Sports Medicine & Performance Center, I am one of the primary care points of contact for high schools in the Shawnee Mission and Blue Valley school districts. In that role, I consult with trainers, provide recommendations, see athletes in clinic and offer guidance if a patient requires surgery. I work with the youth sports program and am the main contact for Blue Valley West, Blue Valley Northwest, Blue Valley Southwest and Lansing high schools. I also serve as a primary care physician for the Kansas City Chiefs.
Insurance Accepted
If you are enrolled in a managed care plan (HMO, PPO or POS), your treatment at The University of Kansas Health System in Kansas City may be covered by insurance. To verify if you're eligible for treatment at our health system, reference the following information:
Credentials
Certifications
Board Certification

Family Medicine

Subcertification

Sports Medicine
Education & Training
Residency

University of Kansas Medical Center

Medical School

University of Kansas

Fellowship

University of Missouri-Kansas City
Locations
1 Arrowhead Drive
Kansas City, MO 64129

2. Indian Creek Campus Medical Office Building

Sports Medicine and Performance Center
10730 Nall Ave., Suite 200
Overland Park, KS 66211

OFFICE HOURS

Mon

8:00 a.m. - 4:30 p.m.

Tues

8:00 a.m. - 4:30 p.m.

Wed

8:00 a.m. - 4:30 p.m.

Thur

8:00 a.m. - 4:30 p.m.

Fri

8:00 a.m. - 4:30 p.m.

Sat

Closed -

Sun

Closed -
MyChart
This physician uses MyChart – an online health management tool that connects you with your doctor's office. With MyChart, you get direct, online access to portions of your electronic medical record. You can also schedule an E-visit, ask your doctor a question, refill prescriptions, pay your bill and more. Sign up for MyChart now to get started.