Skip Navigation
Proton Therapy in Kansas City
Kansas City is Proton Therapy's Newest Home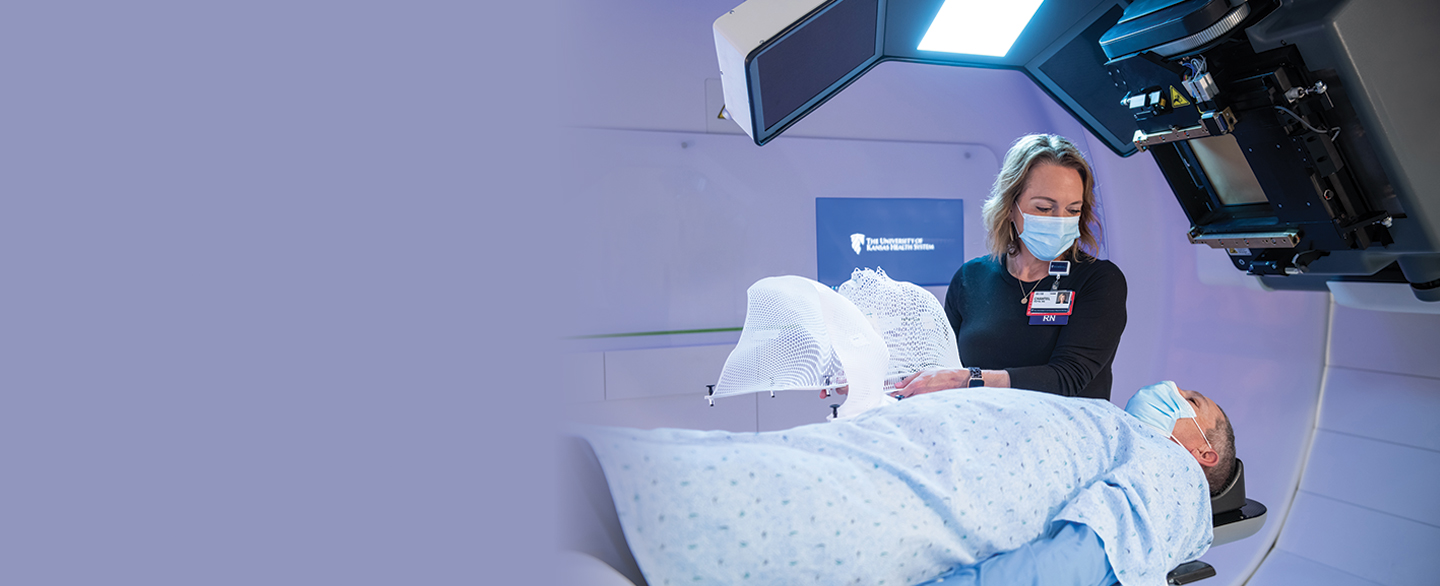 The Proton Therapy Center at The University of Kansas Cancer Center, 1 of 53 National Cancer Institute-designated comprehensive cancer centers in the nation, is the only one of its kind in Kansas, Kansas City and the surrounding region. There are no other proton therapy centers in Kansas or the surrounding states of Iowa, Nebraska, Colorado and Arkansas. Now, your cancer patients and their families no longer need to leave Kansas City to receive this advanced form of targeted radiation treatment.
To refer a patient to The University of Kansas Health System or consult with a physician in any specialty, call 913-588-5862 or toll-free 877-588-5862.
Proton powerhouse: Turn to our expert team for care
The cancer center has assembled a powerhouse team of proton experts from around the country to ensure your patients receive top-of-the-line care. The team includes nationally and internationally renowned radiation oncologists, medical physicists and dosimetrists. Together, these specialists will create a treatment plan comprising the exact dose, beam angles and patient positioning required to deliver the proton dose to the tumor.
Your patients are our patients
While receiving cancer treatments, your patients are our patients, too. The University of Kansas Cancer Center's disease-dedicated cancer specialists work closely with you and your patients to develop a comprehensive treatment plan tailored to meet their individual needs, because we understand that no 2 people experience cancer the same.
How to refer a patient
Continuity of care is critical for your patient's treatment and recovery. At The University of Kansas Health System, our dedication to healthcare excellence and patient-focused care means you can send your patients to us with confidence. Our physicians are available for consultation 24 hours a day, 7 days a week.
To schedule a physician-to-physician consult or make a referral, you can call us at 913-588-5862, toll-free 877-588-5862, or fax us at 913-588-5785. You can also:
Clinical benefits of proton therapy
Proton therapy is the most advanced form of radiation therapy for cancerous tumors currently available. More than 800 clinical studies have been published on proton therapy. Recent research published in the journal JAMA Oncology found that people who have proton therapy are two-thirds less likely to experience side effects requiring hospitalization than people who have traditional X-ray or photon radiation.
Most solid, localized tumors can be treated with proton therapy. This includes tumors in the central nervous system and lymphatic system, as well as recurring tumors. Proton therapy may be a treatment option for a number of adult and pediatric cancers, including cancers of the brain and central nervous system, breast, esophagus, head and neck, liver, lung, lymphatic system, eyes, pancreas, prostate, bone and others.
Benefits
Focused, precise radiation
Less damage to nearby healthy tissue
Fewer short- and long-term side effects
Lower risk of secondary cancers
Increased quality of life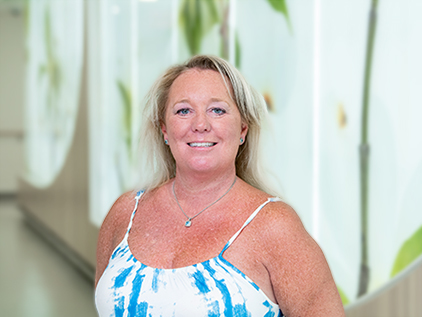 Life Goes on Even During Proton Therapy Treatments
A tumor may have distorted Lisa Webb's eyesight, but she still focuses on the future thanks to daily proton therapy treatments at The University of Kansas Cancer Center.
Read her story
Why trust us with your patients?