Skip Navigation
Application Tips and FAQs
Application Tips and FAQs
Start your career at The University of Kansas Health System off on the right foot with answers to some of the most frequently asked questions about our application and interview process.
Include any education, work history (limit to the last 10 years), licenses/certifications and references for the position(s) that you have applied for. All required fields are marked with a red asterisk (*).

For your convenience, you may upload an electronic version of your resume to pre-fill parts of our online application. Supported file types include .doc, .docx, .pdf, .htm, .html, .txt, and .rtf.

The hiring process timeline can vary depending on the position. To check the continued status of your application, please login to the Careers page and select the Application History tab.

An applicant can have up to 8 active applications submitted at a time or 20 within a time frame of 30 days.

We are excited about our commitment of investing in our talent. In addition to skills and experience, we are also committed to seeking top talent for all positions here at The University of Kansas Health System.

Upon submission of your application, you may be requested to complete an online talent assessment. This assessment is a component of the screening process that The University of Kansas Health System uses to hire the most qualified, exceptional and naturally talented candidates, in order to deliver on our promise of excellent patient care. We respectfully request that you complete the talent assessment within 48 hours of submitting your application.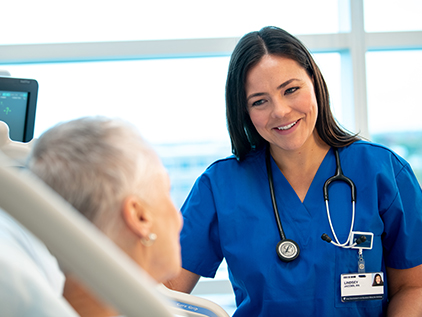 Ready to join us?
Take the first step toward your career at The University of Kansas Health System.
Search jobs now
We are an equal employment opportunity employer without regard to a person's race, color, religion, sex (including pregnancy, gender identity and sexual orientation), national origin, ancestry, age (40 or older), disability, veteran status or genetic information.
Related links