Skip Navigation
Nurses at The University of Kansas Health System are an integral part of medical breakthroughs and complex care. Our nurses work in an environment of respect, professionalism and teamwork. They perform at the leading edge of their specialties and handle complex cases that many hospitals rarely see. Patients count on our nurses to deliver specialized care and services unavailable anywhere else in the region.
If you are among the best in your nursing specialty and passionately committed to providing the best care for patients, we would like you to consider becoming part of our team.
Hospital-based care
Nurses are key to providing the very best care for patients in our hospitals. They are an integral part of the care team, respected for their knowledge and expertise. Our nurses are leaders and decision makers. They are trusted partners who work closely with physicians to provide the best care and the most advanced treatments. Learn more about our nursing opportunities in advanced medicine.
Clinical specialties
Maternal and Child Services


Maternal and child services nurses help expectant mothers through labor and delivery. They also provide advanced clinical care to infants, children and adolescents.

Operating Room/Procedural Care


Our health system is a destination for surgical care. We provide specialized services and frequently are a trial site for new surgical devices and procedures. The coordination of staff, supplies and equipment to care for surgical patients demands teamwork, critical thinking and attention to detail.

Advanced Patient-Centered Care


As a destination for advanced medicine, The University of Kansas Health System plays an essential role in keeping people healthy in the Kansas City area and throughout Kansas and surrounding states.
Career development that improves care
The innovations and knowledge of nurses often lead to significant care advances. Our nurses are supported and recognized for their contributions to patient care and to the nursing profession. One way we do this is through the Nurse Leader Advancement Program, which provides an opportunity for personal and professional growth.

The program rewards individual initiative and involvement in health system activities with a monetary bonus. To participate, nurses must meet baseline standards and have at least one year of tenure as an RN at the health system. Participants earn points toward a bonus for tenure, educational level reached and professional activities. These range from committee work and continuing education to mentorships and community service.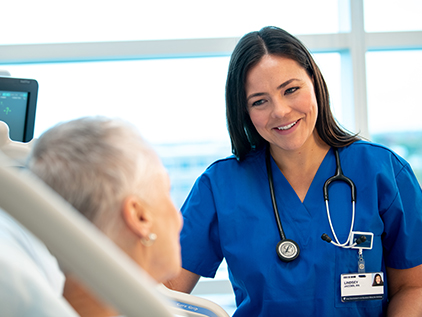 Ready to join us?
Take the first step toward your career at
The University of Kansas Health System.
Search Jobs Now
Professional identity statement for nurses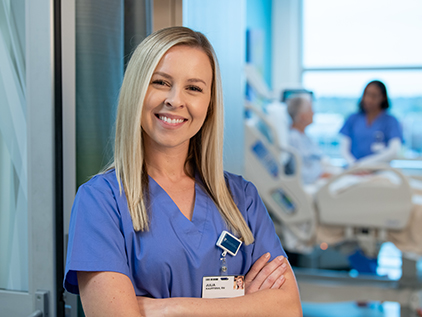 At The University of Kansas Health System, we strive to create a dynamic culture of professional behavior that requires personal and team accountability, self-reflection, integrity and respect. A nurse at The University of Kansas Health System has a professional obligation to provide the highest quality of care that is reflective of our culture and to adhere to organizational policies and best practices. This culture is actualized through image, attitude and behavior.
Related links
We are an equal employment opportunity employer without regard to a person's race, color, religion, sex (including pregnancy, gender identity and sexual orientation), national origin, ancestry, age (40 or older), disability, veteran status or genetic information.