Skip Navigation
Pursuing Your Career with Us
Listed below are just some of the benefits available to you as an employee of The University of Kansas Health System. You will learn more about these benefits in your benefits guide. If you have any questions, be sure to talk with your human resources benefits representative. New employees have 30 days from hire date to sign up for benefits.
Health and wellness
Medical
Dental
Prescription
Vision
Insurance (life, disability, AD&D, home, auto and accidental and critical illness coverage)
Pet care discounts and veterinary pet insurance because pets are part of the family, too
Flexible spending accounts
Contributing to a tax-deferred FSA for healthcare or dependent care can help you save money.
Wellness and prevention programs
The health system offers classes, health screenings and support groups to help employees stay healthy.
Employee assistance program
New Directions can help when employees and their families need support.
Rose Brooks Bridge Program
Resources to break the cycle of domestic violence are available. Services for victims are provided at the hospital 24 hours a day, 7 days a week.
Work-family life balance
Paid time off
Eligible full-time and part-time employees receive paid time off (PTO) to use for vacations, personal days and sick days. Each pay period, you accrue PTO hours based on your completed years of service and work schedule.
PTO buy-back
Eligible employees have the opportunity to sell PTO twice per year. Buy-back is limited to 40 hours of PTO per year.
Holidays
Each year employees receive 8 paid holidays: New Year's Day, Martin Luther King Jr. Day, Memorial Day, Independence Day, Labor Day, Thanksgiving Day and the Friday after, and Christmas Day. Paid holidays begin upon employment. (Due to patient care needs, scheduling of holiday time off is dependent on staffing.)
Family and Medical Leave Act
FMLA provides up to 12 weeks of paid and unpaid leave for employees for their own medical condition or to care for a sick relative or child. Eligibility begins after completing 12 months of service and for employees who have worked at least 1,250 hours before leave is requested.
Child care discounts
Employees receive a 10% discount for children ages 2-12 at participating La Petite centers.
Credit union
As an employee of the hospital, you are eligible to join the KUMC Credit Union. Find out more at www.kumccu.org.
Direct deposit
You can choose to have your paycheck deposited directly into a checking or savings account, or divide it between 2 accounts.
Employee discounts
Employees are eligible for discounts on a number of events, products and services – from tickets to athletic and performing arts events to lower rates on Sprint cell phones.
Metro bus pass discounts
Save almost 25% on a monthly Metro bus pass.
Volunteer opportunities
Watch the news on 24/7. You will see employees supporting the community in a number of ways, and you are invited to participate.
Education and career advancement
Tuition reimbursement
Full- and part-time employees may be eligible for varying amounts of tuition reimbursement for college courses toward approved college degrees.
Certifications
There is available partial reimbursement for national certifications upon approval.
GED program
Qualifying support services staff can earn a GED while on the job. GED classes are offered at The University of Kansas Health System's main campus. The health system pays all program fees and up to 8 hours a week for classes.
Retirement and employer contribution
Retirement savings plans
The University of Kansas Health System Retirement Savings Plan is a defined contribution plan. The health system contribution varies based on years of service. Participation is mandatory after 1 year of service in a benefits-eligible position.
Voluntary retirement savings plan
The University of Kansas Hospital Voluntary Retirement Savings Plan gives employees the opportunity to tax shelter up to the current limit set by the IRS. All contributions are made by employees. Eligibility begins upon employment.
Life insurance
Employees receive coverage equal to 150% of their annual salaries. The University of Kansas Health System pays this premium. Eligibility begins upon employment.
Optional group life insurance
Employees may take advantage of low group rates.
Disability insurance
The University of Kansas Health System pays this premium. Employees who work at least a .5 fulltime equivalent position are eligible on the first of the month following 6 months of service.

Short-term disability
Provides income protection for illnesses or injuries that last more than 7 consecutive scheduled days and up to 180 days.
Long-term disability
Provides income protection after 6 months of disability.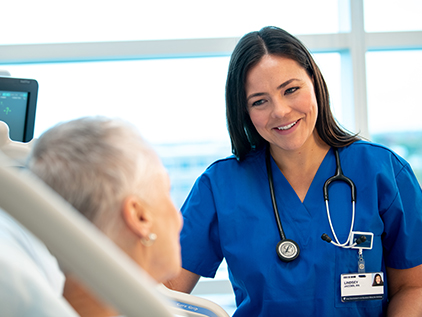 Ready to join us?
Take the first step toward your career at The University of Kansas Health System.
Search jobs now
We are an equal employment opportunity employer without regard to a person's race, color, religion, sex (including pregnancy, gender identity and sexual orientation), national origin, ancestry, age (40 or older), disability, veteran status or genetic information.
Related links