Skip Navigation
You may think you know The University of Kansas Health System, but there's more to us than meets the eye. Our director of public relations, Toby Cook, is new to the world of healthcare, and has made it his mission to find what goes into being the Best Hospital in Kansas City and Kansas. Each week in Toby's Take, he'll share an inside look at healthcare and community at The University of Kansas Health System, and you're invited to go along on the journey.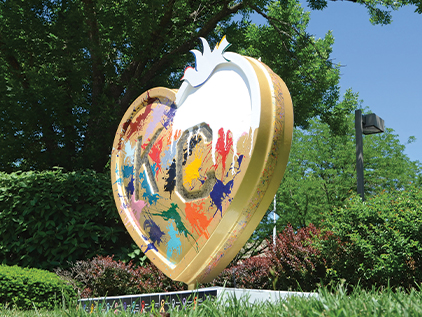 Toby's Take: Cancer Rocks Your Life, Then You Rock It Back
You may have seen a gorgeous heart in front of the Richard and Annette Bloch Cancer Care Pavilion at our Westwood Campus. The artist is Lynn Meredith, who Toby spoke with for this week's blog post.
Carry on, Lynn
I've seen firsthand how the people behind the logo are touching lives in ways most may never see. As a former reporter, I plan to use my experience to share stories about the people who make this place essential to the health, wellbeing and pride of a community.