Skip Navigation
Setting the Record Straight
We launch a new mass media campaign on Monday, September 24, highlighting the extraordinary care provided to our patients. Whether it's a common or complex condition, where a patient chooses to get care first is critically important – and these new assets support this important message.
Our new campaign is designed to clearly explain what differentiates a top academic medical center from community healthcare providers. It positions our health system as the premier healthcare provider in the region. The campaign features our physicians, clinicians and patients sharing their unscripted stories about the benefits of academic medicine.
The campaign includes two 30-second television commercials, five billboards, two radio spots and two print ads. Joan Allen continues in the commercials and radio as voice-over talent; the actress, who has won a Tony Award and been nominated several times for an Academy Award, started as the hospital's commercial spokesperson in 2011.
See this year's creative:
Television
Setting the Record Straight - The University of Kansas Health System - Brand :30
Setting the Record Straight - The University of Kansas Cancer Center - Brand :30
Radio
Billboards

Print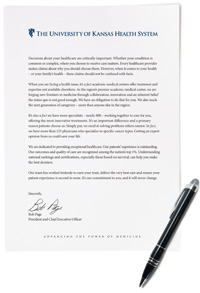 Related links