Skip Navigation
At The University of Kansas Health System, we offer comprehensive pediatric care in the Kansas City area to meet your child's healthcare needs today and for a lifetime. As part of an academic medical center, we're always discovering better ways to help children stay healthy and get well faster. This lets us incorporate some of the latest medical breakthroughs into your child's care. It's all part of making sure we are always advancing the power of medicine.
About pediatric care
Our pediatricians incorporate the latest medical breakthroughs to treat children with all types of simple and complex conditions, illnesses and behavioral and developmental conditions. Our board-certified pediatricians, advanced practitioners and entire support team provide a complete range of services from general checkups to streamlined care for serious issues.
Our specialty programs
Some issues that arise during childhood might need special care and monitoring. The University of Kansas Health System offers optional programs for families and their children to help cope with many different illnesses or conditions.
Our pediatricians evaluate children who are suspected of having autism spectrum disorder in accordance with guidelines established by The American Academy of Pediatrics. As part of the region's premier academic medical center, The University of Kansas Health System is the primary autism diagnostic facility in Kansas. Our specialists offer both initial screening and full autism diagnostic evaluation, and provide customized treatment plans based on proven strategies.

Our children's cleft and lip and palate program includes board-certified specialists who also serve as faculty members at the University of Kansas School of Medicine. Together, our interdisciplinary team works with dedicated therapists, nurse specialists and other experts who have advanced training and experience in cleft and lip palate disorders. Their goal is to support you and your child in all aspects of care – from speech therapy to hearing impairment.

For children who struggle with feeding and eating, we also offer a feeding clinic. If left untreated, feeding problems can adversely affect your child's growth and development.

Some examples of feeding problems include (but are not limited to):

Difficulty in tolerating textures
Presence of tongue thrust or bite reflex
Difficulty with positioning
Disruptive, undesirable behaviors at mealtime

Because feeding problems can be caused by such a range of complex and interrelated reasons, we take a multidisciplinary approach to treatment. Your treatment team may include a board-certified pediatric specialist as well as a:

Registered dietitian
Occupational therapist
Behavioral psychologist

If you or your primary care physician are concerned about your child's weight, this program may be for you.

Healthy Hawks is a positive, multidisciplinary approach to addressing a child's weight or other nutrition-related health concerns (like cholesterol). We work with children from ages 2-18.

Our goal is to help you and your child learn about making healthy changes for lifelong healthier habits, particularly in terms of nutrition, exercise and behavior.

Healthy Hawks is a 12-week, family-based program that promotes a healthy lifestyle for everyone in your family. You will work with a specially trained team that includes a nurse practitioner, a psychologist and a dietitian/nutritionist. Our program includes assessment and treatment from multiple perspectives.

Medical: To determine if medical issues are involved, we first evaluate your child's lab work to determine if referral to a subspecialist is required. We also evaluate mental health issues or concerns.
Behavioral: Our focus is on helping your child and your entire family make lifestyle changes by setting realistic goals. We also identify and provide appropriate incentives to reach your goals.
Nutritional: We work with you to evaluate current eating habits and make recommendations for appropriate intake (calories, fat, fiber, protein, etc.).

The benefits to your child of your family participating in Healthy Hawks may include weight loss, healthier eating habits, increased exercise and improved self-esteem.
Why choose us for pediatric care
When you choose The University of Kansas Health System to care for your child, you can trust that we'll provide comprehensive care at every stage of life. From birth through young adulthood, your kids can continue their specialized care with us in the same familiar setting. It's a way to continue receiving advanced care in the same place – and from the same team – you and your child already know.

Our pediatricians are part of The University of Kansas Physicians – the largest multispecialty medical practice in Kansas. Here, you have immediate access to a team of experts covering more than 35 specialties and programs that can help your little one from birth through adolescence and beyond.

Our pediatric practices are designated as Patient-Centered Medical Homes by the National Committee for Quality Assurance (NCQA). This designation ensures that your child will receive comprehensive, coordinated, high-quality care. What this means for you:

You are a partner in your child's care, involved in every step of their care plan.
You have access to a pediatric provider outside of normal business hours.
Your child receives complete care for the "whole child" – considering all aspects of health and well-being.
Your child receives coordinated care.
Your child receives the most advanced tests and treatments available.
Your child's medical records will be accessible electronically, via MyChart.

We offer weekend, evening and same-day appointments for your convenience. When you have a question about your child's health, a physician is on-call 24/7 to provide you with expert advice when you need it most. MyChart, our patient portal, also provides rapid access to your care team via direct message, as well as the ability to self-schedule your child's visits.

Our team also offers in-person visits, same-day sick visits and telehealth video visits. Scheduling is easy – online, on the phone or by text. If needed, urgent care, emergency care, hospital care and specialty referral and consultation are available within the health system.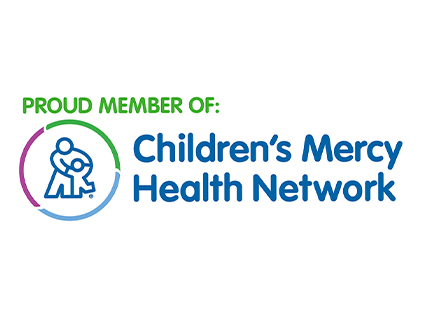 Our partnership with Children's Mercy Health Network
Children's Mercy Health Network is a clinically integrated network of pediatricians who are dedicated to keeping patients healthy. They provide better care and value, which leads to healthier children.
Learn more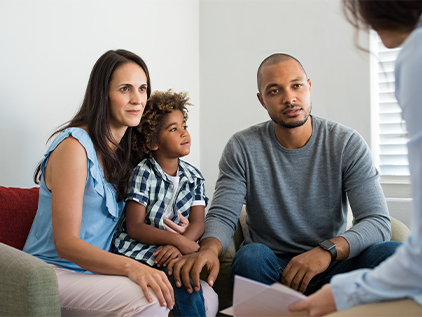 COVID-19 and your kid
For information on how COVID-19 affects kids, visit healthychildren.org. You can also use Our Behavior Checker® for help understanding your child's behavior during the pandemic.
Learn more
Our pediatric care specialists
In addition to our primary care services, we also offer a number of subspecialists within our practice.
Adolescent medicine


Preventive and comprehensive care for children ages 10-21

Allergy and asthma


Diagnosis and treatment of pediatric allergies, asthma and diseases of the immune system

Behavioral/psychology


Assessment and treatment for all types of psychological disorders in children and adolescents

Cardiology


Comprehensive diagnosis, treatment and management of pediatric cardiac conditions

Child health and development


Evaluation, diagnosis and follow-up for children with developmental problems

Critical care


State-of-the-art care for children and adolescents with life-threatening illnesses and injuries

Hematology and oncology


Treatment for children and adolescents with cancer and chronic blood disease

Hospital care


During treatment and recovery, care is provided in a safe, nurturing and comfortable environment with family-friendly features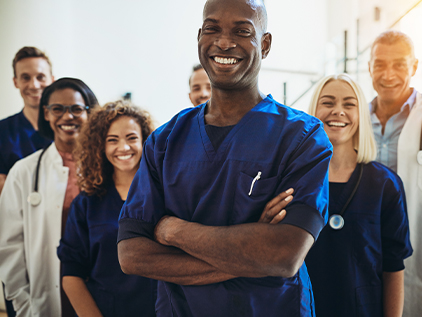 Find a doctor
Doctors at The University of Kansas Health System are care providers and researchers at the forefront of new medical discoveries. From primary care to complex conditions, we offer hundreds of specialists.
Find a doctor
Our pediatric care locations
1. Pediatrics

7301 Mission Road
Suite 319
Prairie Village, KS 66208

Mon

8 a.m. - 4:30 p.m.

Tues

8 a.m. - 4:30 p.m.

Wed

8 a.m. - 4:30 p.m.

Thur

8 a.m. - 4:30 p.m.

Fri

8 a.m. - 4:30 p.m.

Sat

Closed -

Sun

Closed -

2. Village Office Center

7301 Mission Road
Building B, Suite 350
Prairie Village, KS 66208

Mon

8 a.m. - 4:30 p.m.

Tues

8 a.m. - 4:30 p.m.

Wed

8 a.m. - 4:30 p.m.

Thur

8 a.m. - 4:30 p.m.

Fri

8 a.m. - 4:30 p.m.

Sat

Closed -

Sun

Closed -

3. Medical Pavilion

Pediatrics
2000 Olathe Blvd., Level 3B
Kansas City, KS 66160

Mon

8 a.m. - 4:30 p.m.

Tues

8 a.m. - 4:30 p.m.

Wed

8 a.m. - 4:30 p.m.

Thur

8 a.m. - 4:30 p.m.

Fri

8 a.m. - 4:30 p.m.

Sat

Closed -

Sun

Closed -

4. KU MedWest

Pediatrics
7405 Renner Road , Pod A
Shawnee, KS 66217

Mon

8 a.m. - 4:30 p.m.

Tues

8 a.m. - 4:30 p.m.

Wed

8 a.m. - 4:30 p.m.

Thur

8 a.m. - 4:30 p.m.

Fri

8 a.m. - 4:30 p.m.

Sat

Closed -

Sun

Closed -

5. Medical Pavilion

Allergy
2000 Olathe Blvd., Level 4A
Kansas City, KS 66160

Mon

8 a.m. - 4:30 p.m.

Tues

8 a.m. - 4:30 p.m.

Wed

8 a.m. - 4:30 p.m.

Thur

8 a.m. - 4:30 p.m.

Fri

8 a.m. - 4:30 p.m.

Sat

Closed -

Sun

Closed -

6. Center for Child Health and Development

2000 Olathe Blvd.
Smith Building, Room 1008
Kansas City, KS 66160

Mon

8 a.m. - 4:30 p.m.

Tues

8 a.m. - 4:30 p.m.

Wed

8 a.m. - 4:30 p.m.

Thur

8 a.m. - 4:30 p.m.

Fri

8 a.m. - 4:30 p.m.

Sat

Closed -

Sun

Closed -

7. Indian Creek Campus Medical Office Building

Sports Medicine and Performance Center
10730 Nall Ave., Suite 200
Overland Park, KS 66211

Mon

8 a.m. - 4:30 p.m.

Tues

8 a.m. - 4:30 p.m.

Wed

8 a.m. - 4:30 p.m.

Thur

8 a.m. - 4:30 p.m.

Fri

8 a.m. - 4:30 p.m.

Sat

Closed -

Sun

Closed -

8. The University of Kansas Hospital

Neonatal Medical Home
4000 Cambridge St., BH1201
Kansas City, KS 66160

Mon

8 a.m. - 5 p.m.

Tues

8 a.m. - 5 p.m.

Wed

8 a.m. - 5 p.m.

Thur

8 a.m. - 5 p.m.

Fri

8 a.m. - 5 p.m.

Sat

Closed -

Sun

Closed -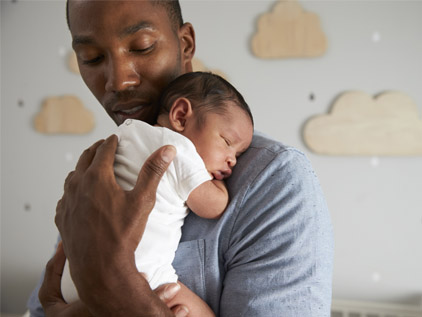 Free virtual newborn class
If you are expecting or recently have had a baby, register for our free virtual newborn class. The class covers common questions about the newborn phase and includes a Q&A with a pediatrician. Sessions are offered each month and registration is required.
Register now