Skip Navigation
The University of Kansas Health System offers primary care services for men, women, children and adolescents. Our comprehensive team includes more than 120 board-certified physicians, advanced practice nurse providers and physician assistants. Primary care services are available at 11 community locations in the greater Kansas City area. Our services include:
Annual and routine screenings
Immunizations
Mental health screenings
Physicals, including sports physicals, annual physicals and well-woman exams
Referrals to the region's leading subspecialists
Prescriptions and labs
Sick appointments
Subspecialized primary care
Treatments for common illnesses
Referrals to the region's leading subspecialists
Why choose us for your primary care
We accept most health insurance plans.
We are one of only 18 nationally recognized Comprehensive Primary Care Plus (CPC+) regions. CPC+ is a national advanced primary care medical home model that aims to strengthen primary care through regionally based multipayer payment reform and care delivery transformation.
We offer locations within communities throughout the Kansas City metro.
We provide streamlined referrals to subspecialists.
We provide urgent care services and are part of the region's only nationally verified Level I Trauma Center.
Putting patients at the forefront of care
As a patient-centered medical home, we seek to strengthen the physician-patient relationship with comprehensive, coordinated care. Our goal is to develop and maintain a long-term, healing relationship with each of our patients.
Our areas of expertise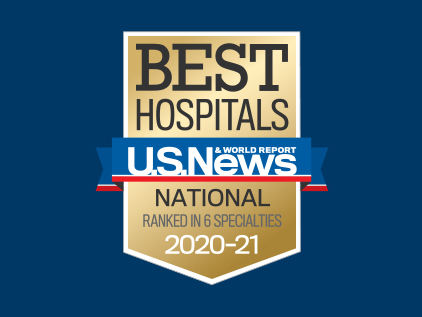 Ranked among the nation's best
We're proud to offer you and your loved ones nationally ranked care. Once again, U.S. News & World Report recognized our hospital as the best in Kansas City and in Kansas. We are the only hospital ever to hold these honors. U.S. News also ranked 6 of our specialties among the nation's best.
Read about this honor
Self-schedule primary care through MyChart. Don't have a MyChart account? Choose Sign Up Now to create one.
Locations
1. Medical Pavilion

Family medicine
2000 Olathe Blvd., Level 1A
Kansas City, KS 66160

Mon

8:00 a.m. - 4:30 p.m.

Tues

8:00 a.m. - 4:30 p.m.

Wed

8:00 a.m. - 4:30 p.m.

Thur

8:00 a.m. - 4:30 p.m.

Fri

8:00 a.m. - 4:30 p.m.

Sat

Closed -

Sun

Closed -

2. Medical Pavilion

Internal medicine
2000 Olathe Blvd., Level 4B
Kansas City, KS 66160

Mon

8:00 a.m. - 4:30 p.m.

Tues

8:00 a.m. - 4:30 p.m.

Wed

8:00 a.m. - 4:30 p.m.

Thur

8:00 a.m. - 4:30 p.m.

Fri

8:00 a.m. - 4:30 p.m.

Sat

Closed -

Sun

Closed -

3. Landon Center

Family medicine
3599 Rainbow Blvd.
Kansas City, KS 66160

Mon

8:00 a.m. - 4:30 p.m.

Tues

8:00 a.m. - 4:30 p.m.

Wed

8:00 a.m. - 4:30 p.m.

Thur

8:00 a.m. - 4:30 p.m.

Fri

8:00 a.m. - 4:30 p.m.

Sat

Closed -

Sun

Closed -

4. State Avenue Health Care

Family medicine
4810 State Ave.
Kansas City, KS 66102

Mon

8:00 a.m. - 5:00 p.m.

Tues

8:00 a.m. - 5:00 p.m.

Wed

8:00 a.m. - 5:00 p.m.

Thur

8:00 a.m. - 5:00 p.m.

Fri

8:00 a.m. - 5:00 p.m.

Sat

Closed -

Sun

Closed -

5. Creekwood Family Care

Family medicine
6420 N. Prospect Ave.
Gladstone, MO 64119

Mon

8:00 a.m. - 5:00 p.m.

Tues

8:00 a.m. - 5:00 p.m.

Wed

8:00 a.m. - 5:00 p.m.

Thur

8:00 a.m. - 5:00 p.m.

Fri

8:00 a.m. - 5:00 p.m.

Sat

Closed -

Sun

Closed -

HOLs

Closed -

6. Blue Ridge Family Physicians

Family medicine
12121 Blue Ridge Blvd., Suite M
Grandview, MO 64030

Mon

8:00 a.m. - 5:00 p.m.

Tues

8:00 a.m. - 5:00 p.m.

Wed

8:00 a.m. - 5:00 p.m.

Thur

8:00 a.m. - 5:00 p.m.

Fri

8:00 a.m. - 5:00 p.m.

Sat

Closed -

Sun

Closed -

7. The University of Kansas Health System Primary Care

T-Mobile Center, Family medicine
1403 Grand Blvd.
Kansas City, MO 64106

Mon

8:00 a.m. - 5:00 p.m.

Tues

8:00 a.m. - 5:00 p.m.

Wed

8:00 a.m. - 5:00 p.m.

Thur

8:00 a.m. - 5:00 p.m.

Fri

8:00 a.m. - 5:00 p.m.

Sat

Closed -

Sun

Closed -

HOLs

Closed -

8. Mission Family Health Care

Family medicine
6511 Johnson Drive
Mission, KS 66202

Mon

8:00 a.m. - 5:00 p.m.

Tues

8:00 a.m. - 5:00 p.m.

Wed

8:00 a.m. - 5:00 p.m.

Thur

8:00 a.m. - 5:00 p.m.

Fri

8:00 a.m. - 5:00 p.m.

Sat

Closed -

Sun

Closed -

9. Corporate Medical Plaza, Building 3

Internal medicine
10787 Nall Ave., Suite 310
Overland Park, KS 66211

Mon

8:00 a.m. - 5:00 p.m.

Tues

8:00 a.m. - 5:00 p.m.

Wed

8:00 a.m. - 5:00 p.m.

Thur

8:00 a.m. - 5:00 p.m.

Fri

8:00 a.m. - 5:00 p.m.

Sat

Closed -

Sun

Closed -

10. KU MedWest

Family medicine
7405 Renner Road, Pod B
Shawnee, KS 66217

Mon

8:00 a.m. - 5:00 p.m.

Tues

8:00 a.m. - 5:00 p.m.

Wed

8:00 a.m. - 5:00 p.m.

Thur

8:00 a.m. - 5:00 p.m.

Fri

8:00 a.m. - 5:00 p.m.

Sat

Closed -

Sun

Closed -

HOLs

Closed -

11. KU MedWest

Internal medicine
7405 Renner Road, Pod A
Shawnee, KS 66217

Mon

8:00 a.m. - 4:30 p.m.

Tues

8:00 a.m. - 4:30 p.m.

Wed

8:00 a.m. - 4:30 p.m.

Thur

8:00 a.m. - 4:30 p.m.

Fri

8:00 a.m. - 4:30 p.m.

Sat

Closed -

Sun

Closed -

12. Westwood Medical Pavilion

Internal medicine
2650 Shawnee Mission Pkwy., Suite 2201
Westwood, KS 66205

Mon

8:00 a.m. - 5:00 p.m.

Tues

8:00 a.m. - 5:00 p.m.

Wed

8:00 a.m. - 5:00 p.m.

Thur

8:00 a.m. - 5:00 p.m.

Fri

8:00 a.m. - 5:00 p.m.

Sat

Closed -

Sun

Closed -

HOLs

Closed -

13. Pediatrics

7301 Mission Road
Building B, Suite 350
Prairie Village, KS 66208

Mon

8:00 a.m. - 4:30 p.m.

Tues

8:00 a.m. - 4:30 p.m.

Wed

8:00 a.m. - 4:30 p.m.

Thur

8:00 a.m. - 4:30 p.m.

Fri

8:00 a.m. - 4:30 p.m.

Sat

Closed -

Sun

Closed -

14. Medical Pavilion

Pediatrics
2000 Olathe Blvd., Level 3B
Kansas City, KS 66160

Mon

8:00 a.m. - 4:30 p.m.

Tues

8:00 a.m. - 4:30 p.m.

Wed

8:00 a.m. - 4:30 p.m.

Thur

8:00 a.m. - 4:30 p.m.

Fri

8:00 a.m. - 4:30 p.m.

Sat

Closed -

Sun

Closed -

15. KU MedWest

7405 Renner Road
Pod A
Shawnee, KS 66217

Mon

8:00 a.m. - 4:30 p.m.

Tues

8:00 a.m. - 4:30 p.m.

Wed

8:00 a.m. - 4:30 p.m.

Thur

8:00 a.m. - 4:30 p.m.

Fri

8:00 a.m. - 4:30 p.m.

Sat

Closed -

Sun

Closed -