Skip Navigation
Minimally Invasive Procedures
Minimally Invasive Procedures
The University of Kansas Health System is a leader in minimally invasive heart treatments. Our patients in Kansas City and throughout the region benefit from the expertise of our highly skilled heart surgeons and interventional specialists who work together to provide you with a safe procedure and shorter recovery.
Our hospital offers the latest minimally invasive options so you can get back to the things that matter most. Request an appointment online or call 913-588-1227 to schedule an appointment with a cardiologist. The University of Kansas Health System in Kansas City offers minimally invasive heart treatments for people throughout the region.
Innovation in minimally invasive procedures
Some heart conditions can be managed and treated with lifestyle changes and medications. Others require invasive treatments to help improve quality of life and outcomes – such as traditional surgery or open heart surgery. But thanks to new technology, we can offer many treatments with a minimally invasive approach.
Technology and equipment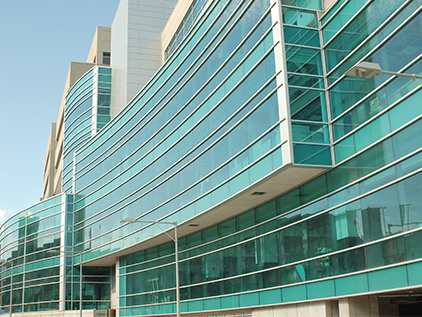 State-of-the-art facilities
Most of our catheter-based procedures are offered at the Lynn H. Kindred, MD, Cardiac Catheterization Labs. We also have hybrid catheterization suites that can quickly convert to accommodate a minimally invasive procedure or open heart surgery without moving the patient to another room. This improves patient safety as well as surgical outcomes.
Why choose us
Our surgeons have been performing and refining minimally invasive surgical techniques since the early 1980s.
We were the first health system in the Kansas City region to offer robotic valve repair.
Our hospital was designated a center of excellence for robotic mitral valve repair using the da Vinci system. Teams from all over the country visit us to observe and learn from our technique.
We were the first in the region to perform a totally endoscopic coronary artery bypass surgery with a robot.
We're one of the few health systems in the area offering nonsurgical closures for PFO (patent foramen ovale) and ASD (atrial septal defect).
We are the region's only health system with dedicated, thoracic surgeons. This level of specialization and focus is important for a safe, effective procedure.
Our heart surgeons work with other specialists as a team. Physicians and professionals from all areas collaborate and coordinate each patient's care for the best possible outcome.
What to expect
Your heart care team will develop a treatment plan that is best suited for your condition, needs and goals. When a minimally invasive option is available, you will discuss the benefits and risks of your procedure so you can make an informed decision about treatment.
Because minimally invasive procedures typically require fewer incisions and less time on the operating table, you will enjoy a faster recovery than with traditional surgery. Less-invasive procedures often require just 3-5 days in the hospital. Recovery can take 6 weeks to 3 months, but you should have fewer restrictions on movement. Our cardiac rehabilitation program can help you get back to normal quickly and safely.
Related links