Skip Navigation
Courtney Leonard, RN
Courtney talks about becoming a nurse and why she chooses to work with cancer patients at The University of Kansas Health System.
On any given day, nurses see a lot of different types of patients, from those coming in for chemotherapy on a regular basis to those who may have more complex conditions due to their cancer or treatments. On the BMT unit, where patients receive stem cells, we are hopefully helping them cure their disease. But the best thing about every day is how different each day is. Every patient is unique.

I always knew I wanted to be a care provider. During school I especially enjoyed the science classes. I learned that nursing was the best fit for me because it has a good balance of taking care of people and science. I also enjoy getting to know my patients and interacting with them.

I had heard good things about The University of Kansas Health System through friends but hadn't considered a nursing career in oncology. But after learning more about the nursing care team, I realized this is what I want to do, and I was excited for the opportunity. I'm proud to work for the best hospital in Kansas City.

The health system offers many opportunities, as a new hire and beyond, to continue learning about caring for oncology patients. The health system also added staff, like resource nurses who can assist nurses who have a large workload on a particular day. This helps to keep nurses satisfied with their jobs and not to become burned out physically or emotionally. There are a lot of opportunities to keep nurses interested in their jobs.

Building relationships with your patients is nice. Many will be in the hospital multiple times for treatments or care. It's nice just to have the opportunity to be a part of our patients' lives and get to know them.

Some patients will not beat their cancer diagnosis. And even when this is expected, it is still very sad. Our nurses not only care for patients, but they build relationships to become almost like family and genuinely care about the patients and their families. During sad times, families and care team members support each other.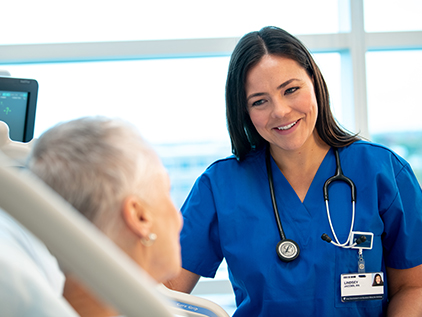 Ready to join us?
Take the first step toward your career at The University of Kansas Health System.
Search jobs now
We are an equal employment opportunity employer without regard to a person's race, color, religion, sex (including pregnancy, gender identity and sexual orientation), national origin, ancestry, age (40 or older), disability, veteran status or genetic information.
Related links