Skip Navigation
Time-Critical Diagnosis and Trauma
Prompt treatment is critical for life-threatening or disabling conditions such as trauma, stroke, heart attack or severe burn. Doctors and nurses at The University of Kansas Health System are ready 24/7 to provide a full spectrum of complex care for critical patients.
If you have a patient in need of emergency care, please contact our transfer center by calling 913-574-2976. Our physicians are also available for consultation 24 hours a day, 7 days a week. All referrals require a physician-to-physician consult to discuss the condition of the patient prior to acceptance.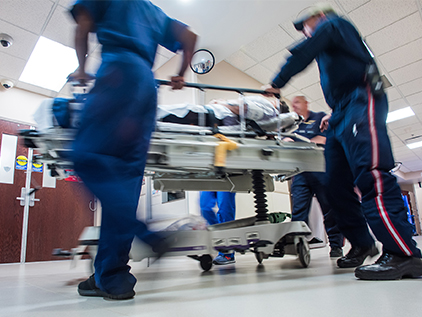 Level I Trauma Center
We are the region's most experienced Level I Trauma Center, as verified by the American College of Surgeons. We received our Level I verification in September 2000.
Our trauma team includes trauma surgeons, emergency medicine physicians, neurosurgeons, orthopedists, plastic surgeons, radiologists, nurses and respiratory therapists. They can mobilize on a moment's notice.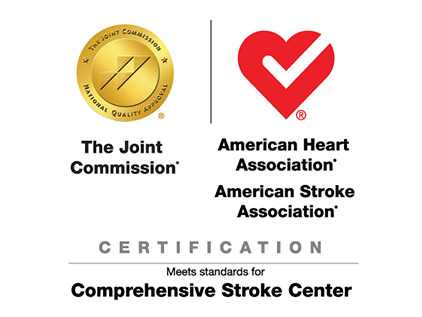 Stroke
We have the resources, staff and training to provide the highest-quality care for stroke patients. Our health system was one of the first healthcare facilities in the nation – and the only one in the region – named an Advanced Comprehensive Stroke Center by The Joint Commission. In addition, our hospital consistently earns top Get With The Guidelines® awards and distinctions for our door-to-needle times. The American Heart Association/American Stroke Association award recognizes our stroke program for consistently meeting performance guidelines and quality measures.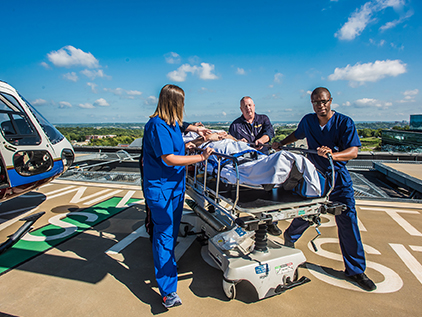 STEMI
The University of Kansas Health System is an accredited Chest Pain Center recognized by the Society of Cardiovascular Patient Care. Our highly trained, dedicated heart care team works together with EMS professionals, who can activate our STEMI team from the ambulance or helicopter. This greatly increases patients' chances of survival.
Burn and wound care
The University of Kansas Health System is the region's only adult and pediatric burn care facility accredited by the American Burn Association and American College of Surgeons. Our multidisciplinary burn care team includes board-certified plastic surgeons, general surgeons, internal medicine specialists and dermatologists.
Accreditations
To earn these accreditations, our physicians, nurses and staff meet or exceed national standards.
Our accreditations include:
Nationally verified Level I Trauma Center (American College of Surgeons)
Advanced Comprehensive Stroke Center (The Joint Commission)
Accredited Chest Pain Center (Society of Cardiovascular Patient Care)
Accredited STEMI Receiving Center (American Heart Association)
Accredited adult and pediatric burn care facility (American Burn Association and American College of Surgeons)
Related links