January 11, 2022
The coronavirus isn't stopping, and neither can we. Every day, people are asking how they can help. Here, we offer the top ways you can join us and become an advocate for health and safety during the COVID-19 pandemic.
1. Share this urgent message with your friends, family and neighbors.
(Please share this message by copying and pasting into an email or your social media accounts.)
We face a looming crisis across our region. The number of available beds in hospitals is dwindling – rapidly. Soon, there may not be an available hospital bed anywhere in the region. Equally alarming is that we may not have enough nurses, doctors and staff to provide the care our patients need. Not just for COVID-19 patients, but for any patient.
As a community, we are now a frontline of defense against the coronavirus. We are in this together and we must work together to prevent its spread. Become an advocate to stop the spread of this deadly virus. Visit kansashealthsystem.com/update to learn more.
2. Always follow the pillars of infection prevention.
These 7 simple and effective tips can help keep you safe and healthy.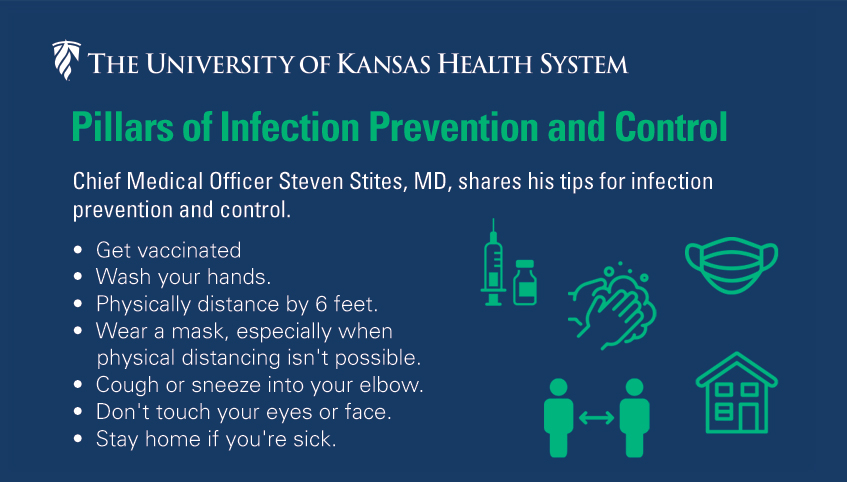 3. Help #StopTheSpreadKansas.
The Kansas Hospital Association, in partnership with several state organizations including the Missouri Hospital Association, has created a series of social media posts, videos and other communications to help educate Kansas residents about how they can help stop the spread of COVID-19.
We encourage you to use these powerful messages in your social media posts and in communicating with your family, friends and neighbors about why wearing a mask, washing your hands, keeping a safe distance and avoiding large gatherings are so important.
4. Read our blog posts about COVID-19.
What we know about the novel coronavirus is evolving every day, and our experts are working hard to better understand this emerging virus and provide valuable, trustworthy, science-based information. Our COVID-19 blog posts share the latest news, resources and guidance to help you and your loved ones stay healthy and safe.
5. Use our resilience toolkit.
Turning Point offers resources and tools for staying resilient during difficult times, such as the COVID-19 pandemic.
6. Make a donation to our COVID-19 Response Fund.
When you donate to our COVID-19 Response Fund, your support provides significant help in these uncertain times. We're using the funds to provide patient assistance, necessary supplies for our frontline workers and cover unexpected expenses.
To donate, contact Fund Development.
7. Follow The University of Kansas Health System on social media.