March 16, 2021
Kansas City, Kan. — Have you wondered why you haven't been able to receive your COVID-19 vaccination yet? You are not alone.
The first vaccine rollout of its kind to protect us from the deadly COVID-19 virus is causing concern and fueling frustration for people waiting to be vaccinated. Here, we address some of those concerns by presenting the facts to show what is truly happening.
Health experts understand the frustration with the delayed distribution process and say it is chiefly due to a limited amount of available vaccine nationwide. Another issue is the variety and quality of each organization's data tracking systems. These data systems don't communicate well with one another. Thus, we have no national data that tells the whole story.
Vaccinations in Kansas
In Kansas, Johnson and Sedgwick are the 2 most populous counties, so they each received the largest amount of vaccine to date. Vaccine is distributed on a per person basis. Another 17 Kansas counties score high on the Centers for Disease Control and Prevention's vulnerability index. This measures the number of people living in poverty or who don't have access to transportation. This means that the vulnerable counties receive a small increase in vaccine doses over and above the allotment they receive that is based on population.
Kansas developed a 5-phase vaccination schedule and is currently in Phase 2, which includes:
All unvaccinated people prioritized in previous phases
High‐contact critical workers
People age 65+
People in congregate settings
On Monday, March 22, Kansas enters a combined Phase 3-4 vaccination schedule, which includes:
People age 16-64 with severe medical risks
People age 16-64 with other medical risks
Other critical workers
All unvaccinated people prioritized in previous phases
According to the CDC's data tracker, as of March 10 about 18.8% of the population nationwide had received their first dose of vaccine and about 9.9% had received the second dose. In Kansas, Lee Norman, MD, secretary of the Kansas Department of Health and Environment, said 16.9% of residents have had their first dose of vaccine and 8.6% have received the second dose.
As of March 8, 1.112 million vaccine doses had been distributed to Kansas and 740,850 doses had been administered. That's about 75% percent of the current vaccine supply.
To learn more about the vaccine distribution breakdown in Kansas, go to kansasvaccine.gov. Distribution data is further broken down according to age and the type of vaccine administered. Content is updated daily.
David Wild, MD, anesthesiologist with The University of Kansas Health System and vice president of performance improvement, said the goal is to administer vaccine to people within days of receiving it and not to hold vaccine for more than 7 days from its arrival. That is the consensus at the state, local and national levels to ensure no vaccine goes unused or sits on a shelf.
"This is not a problem at our health system," he said. "At this point, demand for the vaccine locally and nationwide far exceeds supplies, and it causes frustration."
Approximately 9.9% of people in the U.S. and just under 8.6% of Kansans have been fully vaccinated. – Lee Norman, MD

Secretary, Kansas Department of Health and Environment
Anticipating an increase in vaccinations
Kansas Governor Laura Kelly said February 12 the state could expect 90,000 doses in the coming weeks, which is nearly double what the state received a few weeks ago. According to state and county officials, the increase is in part due to an administrative change that boosted the number of doses per vial of Pfizer vaccine from 5 to 6.
While the uptick in doses per vial accounts for some of the increase, the bulk of the growing supply is related to an improved CDC distribution pipeline, said Dr. Norman. The Federal Retail Pharmacy Program for COVID-19 Vaccination recently launched. The program is a collaboration between the federal government, states, territories, and 21 national pharmacy partners and independent pharmacy networks. The goal is to increase access to COVID-19 vaccination across the U.S. The program includes large retail pharmacy partners such as CVS, Dillons, Walgreens and Walmart, and a consortium of smaller community pharmacies.
"The CDC ships directly to the pharmacies," said Dr. Norman. "We hope those first 90,000 doses will be ever expanding as they come in through the retail pharmacy program. I think we can expect that over the long-term."
Recently, 82 Kansas pharmacies in 32 counties received about 10,000 doses of vaccine. That's in addition to vaccines being given through local health departments and hospitals, Dr. Norman said.
"We want as much vaccine as possible to come to us so we can push it out quickly," said Dr. Wild. "There are 1,400-plus registered vaccination sites statewide with about half of them up and running, where just a few weeks ago we had only 350 to 400."
Vaccination sites include hospitals, county health departments and federally qualified health centers. Go to kansasvaccine.gov to see current vaccination sites, including participating pharmacies, across the state. Missouri residents should visit covidvaccine.mo.gov/events to learn about vaccination sites there.
Understanding the frustration
Dr. Norman said one reason Kansas currently appears to rank low among states on the administration of vaccine is because of issues with data tracking. Each vaccination site has an electronic medical record where patient information is entered. Ideally, he said, the information would go through an interface and upload to the CDC's national tracking system. At present, that sharing of information isn't accurately reflecting the state's rate of vaccinations.
"The state data system automatically uploads vaccination information to the CDC," said Dr. Norman. "It shows we have about 70% of doses recorded as having been administered, but we know that it is lower than the actual percentage. This is not unique to Kansas, and we are doing what we can to make sure our numbers are accurate. We are getting vaccine to people and the process has been successful. Ours is a data issue, but the data will catch up."
Both Dr. Norman and Dr. Wild said they understand the public's frustration with vaccine availability and distribution, yet they believe the allocation method developed by the CDC is sound.
"We have to look at the distribution over an extended period of time, not just from one week to the next," Dr. Wild said. "We are eager to make sure vaccine is administered as soon as it is available in a fair and equitable manner, but we have to be patient. Everyone is doing the best they can. So, keep doing what you can to maintain your health and the health and safety of those you care about: wear a mask, keep your distance and wash your hands."
In addition, the doctors advise contacting your county health department to learn more about vaccine distribution in your area.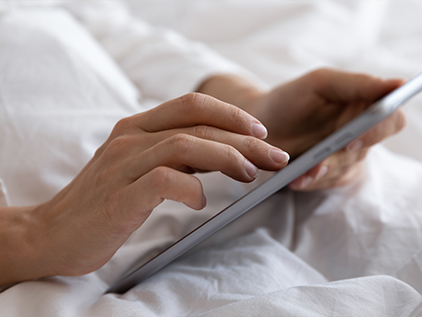 Complete the COVID-19 vaccination form
Thank you for completing and submitting the following form to begin this process. You must complete the entire form to continue. Rest assured, the information you provide is entirely secure and will be used solely to help communicate with you about vaccine distribution.
Please note, it is necessary to enter your legal gender in the form for legal purposes. Once in MyChart, you will find expanded gender identity options.
Begin the form