Skip Navigation
Many young children and adolescents experience mental, emotional or behavioral issues.
Our highly trained team of doctors, nurses and technicians provides expertise in assessing and treating all types of psychological disorders in childhood and adolescence.
We work to help children and families understand these issues and develop individualized strategies to:
Improve relationships
Cope with stress
Change habits or other factors that influence well-being
We use an interdisciplinary approach and rely heavily on cognitive-behavioral therapy to help children and adolescents develop better ways to handle daily problems. Our professional staff has a broad range of experience with behavior problems or problems associated with medical disorders, including:
Adjustment to chronic pain
Adjustment to medical conditions
Adjustment to reaction disorders
Aggressive behavior
Anxiety disorders
Attention deficit hyperactivity disorder (ADHD)
Bedtime behavior problems
Child abuse and neglect
Childhood fears and phobias
Conduct disorders
Coping with chronic diseases
Encopresis
Enuresis
Food refusal and over-selectivity
Habit disorders/tics
Headaches
Intermittent explosive disorder
Mealtime behavior problems
Mood disorder
Noncompliance
Poor self-esteem
Post-traumatic stress disorder (PTSD)
Recurrent abdominal pain
School-related problems
Sleep disorders
Suicidal ideation
Tantrums
Toilet training
Trichotillomania (hair pulling)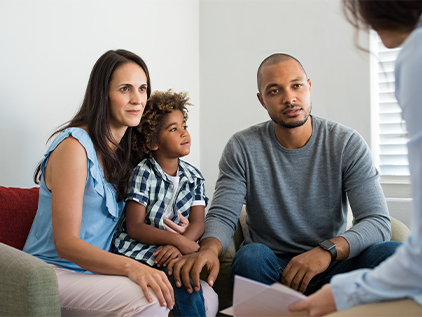 Parent child interaction therapy
Is your child displaying disruptive behavior? Parent child interaction therapy may help.
Learn more about PCIT