Skip Navigation
Promoting successful return to work
Employment is important to your health. When an injury or illness prevents you from working, you're at risk for a number of health challenges in addition to your loss of income. The longer you're unable to work, the harder it can be to return to the job. The right care and resources can help you succeed.
What is RETAINWORKS?
RETAINWORKS is a community program designed to promote the return to work after injury or illness. It helps eligible participants get back to work faster and more effectively. The program offers stay-at-work and return-to-work care, activities and interventions through coordinated support from medical providers, workforce development resources and employers. RETAINWORKS, a research initiative, seeks to speed recovery and restore the ability to work.
In the Kansas City metro area, The University of Kansas Health System is RETAINWORKS' medical care provider. If you have experienced an injury or illness in the last 12 weeks that is preventing you from working, RETAINWORKS may offer you structure and support on your path to healing and employment.
RETAINWORKS providers and support staff treat eligible patients who have recently experienced:
Muscle, bone or joint injuries
Mental health challenges
Onset or aggravation of chronic disease
Long-haul COVID-19
Unlike workers' compensation programs, RETAINWORKS can provide support whether disabilities occurred on or off the job.
Your RETAINWORKS provider and team will deliver excellent medical care and support to help you achieve the best possible health outcome and successfully return to work. What's more, as RETAINWORKS is part of a research study, participants may even be eligible to earn incentives for completion of assigned activities.
Who is eligible for RETAINWORKS?
Eligibility requirements for RETAINWORKS participants include:
You must have a work disability – a health condition that prevents you from doing your job or limits you from doing it as well as you could before injury or illness.
The injury or illness must have occurred within the last 12 weeks. It can have occurred on or off the job.
You also must:

Be 18-65 years old.
Be employed or seeking employment.
Live or work in Kansas.
Have a valid social security number.
Be legally authorized to work in the United States.
Not have applied for or received SSDI or SSI benefits related to the current injury or illness.
Be willing to view detailed informed consent instructions and complete an informed consent form.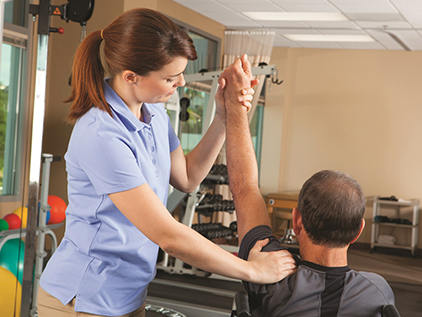 Participate in RETAINWORKS
If you meet the requirements and would like to explore participating in the RETAINWORKS program, email us below and indicate your interest. We will respond to your email with details on next steps.
I'm Interested
Not eligible for RETAINWORKS?
We hope you will be eligible to take part in RETAINWORKS and that it will be valuable to you. But if you are not an eligible candidate, rest assured our team will be happy to help connect you with a health system provider suited to meet your healthcare needs.
If you already know you don't meet 1 or more of the RETAINWORKS eligibility requirements but need medical care, we invite you to request an appointment with a health system provider.
Who provides RETAINWORKS care?
To take part in the RETAINWORKS program in the Kansas City metro area, you must see 1 of our participating, specially trained care providers. Our providers offer deep expertise in the healthcare you need and are also connected with RETAINWORKS support staff.
You can learn more about our RETAINWORKS providers below. If you prefer another provider, or if you do not qualify to take part in RETAINWORKS, our staff will help you identify a health system provider to meet your care needs.
Justin Halberstadt, advanced practice provider, occupational health and urgent care
Ryan Hoeksema, advanced practice provider, occupational health and urgent care
Jessica Mullins, DO, occupational health

Peggy Tuttle, certified physician assistant
Related links