Skip Navigation
Work Injury Treatment and Rehabilitation
Corporate Health Services and Resources
Work Injury Treatment and Rehabilitation
The sooner injured workers can see a physician and receive treatment, the sooner they can begin recovery. Our physicians and support professionals provide every patient with prompt, outstanding care.
Teams in our nationally verified Level I Trauma Center and specialty clinics ensure that all injured workers receive expert evaluation, excellent treatment and effective rehabilitation services.
Workers' compensation doctors
Patients have access to a team of experts comprising physicians from virtually every specialty in our hospital, including:
Burn and wound care
Dentistry and oral medicine
Dermatology
Ear, nose and throat
Emergency and trauma care
Infectious disease
Neurology
Neurosurgery
Occupational health and environmental medicine
Occupational health clinics
Ophthalmology
Orthopedic surgery
Pain management
Plastic surgery
Rehabilitation medicine
Spine care
Surgery, including general and vascular
Interpreter services
Interpreters are available for clinic patients who don't speak English or are hearing-impaired. Fees apply. Call 913-588-7811.
Utilization review
Get updates on hospitalized patients. Call 913-588-7466.
Billing
The University of Kansas Health System
913-588-5820
The University of Kansas Physicians
Toll free 877-729-5874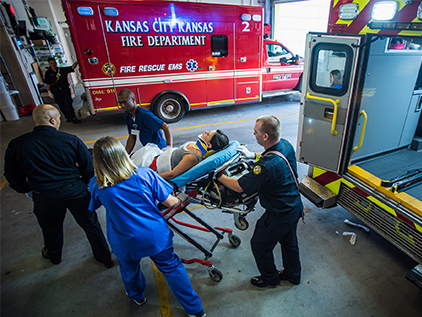 Contact us
Time is essential when seeking treatment. For a consultation call 913-588-5826, or save time and fill out our corporate health form online.
For general information about corporate health call 913-588-2224.
Workers' compensation coordinators
Communication is top priority
Workers' compensation coordinators communicate with all parties in each case. They are your key contacts for injury treatments and services at The University of Kansas Health System. You can always reach your coordinator by telephone or pager.
Terrie Winslow, OTR, CCM
Workers' compensation manager
913-588-5433
913-588-7081 (Fax)
913-917-2764 (Pager)
twinslow@kumc.edu
Tracey Campbell
Coordinator
913-588-8060
913-588-7081 (Fax)
Pager: 913-917-0939
tcampbell@kumc.edu
Address
The University of Kansas Health System
Workers' Compensation Services
2330 Shawnee Mission Pkwy.
Suite 308, MS 5007
Westwood, KS 66205
Related links