Skip Navigation
Real Volunteer Stories
Read stories from a few of the dedicated volunteers who have supported the needs of The University of Kansas Health System and The University of Kansas Cancer Center.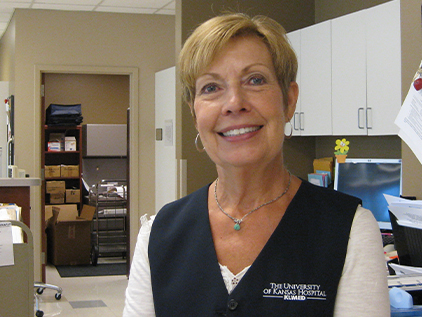 Marlene Deal
Marlene Deal has been volunteering at The University of Kansas Cancer Center-Lee's Summit since the program launched more than 2 years ago. A cancer survivor and former patient, Deal advocated for a volunteer program and was the first one to sign up.
Read Marlene's story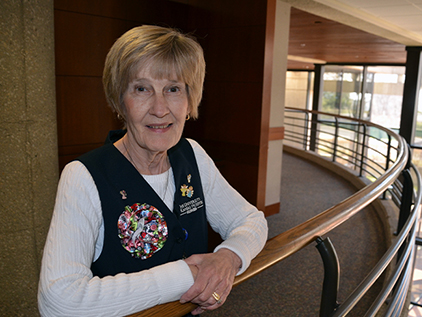 Jean Stalcup
Jean Stalcup has missed only a couple of days of volunteering during her tenure as a volunteer. She reserves Tuesdays for volunteering and has amassed an impressive 1,716 hours since she started. She is very giving and caring, and is devoted to the patients and families she serves.
Read Jean's story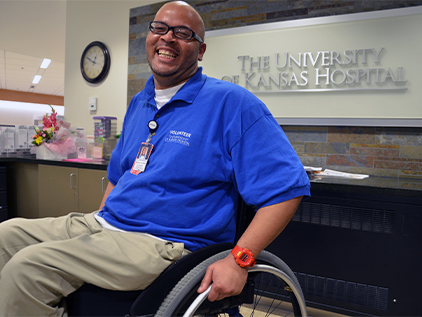 Michael Coleman
In 2005 a gunshot wound left Michael paralyzed from the chest down, and he relies on a wheelchair to get around. Where some people would be full of resentment or self-pity, Michael Coleman is grateful for the treatment he received at our hospital. He volunteers at the Information Desk 3 days a week.
Read Michael's story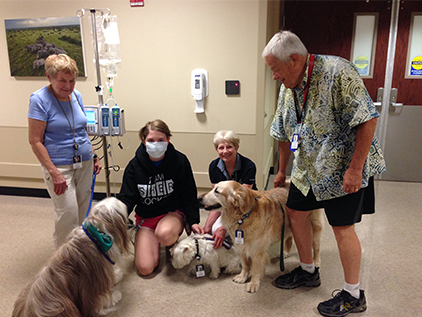 Pet therapy
Nearly a dozen of The University of Kansas Health System's volunteers are true healers. The furry volunteers in our pet therapy program lift patients' spirits by making things feel more like home.
Read their stories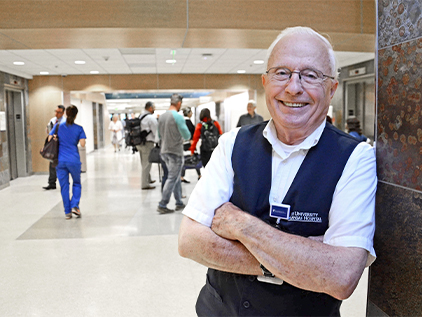 Ralph Long
Ralph Long embodies a noted quote by baseball great Satchel Paige: "Age is a question of mind over matter – if you don't mind, it don't matter."
Read Ralph's story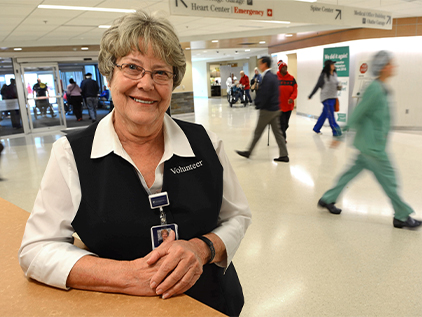 Diane Klenke
Ask Diane Klenke, a PathFinder at our main campus, why she volunteers at The University of Kansas Health System and she offers an array of interesting answers.
Read Diane's story
Related links