Skip Navigation
Hall of Fame
Support The University of Kansas Health System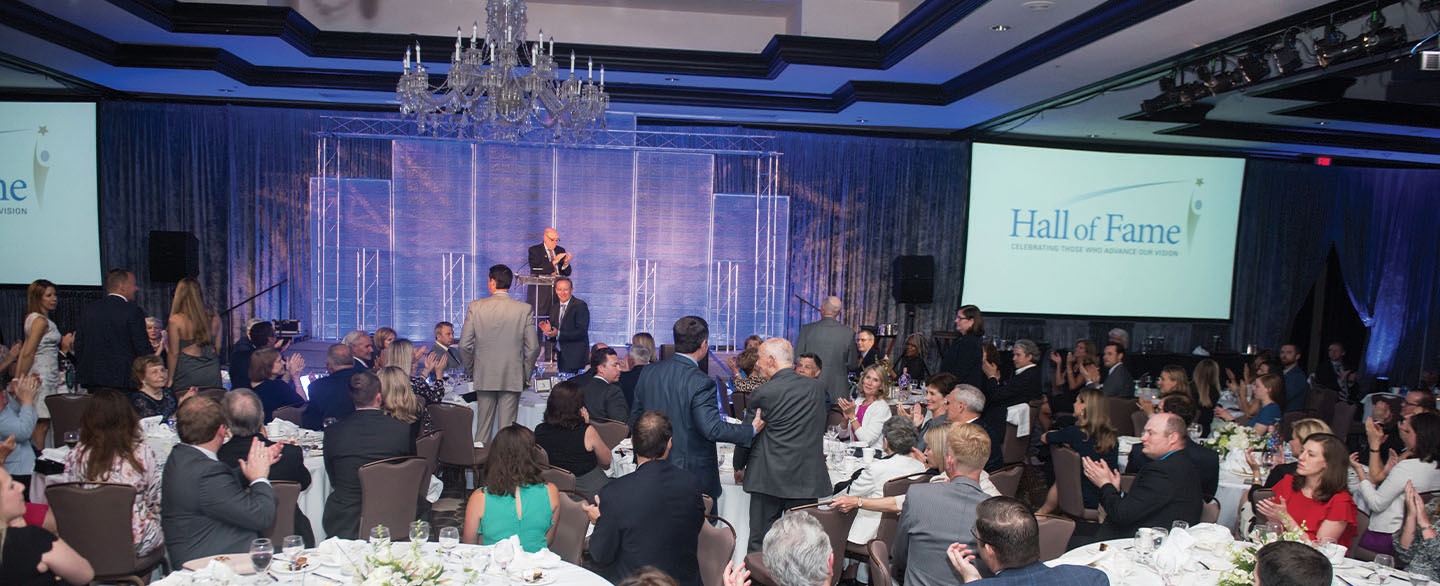 The Hall of Fame at The University of Kansas Health System is our highest honor. Established in 2011, it demonstrates our enduring gratitude to those individuals and organizations that have played a vital role in our efforts to deliver world-class care to patients most in need. Their leadership, philanthropy and advocacy have made a lasting impact on people throughout Kansas, Missouri, the region and the entire country now and into the future.
Help us save more lives
Make a difference in the lives of thousand of patients in Kansas City, the region and beyond. Your gift will help us provide the best care to patients and families today and for years in the future.
Donate now
We're proud to recognize several of our most valuable players – loyal supporters whose contributions have made a lasting impact on our organization. Through their commitment to caring and their support of our system, each award recipient is making a lasting impact on the health of people in Kansas City, across Kansas and beyond. – Bob Page

President and chief executive officer
2018 Hall of Fame Honorees
Partner in Excellence Awards
Honors companies or organizations investing in the health system's growth and success through philanthropy, volunteerism and/or business partnerships
Bob P.: I've known Anne St. Peter for a long time. Anne St. P: Our team has been lucky to work with the University of Kansas health system now for almost two decades, 18 years. Gayle S.: When I first met Anne, one of the first things she told me was, "We love the University of Kansas health system, and we will do anything to help you succeeded.", and they have lived that every single day. Tammy P.: I appreciated that what we see with them, is what they say they'll do. Anne and her team have really gotten to know us, I think they have really learned about us. Anne St. P: When I think of the progress that the University of Kansas health system has made in the two decades that our team has been privileged to be their partner, not only is it bettering the health of Kansas City and the health of our region, but as an employer the opportunity to recruit best-in-breed people, because we have one of the nations leading academic med centers. Bob P.: At the end of the day, the number one ingredient to success is people, and I think that's also Anne's philosophy. Gayle S.: I think Anne is a really strong, amazing leader. And she has a great deal of expertise and competence, and confidence as she should, because she's done some pretty bold things, and I think the company actually is a reflection of her, because of her creativity and her drive, and her commitment. Dan P.: What Ann brings to the table for us is appreciating the culture of our organization and culture is such an important issue for our organization, and the ability for Global Prairie to capture the essence of our organization and what's important to us, and our caregivers, and our physicians, is really integral to them being able to provide what we need in the moment. Bob P.: One of the most special things about Global Prairie has been, in those moments of crises that we have had, they have been instrumental in making a difference in how we've communicated. Gayle S.: It's relatively easy to find someone, or find a group, that can keep your information confidential. It's much more difficult to find a group who is ingrained in your culture, who would do what you would do if you had their skill set and expertise. Anne St. P: Our team has been so privileged to be along for almost two decades of the University of Kansas health system rising to national prominence, and the projects that we have had the opportunity to partner with Bob and his leadership team alone the way include, the NCI Cancer Designation, the partnership and acquisition of Hays Med. Crowd: Two, One- Anne St. P: The acquisition of Saint Francis. Dan P.: When it actually came about, we had to go from zero to 100 almost over night. Bob P.: To have Global Prairie in with our team, to manage media, to manage staff, to manage government relations, all of those things, in partnership with us made a great deal. To the point where, when we did the unveiling, and we had the music going, and everybody in the parking lot, Global Prairie was shoulder-to-shoulder with us. Gayle S.: I think they deserve the Partner in Excellence award largely because they exemplify those words, partner, and excellence. Tammy P.: We pick partners and select them to be partners with us based on similar values and principles, and that's what we did with Global Prairie. Anne St. P: Of all the awards that we could win, this one means a lot because this is a team of people that frankly my team would walk through fire for.
Global Prairie: Anne St. Peter and the team at Global Prairie have helped us communicate the right message to the right people at the right time at each step in our organization's growth. Whether we're adding a new hospital to our system, providing healthcare thought leadership with other executives throughout the country or celebrating another milestone, we have a lot to communicate. And Global Prairie makes sure our message is right on target.
Chris Ruder: We met LANE4 as they approached us to look at the development across Rainbow Boulevard. Bill Marting: They pitched this vision. Let's invigorate this kind of blighted area. It was their brainchild. They brought the funding, and really what we brought was our being, our stature as a very, very busy big place. Bob Page: What Hunter and Owen did was get to know us first. There were meaningful conversations about what do we do here and what is the patient experience here and how can we compliment that? Chris Ruder: We all had concerns about the environment and even the safety back a number of years ago because the properties that were there did not lend themselves I think really to supporting what we knew we needed from out campus, whether it was our employees or the families, the patients that we serve. John McDonough: We were rigorous in defining our needs for a high quality environment for our patients. One that is both reliable and safe. LANE4 did a superlative job of helping to navigate us through a very difficult process. Tammy Peterman: I think when people come to our place, we need to make sure that there are places that families can stay. We have to have places where people can go out to eat. We're not gonna build those restaurants, but when we partner with someone to do it, it makes our entire campus better. John McDonough: The end result turned out great. Bill Marting: These guys are wonderful guys. Very bright. Very caring. And what I really like about them is they're in it for the long term. Hunter Harris: We want to leave a footprint that when we are done with these projects that it's to just about the building. The building is very important. The quality of the architecture, the strength of the materials, and the quality of the materials are all very important, and what's inside the building is very important. Speaker 8: Push up nice and strong. Drive through those legs. Tammy Peterman: Our rehab center, although we had provided fabulous care to every one of those patients, was not in an ideal location, in one of our older buildings. Group: Three, two, one. Tammy Peterman: And it has been such a blessing to so many people to have a new rehab unit right across the street in one of the LANE4 buildings. I think that so many more patients are cared for now because of that new unit across the street. Bob Page: When you find somebody where you share a common vision, you share common goals, you've got this commitment to the community that's gonna live beyond all of us, it makes it pretty easy to partner. Owen Buckley: The University of Kansas Health System has proven to be a great partner, a partner that we can count on, a partner that understand, a partner that communicates. What more can you ask? Chris Ruder: But I think this relationship is broader and deeper than a business relationship. There is genuine concern and care for what's happening on this campus. Bill Marting: They have helped with philanthropy, not only directly, but also on behalf. They've held fundraisers for us. They've served on some of our boards at some of our subsidiaries, and they're truly wonderful partners. Tammy Peterman: When we look at all of the things that we've done together, that's something that partners do. Owen Buckley: We've been to the hall of fame dinners and thought how nice they were but never considered that we would be in that category. Hunter Harris: You think of the people who have come before us with this great honor and achievement and it feels very special.
LANE4 Property Group: For years, rundown properties on the west side of Rainbow Boulevard were an eyesore not just for our campus but for our Rosedale neighbors. But where others saw neglect, LANE4 Property Group saw potential, envisioning hotels, restaurants, retail and more. LANE4 has transformed the Rainbow corridor, creating a more welcoming front door for both our campus and our city – especially for the 25% of patients who travel here from outside the region. Their vision has revitalized our entire community.
Catalyst Awards
Honors individuals or groups helping transform the health system through support, innovative thinking and advocacy
Bob Page: The Dunn family is really an icon in our community, whether it's Bill and Jean, Bill Sr. and Jean, or whether it's the five generations of family members that they have, that entire family has been committed to this community for as long as I can remember. They have done great things. Greg Graves: Bill Dunn Sr., he's a hero to me, an absolute hero. He was one of the CEOs in this town that I went to after I became the CEO of Burns & McDonnell. He gives all the right answers. Quit thinking about yourself, quit thinking about your place. You're already blessed. Now it's all about what can you do to make our city one of the best cities in the whole country? Robert P. Dunn: My parents really set a great example for all of us to really work hard at what you're doing. Don't give up and try to help people along the way that need help. William H. Dunn: They followed the philosophy that was set up by my father of how you treat people, plus our fortunate ability that we had a down syndrome daughter, Mary Dunn, made us realize making money isn't the most important thing. Helping people is what we should be doing. Tammy Peterman: I think the Dunn family's just so committed to Kansas City. They give of their time, they give of their resources and they give of their expertise. Bill Marting: They're all about enriching lives and that means a lot. That's what we do at this campus. Bob Page: The Dunn family's absolutely deserving of the Catalyst Award because of their belief in us, their philanthropic support for us and their willingness to connect us to others in this community to garner the same support. Tammy Peterman: The Dunn family really helped us as we were on this quest to develop a sanctuary where patients and families and staff could go that was close to the hospital. William Reed: Mary and I had a commitment, a financial commitment. We had to have more than Mary and I could afford. The Dunn family, they want to do what they can to help our community, to help those people that are hurting. We were surprised and pleased that they matched Mary and I's commitment. It was a joyful moment. Robert P. Dunn: What I'm most proud about with our family is that we continue to strive to do better. We formed a Dunn family counsel about four years ago to get not only the fourth generation, but the fifth generation kids involved in philanthropy. They get to decide on which charity to support. William H. Dunn: We probably give to at least 400 different not for profits. I never realized we'd have 20 offices outside of Kansas City, but probably over maybe 100 of those gifts maybe are in the Kansas City area. Bill Marting: They have been super supporters of us philanthropically, provided direct funds through their foundation. They helped guide us as well. Greg Graves: They're the example in town of what it means to work hard, be successful and then recognize that a lot is owed back from those successes. William H. Dunn: Every family that is doing well needs to take a hard look at how many different problems there are in today's society. Robert P. Dunn: Somebody has to set the example and I think my father and his father set quite an example. William Reed: They're there to help and that's the definition of a catalyst in our community. Bob Page: The Dunn family's absolutely deserving of the Catalyst Award because of their belief in us, their philanthropic support for us and their willingness to connect us to others in this community. Thank you for believing in us. Thank you for having the confidence and the trust in us.
The William H. Dunn Sr. family: The members of the William H. Dunn Sr. family are grounded in serving others through time, expertise or financial resources. Time after time, their willingness to help has made all the difference – for The University of Kansas Health System, for our staff and most importantly, for our patients. Most recently, their support helped make Bell Sanctuary a reality, providing a much-needed sacred space for patients and families now and for generations to come.
Speaker 1: Jeff and Mindy Yowell are very down-to-earth people. They are humble. They have a desire to make a difference in this world, and they've also shared those values with their daughter Jordan. Speaker 2: As a true Catalyst, for that fire starter, you're the one that really helps demonstrate making a commitment to the health system, and so others will follow in their footsteps. Speaker 3: The Yowell family really has helped begin our process of developing the concept of planned giving. Really anticipating the needs of the future, and being able to give well beyond our years. Speaker 4: They're young folks, and yet they believe in us enough at this stage in their life, give this enormous gift to us as a planned gift, to give to us in a way that sustains us going into the future. That's pretty remarkable. Jeff Yowell: To me, it's not about your age, it's about getting your affairs handled. We were looking for a way to make a lasting impact after we were both gone, and kind of as part of looking at our estate and saying, "What do we want to do? How do we want to leave an impact and a legacy? And then also something that we can expose our daughter to." Mindy Yowell: People don't have to leave to get the best medical treatment like they used to have to do. So they can stay at home and they can be here getting the best treatment possible. I know that this is the best place to be. It's been ingrained in my mind that this is it in Kansas City. Speaker 4: Some gifts come with a specificity to them that says, "Here's how I want you to use this gift." The Yowell's said, "We trust you. We believe in you. Take this gift and do with it as you see best." Jeff Yowell: We don't know what medical advances and care will look like 10 years from now, 15 years from now. But regardless, it's our hope that the University of Kansas Health System continues to lead the way with their combination of the research side, the medical side, and bring in the best care forward to the community. Mindy Yowell: They're doing what we believe is the right thing, and I would hope that they charge forward with that and continue doing all the good things they're doing. Speaker 2: The Yowell family support really long-term will make a huge difference for us, whether that's people, or equipment, or new technology. Speaker 1: We are young as a philanthropic organization. We do not have large endowed funds. That's why their gift is so important as a catalyst for us to launch our formal legacy giving program. Mindy Yowell: There are some wonderful families that are giving, and they've become guides for the rest of us to be able to see how it's done. Jeff Yowell: We're hopeful that this recognition might open this opportunity up for other families. They may be able to ultimately make their own impact through charitable giving. Mindy Yowell: I'm thrilled that we're bring Jordan into the whole picture, because I want her to be able to continue this family legacy at whatever capacity that she wants to. I think what I want her to learn from this experience is that she's blessed, and therefore she needs to be a blessing to others. Speaker 3: Jeff and his beautiful family through a planned gift really are paying it forward. Speaker 2: Their support will really allow us to continue to make sure that we are at the leading edge. Speaker 4: Thank you. Thank you for believing in us. Thank you for your commitment to our organization. That's what Catalyst is all about. How do people show their belief in us? They can show in a way through philanthropic support to give to us in a way that sustains us going into the future.
Jeff, Mindy and Jordan Yowell: As Jeff and Mindy Yowell went through the process of making a significant planned gift to The University of Kansas Health System, they included their 17-year-old daughter, Jordan, every step of the way. The commitment made by this young family is making a difference today – and will mean even more in the future. Their generous support has ensured people in this region will always have access to the best medicine has to offer.
Legacy Award
Honors a leader or leaders who have gone above and beyond in service to the health system over many years
Greg Graves: There's a reason that Charlie Sunderland chairs the Committee for Quality for the University of Kansas Health System. He's a quality guy. Bob Page: Charlie has chaired that quality committee for as long as I can remember. Charlie S: I've chaired it since its inception. I'm 18 years into my 12-year term. I don't know how that works mathematically, but I'm still on the board. Tammy Peterman: He chaired the quality committee at a time that our organization didn't have as much credibility in the community or in the region like we do now. And it took people like Charlie Sunderland to really, I think, show the community that we were an organization worthy of his time and his interest. Jeff Wright: I just can't think of a more important demonstration of how people feel about us than giving up their own time, and that's what Charlie has done for so many years. Steven Stites: That level of confidence and faith and integrity in himself translates to our board and to our members of the quality committee to say, "Hey guys, do the right thing and do a better job." And over time, that's become our standard. Charlie S: When we first looked at the balance sheet and the income statement, I wondered how this business, this enterprise, was going to be successful and make it through the next payroll, but they clearly had a vision and were able to execute on it. Greg Graves: Charlie went through the toughest of times. He was the man for the hour. He was the man for the battle. Charlie S: How are you doing? Greg Graves: To make this place the absolute best it can be. The best in the region? Done. The best in the state? Done. All of those things happened while Charlie was here and while quality was his mission. And to do it at the same time as winning his own personal battle, he's the greatest of men. Charlie S: I went through a stem cell transplant here years ago. It's pretty easy for me to be a cheerleader for the hospital when I see the good work that's happening here. So I never hesitate to recommend KU Health System to anybody that is interested in improving their health. They bring up the quality of care, the academic medical center concept, the teams of doctors that you can access, so many specialists for one patient is just tremendous. And I hear that from patients all the time. Tammy Peterman: I think that the people who sit around the table at the quality committee, and those include physicians and nurses, as well as community leaders, I think what they see is Charlie's commitment and his drive for excellence for our health system, and that's been a consistent focus. Jeff Wright: I know that the impact that he's made here, that will benefit us for many, many years to come, and that's why he's a legacy. He will always be recognized for making a difference for our patients. Bob Page: I think Charlie's legacy, as it relates to us, will be the servant leadership that he's had as a member of our board. He has taken leadership roles during his entire tenure, and we have benefited from those leadership roles. Steven Stites: I think the legacy for Charlie is a legacy of quality and excellence that reflects how we try to use our core values to meet our mission every day. I think that's who Charlie Sunderland is. I think he's part of our core values. Tammy Peterman: I truly have great respect for Charlie Sunderland. I have great appreciation and great value for him as a person, for him as a board member, and for him as a friend. Charlie S: It's serious issues. You got in the quality committee, and there's life and death issues, but there are also times when you celebrate successes. Recognition is very nice, and I appreciate that. I hope to be able to continue to contribute. I'll continue to be a strong cheerleader for the hospital.
Charlie Sunderland: In 2000, Charlie Sunderland was one of the first of Kansas City's well-recognized, well-respected civic leaders to believe in what would become The University of Kansas Health System. Soon after joining the board, he was asked to chair the quality committee, arguably one of the most important assignments for any organization, particularly a hospital. Eighteen years later, the health system has earned a national reputation synonymous with quality, even as it has grown drastically. And the quality committee has had the longest standing committee chair.
Related links