Skip Navigation
Hall of Fame
Support The University of Kansas Health System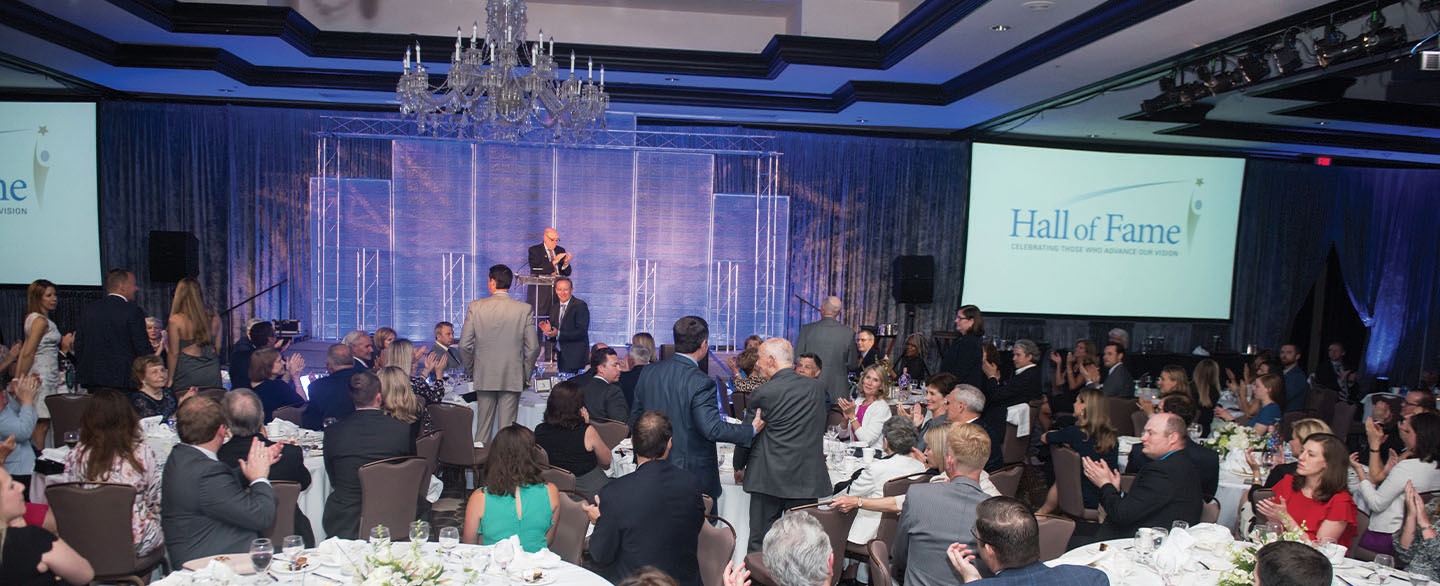 The Hall of Fame at The University of Kansas Health System is our highest honor. Established in 2011, it demonstrates our enduring gratitude to those individuals and organizations that have played a vital role in our efforts to deliver world-class care to patients most in need. Their leadership, philanthropy and advocacy have made a lasting impact on people throughout Kansas, Missouri, the region and the entire country now and into the future.
Give hope to patients in need of care
Make a difference in the lives of thousands of patients in Kansas City, the region and beyond. Your gift will help us provide the best care to patients and families today and for years in the future.
Donate now
We're proud to recognize several of our most valuable players – loyal supporters whose contributions have made a lasting impact on our organization. Through their commitment to caring and their support of our system, each award recipient is making a lasting impact on the health of people in Kansas City, across Kansas and beyond. – Bob Page

President and chief executive officer
2019 Hall of Fame Honorees
Partner in Excellence Awards
Honors companies or organizations investing in the health system's growth and success through philanthropy, volunteerism and/or business partnerships
Abe Cole: BKD started in 1923, so we're past 96 years. We're very excited about our 100th anniversary coming up here in the near term. Here today in Kansas City, we have about 300 people that work in our offices.
Bob Page: If you look at the history of BKD, it was a smaller shop to get started with. They set that vision that we're going to compete with the big boys. It's much like us. We set a standard at that time and a vision that we would be the best in the country. And so, if you watch the path of both of those organizations, I think there are parallel paths.
Joe Watt: I think we've lasted so long together because we're both focused on providing excellent service to our customers, our clients, our patients, and by focusing on excellence, and innovation, and quite honestly integrity, we're both being successful by us serving the health system and you all serving your patients.
Monica Lubeck: The work that they do for the hospital is vitally important. There is mutual respect for what each other is doing.
Doug Gaston: Trust and respect, those are core values both organizations have, and I think without that it wouldn't last as long.
Abe Cole: BKD, we call it the pride values. It's passion for what we do, passion about making tomorrow better than today.
Abe Cole: You're here to provide unmatched patient care to your patients. So, I think those things mesh really well together.
Brenda Lowe: It's nice to have someone who has that same philosophy, so if you can't get ahold of one of them, there's always another one that is there to kind of take the call.
Jeff Wright: I believe they're committed to us because we're committed to excellence, and I believe that's probably one of the core definitions of who BKD is itself.
Monica Lubeck: We are a dynamic organization. Things change so quickly. We don't always have all the answers, and so we need to put reliance on a trusted party that can help us find the answer to the questions that we have.
Doug Gaston: For BKD, the client is the center of everything you do. The health system is the patient. It's the same focus that is critical to keeping your clients and keeping your patients happy. That leads to success, and that singular focus is what's important to achieve success.
Bob Page: Not only are they great at what they do, and they've been great partners with us, they also go above and beyond, support us philanthropically, and I think that is so important to us.
Abe Cole: BKD has supported Treads and Threads for 18 years. First of all, it's for the cause, the great work that the system does and cancer, and cancer research going forward. It's our pleasure to give back to those causes in our community.
Abe Cole: Second of all, it is a great party.
Jeff Wright: I look at all the things we've been able to do in our cancer program and all the ways they've contributed to our excellence. So, it started in 2005 with being able to buy a new CT simulator, all the way through helping us support Missys' Boutique, lung cancer screening, helping with Cambridge Tower, and some of the really major projects we've seen, a lot of that's really due to their commitment to our cancer program and to the health system.
Brenda Lowe: I think that really demonstrates just how much our partnership means to them.
Bob Page: The Partner in Excellence Award, the focus is on "partner," all right? It's not a vendor in excellence. It's partner in excellence, and the relationship, if you look at the depth and the breadth of relationship that we have with BKD, it epitomizes what a partner is for The University of Kansas health system. That is why they deserve this honor.
Joe Watt: In 2011, that was the first year that you all gave out the Partner in Excellence Award and I remember being at the dinner and really thinking about this award and thinking to myself, that would be the ultimate award to be recognized by the health system for the services that you're providing.
Abe Cole: It's really special to us. So, on behalf of all of our partners and all our team members at BKD, I'd just like to thank you for this opportunity. It really means a lot to us from the system.
BKD CPAs & Advisors: The experts at BKD have served as trusted consultants to The University of Kansas Health System since 2007. In the years since, they have navigated the healthcare mazes of a capital campaign, bond issuance and system integration. BKD colleagues were available with impartial, independent and objective guidance at each step, personifying the firm's deep-seated dedication to the idea that integrity always trumps economics.
Speaker: What can I get for you?
Tammy Peterman: I remember the day that we changed our coffee shop to the Roasterie Coffee Shop and the big airplane went up on the wall. Our staff is very excited to have Roasterie coffee right here in our hospital.
Jeff Novorr: This place is fueled on caffeine and coffee. It is everywhere. It seems to be that one thing that kind of bonds people together.
Bob Page: His first sale of coffee was here on this medical center campus.
Shawn Long: He sold his first bag of coffee to a lady who was running a coffee cart in our facility years ago, and he said when he left here, he was just shaking because he had just started the Roasterie.
Danny O'Neill: It was five pounds of Columbian, five pounds of Kenyan so 10 pounds of coffee. I bring the coffee back, she goes, "What's that?" I said, "It's your coffee." And she goes, "Where did you get it?" And I said, "I roasted it." 25 years later, I remember it like yesterday.
Bob Page: What I really appreciate about Danny is his candor, his vision, his partnership, his personality. He is just one of those guys you want to spend time with. He truly believes in this organization. He respects the history of this organization, he respects the history of our relationship and he wants to do nothing but promote that.
Danny O'Neill: If you think about Kansas City, you think of the Chiefs, the Royals, and KU Hospital. I've had dozens and probably hundreds of conversations where somebody's talking about KU Hospital. There's story after story after story of somebody's life being saved or how gracious people were. I love that.
Speaker: I love working at the Roasterie.
Tammy Peterman: I think the Roasterie is a perfect Partner in Excellence recipient. They have worked with us on everything from developing our blends of coffee to working together to make sure we have Roasterie on this campus, to the support that they provided to our teams in a number of different ways.
Danny O'Neill: When KU calls, we say yes, we don't even know what the question is, right.
Jeff Novorr: One of the things that Danny made pretty clear from the very beginning that was important to him was education and giving back to educational institutions that they sell their coffee in. When we started our GED program as a way to help some of our employees who don't have a high school education, to get that, one of our barriers was funding. They were instrumental in helping us with seed money to get that program up and going.
Bob Page: Through Danny's help and through the Roasterie's help as a sponsor of this program, we're now having a group of people fulfill a dream they never thought was possible. Now that's not a vendor, that's a partner and that's what makes this relationship so different.
Shawn Long: He is just such a good person. He's got a huge personality, he's got a crazy amount of energy. He's a philanthropist, he loves giving back, he loves this community.
Tammy Peterman: I believe it's that friendship and it's that support that has really led us to the point to say this is a partner that will be with us, not just today and yesterday but in the future as well.
Danny O'Neill: I'm reflecting back on 25 years and I just feel total appreciation and KU is just full of grace. They're just full of grace. They do the right thing and they've treated us well and it makes us want to work harder. It's been a great relationship and I can't wait for the next 25.
The Roasterie: Danny O'Neill, Bean Baron of The Roasterie, made his first coffee sale to The University of Kansas Hospital. That local purchase of 10 pounds of coffee launched the company, which is just down the road from the health system's main campus. When it came time for the health system to find a new coffee vendor, it was only natural for the health system and The Roasterie to join together. The company has gone far above and beyond as a partner.
Catalyst Awards
Honors individuals or groups helping transform the health system through support, innovative thinking and advocacy
Jason Holmes: Kevin decided to fly down to Dallas to check on our house and then fly on to Baltimore, but he never made it to Baltimore. He had a massive stroke and it was about 12 hours before anyone found. It was pretty bad.
Kevin Westrope: Real bad.
Jason Holmes: The doctors told me that he probably wasn't going to get up or get out of bed or have any function left.
Sarah Eickmeyer: Kevin had had a very large stroke. It affected his ability to speak and to move the right side of his body. He was pretty impaired when he came in, so initially I got to know Jason a little bit better. He was great. He was the voice of Kevin throughout his rehab stay.
Jason Holmes: I went to rehab every day. I could be there advocating for Kevin while I saw other patients have no one taking care of them. After the first year, I would send him on with his therapist and go and hang out with the other people and learn about their struggle.
Bob Page: When you look at Jason's perspective, Jason is a person who went through the experience with Kevin and he actually sat in the waiting rooms and listened to patients and listened to family members.
Tammy Peterman: They wanted to do something that would make a difference to the outcomes for those patients.
Jason Holmes: I said to Kevin, "Why are we holding onto this money to give away in the future? Why not be able to do something now?" Dr. Rymer told me about the biplane machine.
Marilyn Rymer: This interventional approach to stroke is really one of the miracles of medicine because literally you can make the stroke go away.
Chris Ruder: This gift has paired the most recent and advanced technology with the best interventional radiology team in the country.
Alan Reeves, MD: What I use is called biplane fluoroscopy. It's x-rays that see in two directions at the same time. The equipment essentially functions as my eyes into the brain. They are fantastic, I mean absolutely incredible, the best thing I've ever worked on throughout my entire career, and not only do we have one of these rooms, we have two.
Marilyn Rymer: We needed two interventional suites. Kevin and Jason's gift made it possible for us to achieve our goal. They didn't hesitate. It made a world of difference to us for our stroke team.
Bob Page: In the past, we may have a patient who is being treated and have to stop the treatment on one patient so that we could get the stroke patient in. We don't have to do that now.
Alan Reeves, MD: We've been able to treat so many more strokes now. Our numbers were literally doubled from what they were about two years ago.
Chris Ruder: This gift is such a true example of selfless giving. They took an experience and a challenge with their own health and turned that into something so positive to help so many families and patients in similar situations.
Tammy Peterman: They knew firsthand how important it was that this technology be available to patients in Kansas City and the region and beyond.
Jason Holmes: What happened to us, it's part of our lives, and instead of just being sad about it, we wanted to do something to maybe help others.
Sarah Eickmeyer: It's something that they never wanted obviously to happen to them, but they're dealing with it in a very remarkable way.
Alan Reeves, MD: That's true philanthropy and an egalitarian heart and a heart for other people.
Tammy Peterman: Kevin and Jason have many friends in Kansas City and certainly beyond. We are grateful that we at the University of Kansas Health System are included in their friends.
Bob Page: When you get couples like Kevin and Jason who want to give to our organization, it allows us to send a message to this community that this is incredibly important. We are here to take care of stroke patients. We're not going anywhere. We want to be the best in the country. Here's just another example to help us down that path.
Kevin Westrope and Jason Holmes: After Kevin suffered a massive stroke and intensive rehabilitation, he and Jason vowed to do what they could to save another family from the life-altering repercussions caused by a stroke. The generous couple funded the state-of-the-art Kevin Westrope and Jason Holmes Stroke Interventional Suite in Cambridge Tower A.
Janice Benjamin: Cheryl is a high-energy woman, and I like that about her. She's fun, she gets to the point, she makes decisions, and she likes people. And, most importantly, she likes to help people.
Ron Lockton: I was pretty young when I was really first exposed to the Lockton culture and to my mom and dad building a business. But a thing that stands out in my mind is that there was never this separation between the business and the people in the business and the community. They were always intertwined from the beginning.
Cheryl Lockton Williams: Jack always believed that we all lived here, and we were successful in this community, and we needed to give back to this community. It was just part of his belief system. The company and the family just followed that direction.
Greg Graves: Jack Lockton was one of the best entrepreneurs of his area, built an incredible company with an enormous culture of giving back.
Bob Page: When we found out that Cheryl wanted to give us a gift of $10 million to support Cambridge Tower A, we were blown away, to be very honest.
Cheryl Lockton Williams: I would like to make a donation, in memory of my late husband, Jack Lockton, of $10 million.
Tammy Peterman: When the announcement was made, we also shared the unit that would hold the name Cheryl and Jack Lockton.
Bob Page: The fifth floor of Cambridge Tower A will officially be called the Jack and Cheryl Lockton Intensive Care Patient Unit.
Tammy Peterman: After the applause and after the standing ovation, I think people sat there and thought, "Wow. Someone cares so much for our organization to give us $10 million to help one of our units."
Stacy Smith: The Cambridge 5 ICU is responsible for caring for patients with neuroscience diseases, head and neck surgery, which is surgical oncology primarily.
Cheryl Lockton Williams: I was blown away. You see drawings, and you have a picture in your mind, but when I walked through there, it really surpassed my expectations. I was very proud of it.
Ron Lockton: She was really proud to show off the space, and we had a great night the night of the opening. She knew every little inch of the building. It was important for my mom to make this gift for a lot of reasons, but the thing that stands out the most to me is she wanted to do something that was really meaningful, and at the same time she wanted to do it in a broad way, in a way that touched the most lives and the most people in the community.
Stacy Smith: Catalyst is absolutely a word that I think of when I think of her, just from the spark that she had when she was talking about wanting her family and friends and colleagues to hear about the unit layout, the design, all of the features that would help make families and patients more comfortable.
Tammy Peterman: I believe that the Lockton family is truly an ideal candidate for the Catalyst Award for our organization. They have served to really help transform healthcare through their support and their advocacy.
Greg Graves: The entire Lockton family has been such a great example, and Cheryl, specifically. She absolutely is the perfect example of what this award is about.
Janice Benjamin: The other thing I would add is that Cheryl's gift became a role model gift for other donors who are considering a contribution to Cambridge Tower but had not yet made that commitment.
Bob Page: From the bottom of our hearts to Cheryl Lockton, we can't thank you enough. We are so overwhelmed by your support of us, and for you to make that courageous decision and to then see the benefit of that decision, I hope that makes you smile.
Cheryl Lockton Williams: The end result has just been incredible and has been a wonderful journey, and I've been very fortunate to take it.
Cheryl Lockton Williams: After Cheryl lost her husband Jack to pancreatic cancer in 2004, she focused on philanthropic efforts to research the disease and improve the lives of patients and their loved ones. After touring Cambridge Tower A, she understood the true importance of the building's many innovations and put a planned giving bequest into immediate action, making one of the largest donations in the health system's history.
Legacy Award
Honors a leader or leaders who have gone above and beyond in service to the health system over many years
Bob Page: When you first get to know Kirk, he's pretty quiet, he's pretty reserved and I will tell you there is this unbelievable spirit inside that man.
Tammy Peterman: He is genuine and he's sincere. I think he's honest, I think he's a great listener and I think he has a great deal of integrity.
Phil Johnson: He had this seriousness of purpose about him and very stoic demeanor. In fact, I think I was a little intimidated by him to be perfectly honest. What I realized, he's one of the most caring and sincere people I've ever met.
Scott Helt: He's very dedicated to the patient but he also understands the broader need of the organization as a whole including the needs all the way down to the individual physician.
Steve Stites: He served 18 years through three different births of UKP. What's remarkable is what that says about him as a person. That he has both vision and that people trust him and they believe that her leads and represents them well.
Bob Page: Kirk Benson is going to listen to you, he's going to evaluate what you've said, he's going to process that and then he's going to come back with a really thoughtful response.
Kirk Benson: I really love hearing ideas from everyone and even if they're those that are pushing the envelope a bit, I think it allows us to make sure we're doing that right thing.
Tammy Peterman: Everyone knows his leadership through the entire process of clinical integration was of utmost importance.
Speaker: The structure of your back, it looks good, it's solid.
Steve Stites: Clinical integration was the hardest thing. The thing that made it work were the people in the room. We knew you were doing the right thing. Kirk Benson was one of the most important principals in the room.
Bob Page: The reasons Kirk's leadership was so vital, if you look at what he's been able to do in his career, he has earned the respect of our medical staff and that's not the easiest thing to do.
Kirk Benson: When I first became President of the University of Kansas Physicians, we were a relatively small organization. Back in 2002 when I started, we had 230 physicians and our annual revenue was around 60 million and then we grew to over 600 physicians and an annual revenue of over 300 million and we have today over 900 physicians and we have a world class group of physicians. I think the enormity of what we achieved with clinical integration, it's hard to appreciate.
Bob Page: He was a tough negotiator but he also had in mind what was right for the organization. Kirk deserves the Legacy Award because of his leadership and his vision on this campus.
Tammy Peterman: I believe that his legacy will be because of his support of and his leadership at this big, busy, complex, complicated academic medical center.
Scott Helt: I think more than anything Doctor Benson's legacy will be that of a unifier at a time of great change, at a time of great commitment necessary across the organization.
Steve Stites: We need people who have a vision and we need people who can bring folks together. That's Kirk Benson's legacy.
Kirk Benson: My first reaction when Bob shared with me that I was to receive the Legacy Award was actually surprise. It was unexpected and I was really left at a loss for words. I think I got a little misty eyed.
Bob Page: He teared up when I told him that we were going to honor him with the Legacy Award. First of all, that's always a validation you picked the right person, right. Wasn't an expectation, it was a total surprise.
Kirk Benson: I just felt so honored that they would want to recognize me in such a special way and it also made me think back to the people who have supported me and UKP and our health system through the years. To me, this recognition is also for all of them and I want to share that recognition with them.
Kirk Benson, MD: As president of The University of Kansas Physicians, Kirk Benson, MD, created a vision, built consensus and managed critical negotiations. He guided the organization through incredible growth and change. Thanks to his transformational leadership, he helped reshape the future of academic medicine in our region.
Related links