Skip Navigation
About 18 million Americans live with peripheral artery disease (PAD). More than 160,000 lose a limb to the condition every year.
Advancements and innovations in critical limb ischemia (CLI) care have increased treatment options and the opportunity to preserve limbs. This increases both quality and quantity of life. The vascular team at The University of Kansas Health System in Kansas City offers comprehensive, multidisciplinary care to help prevent CLI and provide treatment options when it does occur.
About critical limb ischemia
Critical limb ischemia occurs when arteries already narrowed by PAD become too constricted to allow normal blood flow to the legs, feet and toes. The restricted circulation can cause pain and infection. It can become so severe that amputation becomes necessary.

Our fellowship-trained vascular interventionalists provide innovative medical and surgical treatments to manage risk factors and control symptoms to better preserve limbs and overall quality of life. Critical limb ischemia, when it does occur, is a very serious health problem that will not resolve on its own. Prompt medical attention is essential.
Symptoms and risks
You may be at risk for peripheral artery disease if you:
Have high blood pressure
Have high cholesterol
Have diabetes
Are overweight
Have heart or kidney disease
Smoke
Are older than 50
Lead a sedentary lifestyle
Have a family history of vascular disease
For many, PAD has no symptoms, but it can turn into life-threatening critical limb ischemia with little warning. You should see a healthcare professional promptly if you have:
Pain in the legs and feet while at rest
Sores or ulcers that won't heal
Black skin on the legs or feet
Cramping in your legs that occurs during exercise and eases with rest
Any kind of foot wound, especially if it is slow to heal
Skin discoloration or coolness in the legs and feet
Shiny, smooth, hairless skin on the legs
Thickened toenails or lack of toenail growth
Diagnosis and treatment
Diagnosis begins with a full physical examination. Your doctor will inquire about your symptoms and test your blood pressure. Your provider may order imaging studies, such as ultrasound, CT or angiography. These will allow your doctor to visualize your arteries to identify blockages.
With early detection, PAD is often treatable before CLI occurs. We offer compete care, with treatment options ranging from medical management to minor or major surgeries, depending upon the disease's progression. The earlier your condition is identified, the more choices we will have in together creating your personalized care plan.
Experts frequently begin treatment with medications, which improve blood flow by thinning the blood and expanding the blood vessels. If medical management alone is insufficient to protect limb health, we offer these procedures:
Peripheral angiography
Peripheral intervention

Balloon angioplasty
Atherectomy
Stent placement
Complex tibial revascularization
Retrograde access (small vessel reconstruction to support wound healing)

Deep vein thrombosis treatment
Surgical bypass
The procedures we perform have become much less invasive. Vascular interventionalists guide tiny devices through patients' artery systems to open blocks or remove clots. The approach offers faster recovery time than traditional open surgeries with reduced risk of infection.
As the region's premier academic medical center, our physicians are among the top in their fields. They deliver leading patient care while driving research and participating in clinical trials designed to bring reconstruction techniques and procedures – including some not available elsewhere – that improve circulation and allow for successful limb preservation.
Prevention
While we are pleased to offer the field's latest and most effective treatment options, we'd prefer to help you avoid peripheral artery disease and critical limb ischemia altogether. You can reduce your risk if you:
Stop smoking
Get control of your diabetes
Exercise regularly
Eat healthy foods
Why choose us
Our multidisciplinary team provides comprehensive care to support complex needs. This offers patients convenience and effectiveness in receiving complete care that spans disciplines. Our experts collaborate regularly in a shared mission to provide innovative vascular care that promotes limb salvage whenever possible. It is our goal to save patients' legs, feet and toes from amputation when state-of-the-art medical and surgical – often minimally invasive – options may provide effective treatment before limbs are lost.
We provide all care related to preventing and treating vascular disease. This includes primary care, wound care, vascular medicine and vascular surgery specialists, interventional radiology experts, cardiology and cardiovascular specialists, diabetes management professionals and smoking cessation support. We offer our full team in the fight against vascular disease and its effects.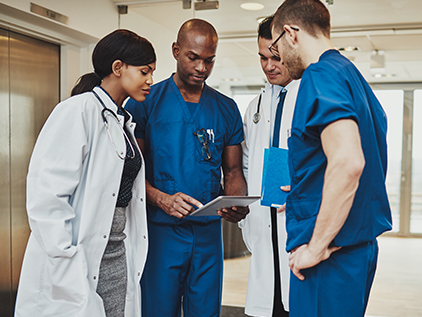 Leading research and clinical trials
As part of one of the nation's premier academic medical centers, our care providers are committed to research and scientific discovery through the University of Kansas Medical Center. We can often include our patients in potentially lifesaving clinical trials and treatment options not available anywhere else.
Our Research