Skip Navigation
Peripheral Arterial Disease
Peripheral Artery Disease 
One of the most common forms of vascular disese is peripheral artery disease, or PAD. The American Heart Association says PAD may affect 8 million to 12 million people. It is simple to detect, but it's often missed until it reaches an advanced stage. Finding and treating it early can make a big difference in both the quality and length of your life.

Comprehensive care and services
PAD occurs when blood vessels outside the heart or brain are blocked or restricted by fatty deposits called plaque. Clogged arteries in the legs can lead to heart attack and stroke, just like clogged arteries in the heart.

The Centers for Disease Control and Prevention estimates that approximately 8 million people in the United States have PAD. Although it is easily diagnosed, PAD often goes undiagnosed until it reaches an advanced stage.

The University of Kansas Health System offers sophisticated screening evaluations for PAD.
PAD symptoms and risks
The most common symptom of PAD is pain or cramping while walking, typically in the calves or thighs. This pain usually disappears after a few minutes of rest. However, up to 40% of people have no leg pain. Other symptoms include cold or numb feet and toes, slow-healing sores and foot pain while at rest. Early diagnosis and treatment are essential to decreasing your risk for more serious health problems.
Adults over 50 and African Americans are at an increased risk of developing PAD. Other risk factors include:
Diabetes
Obesity
High blood pressure
High cholesterol
Smoking
Family history of vascular disease
Know the symptoms of PAD and ask your doctor to check them out.
Pain or fatigue in the legs is the most common symptom. It can affect the hips, thighs or calves. It may happen after walking and disappear after a few minutes rest.
Cold and numb feet and toes
Slow-healing sores
Foot pain when you are at rest
Discoloration of the feet and ankles
Diagnosis and treatment
The University of Kansas Health System specialists use noninvasive 64-slice CT equipment, which produces high quality images to accurately diagnose PAD. Early PAD screening can reduce your risk for complications. The University of Kansas Health System offers today's most innovative and trusted diagnostic tests, including:
Ankle-brachial index
Doppler ultrasound
Blood testing
Other screening examinations are available when necessary.
Treatment options
New devices and techniques allow our physicians to provide minimally invasive treatments for peripheral artery disease. Previously, PAD treatment required surgery and in some cases was considered untreatable.
Your team of caregivers will tailor treatment to meet your individual needs, choosing from a complete range of the latest surgical and minimally invasive procedures to restore blood flow.
Treatments for open but severely narrowed arteries and chronic total arterial blockages include:
Artherectomy: Removes plaque from the artery by delicately shaving the narrowed segment.
Cryoplasty balloons: Opens narrowed arteries to prevent excessive scar tissue and possible blockage recurrence.
Laser or radio frequency catheterization: Uses heat from a laser or radio frequency-emitting electrode to clear blockages.
Stents: Hold arteries open with wire-mesh tubes. The latest versions are more flexible and resistant to bending and kinking. Some stents are lined with the same material as traditional surgical bypass grafts. These effectively create an endovascular bypass.
The combined expertise of our cardiologists and vascular specialists ensures you will receive the best possible care.
Recognized vascular experts
The vascular team at The University of Kansas Health System includes a team of doctors from multiple specialties. Interventional cardiologists, cardiothoracic surgeons, vascular surgeons and interventional radiologists work together to provide you with comprehensive care in one location. These heart and vascular specialists are leaders in their field and use the most current treatment options.
Your team of caregivers will develop a customized treatment plan using a comprehensive range of the latest minimally invasive procedures to restore blood flow. These procedures result in a faster recovery, shorter hospital stay, reduced risk of infection and less pain and scarring.
Clinical trials
As a patient, you may be eligible to participate in clinical studies for PAD. You'll have the opportunity to receive the most advanced drug therapies or procedures only available in a clinical trial. Your physician will discuss any clinical trials appropriate for your condition.
To learn about opportunities, call:
913-588-1227
Toll-free 844-323-1227
Second opinion service
When you are diagnosed with a medical condition, it's understandable to want a second opinion. Our specialists will provide a second opinion and help you learn more about your condition and treatment options, whether you have been diagnosed with PAD or any vascular disorder.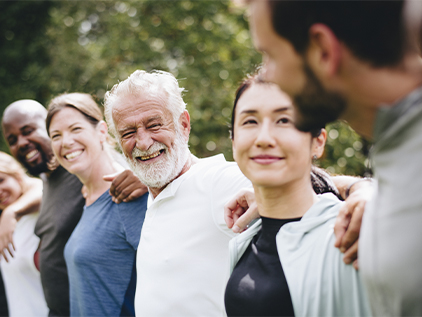 Turning Point
Turning Point offers free classes, programs and tools designed to empower and educate people affected by chronic or serious illness.
Learn more about our services