Skip Navigation
Sports nutrition incorporates knowledge of the connection between human physiology and nutrition. We provide highly individualized interventions to meet the fueling demands of athletes (including youth, high school and adult athletes) and active individuals.
Our sports nutrition program is one of just a few in the Kansas City area. Our sports dietitian is a board-certified specialist in sports dietetics (CSSD), which is the highest standard of professional credentialing within the field of sports nutrition.
About sports nutrition
Sports dietitians focus on nutrition care that is specific to the athlete and their activity requirements. They provide nutrition counseling at the individual and team level to enhance the performance of competitive and recreational athletes. They work to assess, educate and counsel athletes, as well as design, implement and manage safe and effective nutrition strategies that enhance lifelong health, fitness and optimal performance.
A sports dietitian can assist athletes in reaching their goals faster and more effectively. These goals may include:
Maximizing performance
Addressing medical concerns
Improving energy levels and fatigue
Sport-related injury prevention
Safely returning to sport after surgery
Optimizing bone health
Body composition changes
Developing a healthier relationship with food, exercise and body image
Working with a provider that takes a patient-centered approach and promotes inclusive and flexible eating rather than restriction and exclusion
Sports nutrition services
Performance-related interventions that a sports dietitian can address include:
Helping elite and everyday athletes reach their full performance potential
Resting metabolic rate testing
Medical nutrition therapy
Sport-specific nutrition
Recovery nutrition
Injury prevention nutrition
Optimizing nutrition in weight class and aesthetic sports (wrestling, cycling, running, gymnastics and tumbling, dancing and cheerleading, bodybuilding, etc.)
Micronutrient deficiencies
Dietary supplement evaluation
Race or competition day-planning
Fueling during training
Nutrient timing
Gastrointestinal issues around training, including food allergies
Hydration and electrolytes
Disordered eating support
Fostering a healthy relationship with food
Our sports nutrition specialist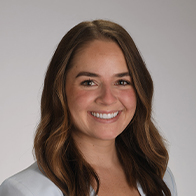 Sara Arnold, MS, RD, CSSD, LD
Sports performance dietitian
Sara has a master's degree in sports nutrition. She is a certified personal trainer and works with athletes of all ages and backgrounds. She specializes in relative energy deficiency in sport (RED-S) and low energy availability, under-fueling, disordered eating and performance nutrition. As a former multi-sport athlete, Sara is familiar with the challenges athletes face, including challenges unique to female athletes, and is devoted to providing leading-edge care to enhance their physical and mental well-being.
Our sports nutrition locations
1. Sports Medicine and Performance Center

8302 W. 125th St.
Overland Park, KS 66213

Mon

8 a.m. - 5 p.m.

Tues

8 a.m. - 5 p.m.

Wed

8 a.m. - 5 p.m.

Thur

8 a.m. - 5 p.m.

Fri

8 a.m. - 5 p.m.

Sat

Closed -

Sun

Closed -