Skip Navigation
If you struggle with a chin that you feel is either too small for your face or has too great of a projection, you may be an ideal candidate for chin surgery with the plastic surgery team at The University of Kansas Health System.
Augments chin projection
Enhances facial proportion
If you suffer from microgenia, or inadequate bone structure of the chin, you may be an ideal candidate for chin augmentation. Alternatively, if your chin is too large for your face, a sliding genioplasty procedure may help bring symmetry to your features. To undergo either procedure, you should have realistic expectations of the outcome and understand the risks and benefits that come with any surgical procedure. If your microgenia is too severe, or if your teeth are misaligned when your jaws are closed, you may not be a good candidate for chin surgery.
How is chin surgery performed?
In the days leading up to your procedure, your plastic surgeon may instruct you to wash your face with an antibacterial cleanser if an external incision will be made or to rinse your mouth with mouthwash.
If you are to undergo chin augmentation, your plastic surgeon will select the appropriate type of alloplastic implant and a local or general anesthesia will be administered. Your surgeon will make the chosen incision and create a pocket for the implant under the skin of your chin. After the implant is placed in front of your jawbone, sutures and a dressing will be used to close the incision.
If you undergo a sliding genioplasty, similar incisions may be made, but rather than inserting an implant, your plastic surgeon will work with the chin's underlying bone to minimize their projection. When the bones have been adequately minimized, your surgeon will reaffix them using wires or plates and close the incision with sutures.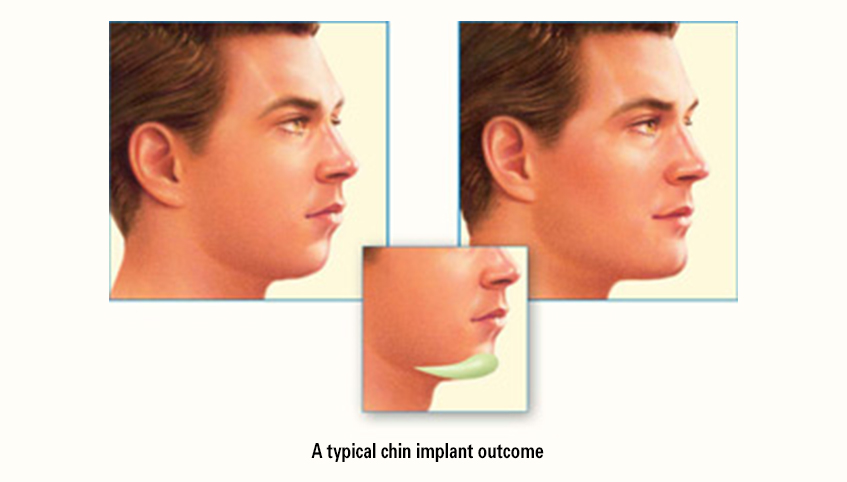 What can I expect after chin surgery?
Following either of these procedures, you should expect to be on a soft diet and to keep your head elevated. Good oral hygiene is key, as is avoiding touching your chin as it heals. Pain may be managed with medication prescribed by your plastic surgeon.
Possible side effects or complications may include infection, implant malposition or mobility, or nerve injury. Ask your plastic surgeon for more details if you are concerned about possible complications from chin surgery.
If you feel that your chin is out of proportion and would like to learn about options to reshape, reduce or augment the chin, we encourage you to contact our plastic surgery team.