Skip Navigation
Types of Appointments
At The University of Kansas Health System, we are always committed to providing efficient, convenient, high-quality care. That's why we offer a variety of doctor appointment types to meet your needs, including in-person visits and telehealth options by computer or phone.
Determining which appointment is right for you will depend on several factors, including:
Whether you are a new or established patient

New patient visits include a comprehensive exam and discussion of your full health history. These appointments may take more time.
Visits for established patients – those who have seen their provider within the last 2-3 years – may be shorter and more focused on a specific, current concern.

What your medical concern is
The severity and urgency of your condition
You and your doctor's availability
When making a doctor's appointment, ask your scheduler which is right for you. They will help you get the appointment you need as fast as possible.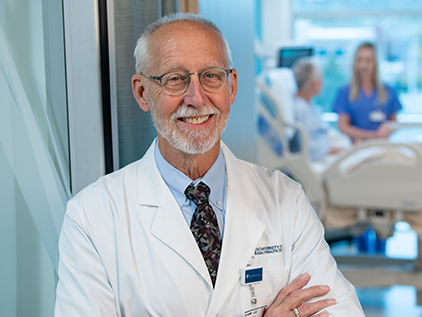 Find a doctor
Our doctors are some of the most respected in the country. And with more than 1,000 doctors spanning over 200 specialties, we have someone who's right for you.
Search doctors
MyChart scheduling
In many cases, you can schedule an appointment through MyChart with your health system provider(s). Both new and existing patients can self-schedule primary care appointments and appointments for burn, spine, vascular surgery care and more. Current patients can self-schedule follow-up care for allergy, behavioral health, cardiology, eye, imaging, neonatal medicine, neurology, obstetrics and gynecology, certain pediatric specialty, rheumatology, transplant and more. Scheduling through MyChart is an excellent option for making an appointment for an annual exam or follow-up visit. You'll even be invited to join a waitlist to be notified if an earlier appointment time becomes available.
To access online scheduling, current patients can log in to their MyChart account. Then go to menu and select Schedule an Appointment.
New patients seeking primary care appointments, go to MyChart and choose Sign Up Online under New User. Follow the prompts to create an account, and then follow the same instructions to schedule your primary care visit.
MyChart e-visit
Established patients can also use MyChart to schedule an e-visit with a primary care provider for symptoms such as:
Diarrhea
Heartburn
Rash
Red eye
Sinus problems
Urinary problems
Vaginal discharge
E-visits are $30 and you will need to pay by credit card when you request your appointment. This charge may be reimbursed by your insurance company. To schedule an e-visit through MyChart, select "E-Visit" from the main menu.
In-office appointment
Whether you are a new or existing patient, you can make an in-office appointment with a healthcare provider by calling 913-588-1227, or you can request a doctor's appointment online. In-person visits are recommended for certain new patients – like those seeking to establish care with a primary care provider. You can request an appointment with a specific provider or discuss your healthcare needs with a scheduler who will select a provider for you.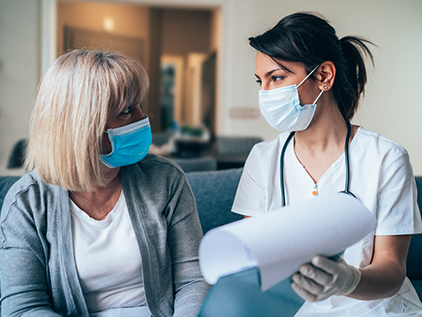 Prepare for your appointments
Download one of our patient visitor guides to plan ahead for your provider visit. Learn what to expect before and after your visit so that it goes as smoothly as possible. Guides are available for our campuses in Kansas City, Kansas, and Great Bend.
Plan ahead
Telehealth visit
Our telehealth service options give you the flexibility to have a meaningful interaction with your provider using common devices such as a computer, a smartphone or a tablet. Telehealth visits can be used for new patients to quickly establish care, but may be followed up with an in-person appointment or for ongoing care. We offer telehealth visits for a wide variety of primary and specialty care needs.
Urgent care
Urgent care requires no appointment. It allows you or your family to receive care quickly for needs that are urgent – like fevers, coughs, allergies, rashes or minor injuries – but don't require an emergency department visit.
You can receive urgent care at one of our several convenient locations or request an urgent care video visit (telehealth) through MyChart. If you don't have a MyChart account, you can sign up for one.
Related links